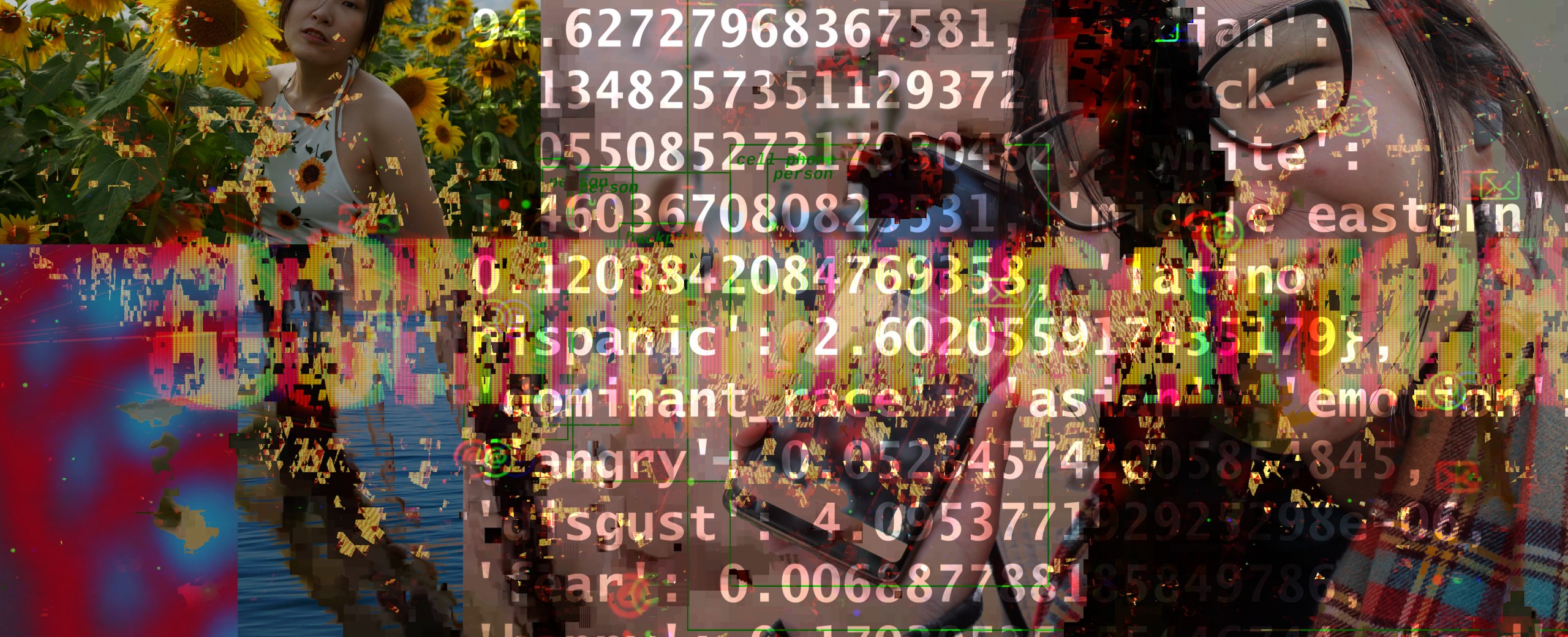 Call for Submissions: All watched over by machines of loving grace
Deadline: September 18, 2023 11:59PM ET
Curated by Gladys Lou, the 2023 IA Current exhibition, All watched over by machines of loving grace, will explore how human-computer interaction has transformed the meaning of love and romance in the digital age. It considers the evolving shapes and forms that intimate relationships can take in the virtual sphere, and how technology has liberated non-heteronormative identities by enabling representation of self beyond the binaries. The exhibition asks the audience what makes love real: the lover, the loved one, or the medium by which love is conveyed?
A call for submissions is now open for new media works that reflect different perspectives and experiences on forming romantic and platonic relationships digitally through video, sound, animation, AR/VR, digital games, web-based projects, projection mapping, immersive installations, and performances. We are seeking submissions that explore digital dependency on relationships, the commodification of bodies, queer codes and flagging, and other ways that technology can be drawn upon as a medium for humans to establish authentic relationships with one another.
Questions for consideration:
What does it mean to love and be loved in the contemporary age?

How does technology facilitate and disrupt the process of searching for love, pulling us closer and driving us apart?

How do humans communicate feelings and form mutual connections with one another through online platforms? What role do machines play in all of this?

How has humans' interaction with media changed how we feel about intimacy and romance?

What are new modes of bonding that transcend the boundaries of the physical and virtual world?
Submission Requirements
Project description, including artwork dimensions and installation requirements. Please indicate whether the work is completed or in progress (<250 words)

Artist statement (<250 words)

Documentation (5 images or 5 minutes timed media maximum)

A detailed description of anticipated technical requirements (please outline materials provided by the artist and materials expected from InterAccess)

Current CV (<3 pages)

Artist biography (<100 words)
Submission Process
Send submissions to iacurrent@interaccess.org with subject line: IA Current 2023 | <ARTIST NAME> in one of the following formats:
Single PDF (images linked or embedded, maximum 20MB)

Zipped folder (maximum 20MB) attached to email or through file hosting service (GoogleDrive, Dropbox, etc)

Video/ASL (10 minutes, 100MB maximum)
We ask that applicants ensure their files are properly formatted, with no broken links, and file share permissions are functional for downloading and viewing. We may not reach out for corrections if submissions are technically inaccessible.
Floor plans for InterAccess's gallery space can be shared upon request. Gallery floor area is approximately 20' x 40' (6m x 12m) with an approximate ceiling height of 14'. Please email art@interaccess.org to request.
InterAccess is committed to equity and strongly encourages applications from equity-deserving communities, including individuals who are Black, Indigenous, People of Colour, LGBTQ-identified, Gender Diverse, Two-Spirit, and Persons with Disabilities. 
Exhibition Details
The exhibition will take place in person at InterAccess (950 Dupont St., Unit 1, Toronto) from November 8 – December 9, 2023

Selected artists will be notified by mid-October 2023

All artworks must be ready for exhibition by October 30, 2023

All participating artists will receive a CARFAC fee
About the Curator
Gladys Lou is a Hong Kong-Canadian artist and curator with an HBA in Art & Art History and Psychology from the University of Toronto and Sheridan College. Her practice utilizes experimental media and new technologies, including video, sound, and new media, to challenge the boundaries of sensory perception. Her work explores shifting perceptions of light, colour, and memory, visualizing emotions and the unconscious.
Gladys' art has been exhibited at InterAccess, Workman Arts, Art Museum at the University of Toronto, Blackwood Gallery, Art Gallery of Mississauga, and the Museum of Contemporary Art of Alicante. Her critical writing has been featured in Pleasure Dome's eBook and Hamilton Artist Inc.'s digital publication. She was awarded a Fulbright scholarship with a placement at the University of Washington, where she studied Digital Art and Experimental Media. Gladys was selected as a participant of the Power Plant's RBC Emerging Artist Network in 2022-2023, and has interned at the National Gallery of Art in Washington D.C. with the Time-Based Media working group. She was awarded the 27th Annual Mississauga Arts Awards in the Multimedia Arts (Emerging) category, and first prize at Video Fever 2023 by Trinity Square Video, Vtape and Images Festival.
The InterAccess Current (IA Current) program supports the professional development of emerging curators and artists interested in new media and electronic practices. Each year, InterAccess selects an emerging curator, who works closely with InterAccess staff to conceptualize and execute an exhibition of works by emerging artists. "Current" refers to the now, of course, but it is also an energetic charge that causes light, heat and all manner of electronic life; an apt metaphor for emergent creative practices within the ever-expanding field of new media.
The exhibition title is inspired by Richard Brautigan's 1967 poem of the same name that describes a utopian future where humans and machines live in harmony. Header image: still from "Am I Human?" (2022), Gladys Lou. Courtesy of the curator.