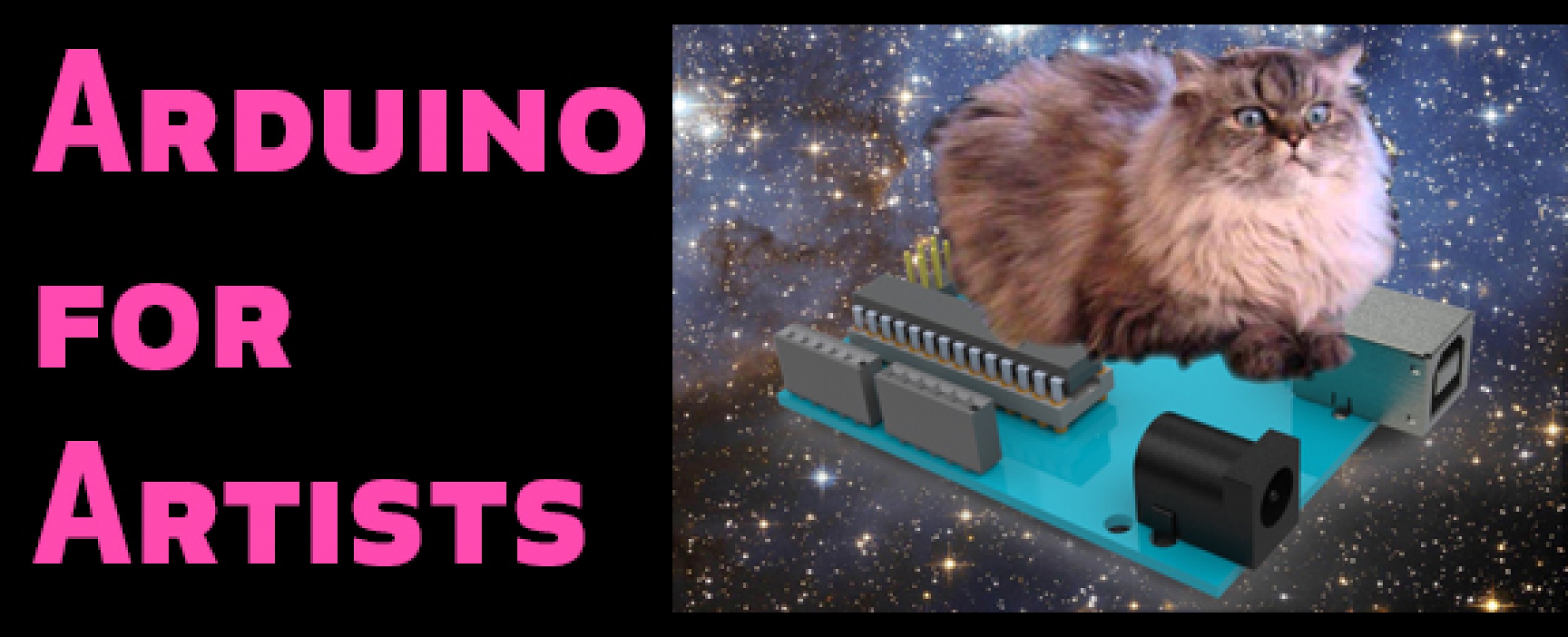 Arduino for Artists: a 3-Part Series
NOTE: This is a 3-part workshop series taking place across three Thursdays: April 16, April 23rd, and April 30th. You are welcome to sign up for one workshop individually or all three.
Arduino is a widely used prototyping platform and software environment for interactive and electronic projects. Its popularity has been growing in the maker, artist, designer and academic communities due to its versatility and simplicity. Whether you are interested in robotics, sound, light art or just plain old tinkering, these workshops are a great place to start and develop your ideas. In the Arduino for Artists series you will be introduced to creative coding, circuit construction, sensors, actuators and much more.
This workshop series is divided into three sections. Attendants are free to join at any point in the series, or partake in all three. All three workshops will have interdependent concepts, yet will each focus on a specific techniques used in creating interactive art.
Intro to Arduino for Artists
Thursday April 16, 7-10pm
In this workshop you will learn the basics of working with the Arduino microcontroller board and the Arduino IDE software environment. You will learn how to hook up basic sensors and actuators to the Arduino and will learn to write code to control them. You will also have an opportunity to talk about your ideas and learn how to put them into action using Arduino.
Arduino Sensors Playground
Thursday April 23, 7-10pm
In this second workshop you will build on your skills by playing with a variety of interesting and increasingly complex sensors. You will work with motion sensors, proximity sensors, colour sensors, temperature sensors, accelerometers, and more. You will learn how to read and manipulate this data using fancier code that you will write yourself!
Arduino Expanded
Thursday April 30, 7-10pm
Going beyond the basics, this workshop we will look at the use of additional ICs and components required to drive motors, arrays of lights, or to extend the number of inputs/outputs on an Arduino board. This workshop is all about building additional circuitry to extend the functionality of Arduino.
From Arduino.cc:
"Arduino is an open-source electronics prototyping platform based on
flexible, easy-to-use hardware and software. It's intended for artists,
designers, hobbyists, and anyone interested in creating interactive objects
or environments.
"Arduino can sense the environment by receiving input from a variety of
sensors and can affect its surroundings by controlling lights, motors, and
other actuators. The microcontroller on the board is programmed using the
Arduino programming language and the Arduino development environment (based
on Processing). Arduino projects can be stand-alone or they can communicate
with software running on a computer (e.g. Flash, Processing, MaxMSP,
PureData)."
Registration Price:
$45 (Members - Single Workshop) + $5 materials fee
$60 (Non-Members - Single Workshop) + $5 materials fee
$135 (Members - All 3 Workshops) + $15 materials fee
$180 (Non-Members - All 3 Workshops) + $15 materials fee
Materials: We'll loan you an Arduino for the workshop, which you're welcome to purchase at the end of the workshop if you like.
What to Bring: You should bring a laptop (Mac, PC, or Linux). Prior to the workshop, we'll send you a link to download the free Arduino software. If you don't have a laptop, let us know and we'll try to set you up with a loaner.
About the Instructor
GERALD GRISON is a new media artist whose practice incorporates sound, kinetics and optics. Finding inspiration from discarded electronics, his work focuses on the issues of technology and obsolescence. He graduated from the OCADU's Integrated Media program and has since taught introductory classes and workshops in electronics and physical computing at OCADU and at the Liaison of Independent Filmmakers of Toronto.
Receive a discount on workshops!
Did you know you can receive a discounted rate on most workshops? By purchasing a Workshop Discount Pass or an Annual Studio Membership you will receive a discounted rate on workshops, in addition to other great benefits. This is an excellent option if you foresee yourself attending multiple workshops over the course of the year.
Buy Workshop Discount Pass
Buy Annual Studio Membership