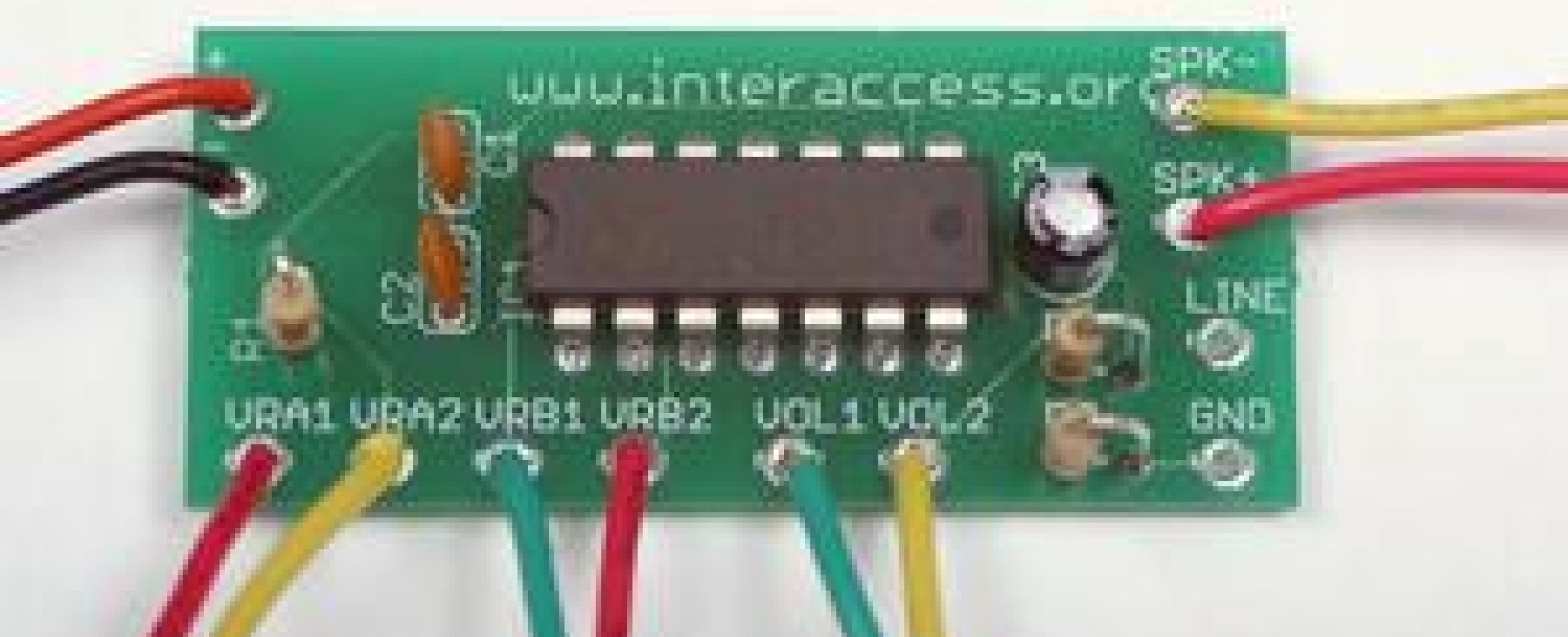 Drop-In Workshop: Let's Build an Atari Punk Console!
NOTE: ONLINE REGISTRATION FOR THIS EVENT HAS CLOSED. BUT YOU CAN STILL COME INTO THE WORKSHOP AND BUY THE KIT AND HANG OUT! LOTS OF SPOTS STILL AVAILABLE!
(Image and PCB design by Rob Cruickshank)
About the workshop
It's the granddaddy of circuit-bending sound instruments. It's a cherished "First Electronics Project" memory for countless nerds! And it's fun and fast to build even for total electronics beginners! It's the Atari Punk Console!
You can see videos of it here, and a million other places too.
On the afternoon of Saturday, June 16th, drop in to the InterAccess Studio and build an APC with us. We've got a whole bunch of kits prepared; you assemble, solder, and start playing!
This is a casual Drop-In Workshop. Come by any time during the workshop hours (3PM-6PM), pick up your kit and start soldering. If you've never worked with electronics before, InterAccess SuperMembers Chris and Aubrey will be on hand to show you the ropes, and explain how the APC works!
It's only $20 to come and get your own kit, which you take home with you when you're done. A pretty fun Saturday afternoon in our cool basement studio!
P.S. This course is extra delicious if served right after Rob's Electronics Fabrication Workshop!
Here's Rob writing about the history of the APC:
/////////
Back in the 70s, if you were an electronics hobbyist, it was a sure bet that you had a few of Forrest M. Mims' Engineers Notebooks on your workbench, usually with etchant stains on the covers, and soldering iron holes on some of the pages, giving them the feel of well-used cookbooks. The most striking thing about these books today is their meticulously hand-drawn and lettered schematics, often of small but useful circuits, or others that were simply entertaining. One of these circuits was a little noisemaker based on the 556 dual timer IC, and published a few times, as either "Stepped Tone Generator", or "Sound Synthesizer". A few years back, the folks at Kaustic Machines built a version, which they dubbed the Atari Punk Console, adding a line-level output in place of the original 8 ohm Speaker. After this, the circuit spread like wildfire in the glitch/8bit/lofi/circuit bending community, with postings on well-known sites like Matrix Synth, and Getlofi.
Soon, everyone was building them. It's popularity is due partly to the ease of construction, and low cost. You could build one as your first electronics project in an afternoon, with less than 10 dollars worth of parts.
If you're new to electronics, it's a great way to get your feet wet!
/////
Receive a discount on workshops!
Did you know you can receive a discounted rate on most workshops? By purchasing a Workshop Discount Pass or an Annual Studio Membership you will receive a discounted rate on workshops, in addition to other great benefits. This is an excellent option if you foresee yourself attending multiple workshops over the course of the year.
Buy Workshop Discount Pass
Buy Annual Studio Membership