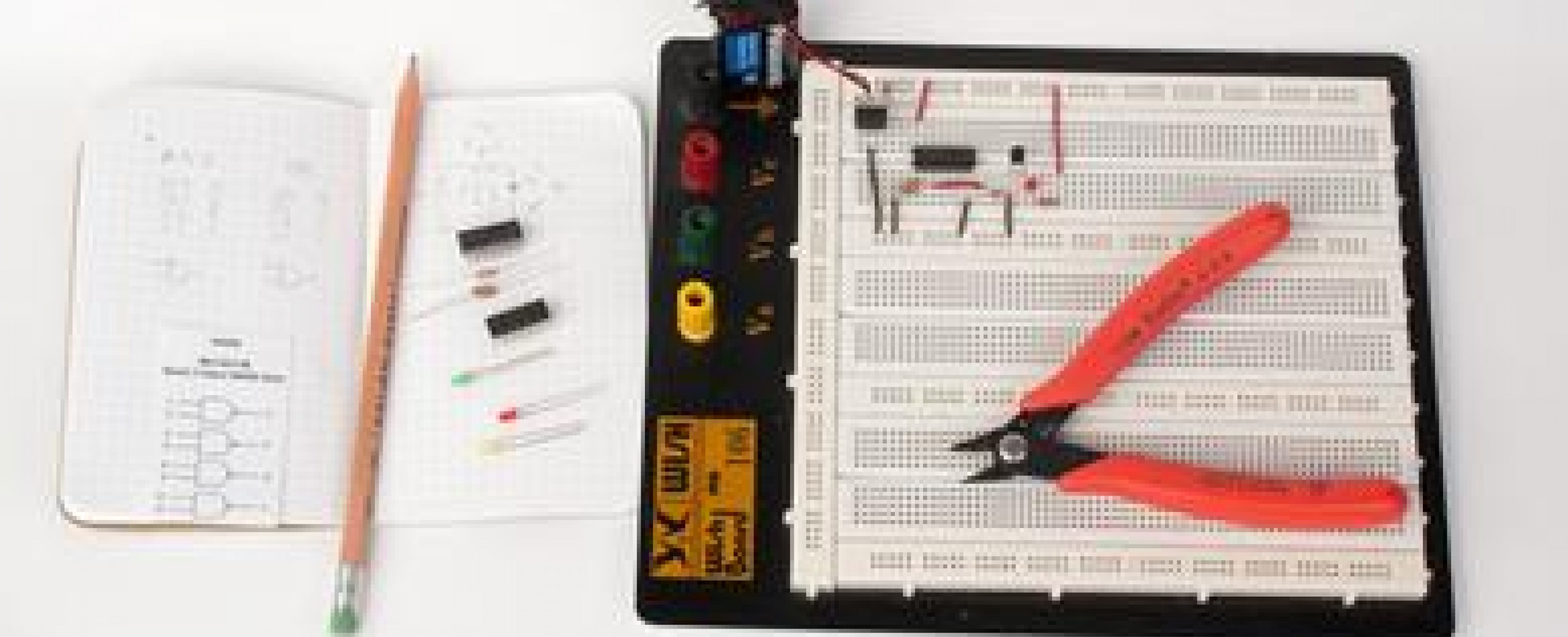 NOTE: This is a 2-session workshop taking place on November 9th and 10th, from 11AM-5PM. The registration fee covers both days, as well as a fun grab bag of electronic materials we'll use in the workshop.
About the workshop:
InterAccess' most famous and essential workshop is back!
Learning the basics of electronics is vital for anyone looking to create interactive or new media work, or wishing to create presentation-quality projects with microcontrollers such as Arduino.
This workshop is for anyone without previous experience in electronics, or those who've had some, but need a refresher. We'll cover the basics of electricity, starting with Ohm's Law, and work our way up to building simple digital circuits with CMOS chips, transistors and LEDs. We'll also discuss how to interface these circuits with the 'real world' of motors, sensors, and other devices. Math will be kept to a minimum, but we will approach things from the point of designing circuits, rather than simply building 'cookbook' circuits.
About the instructor:
ROB CRUICKSHANK, an IA board member and our resident genius, is a Toronto-based multidisciplinary artist. He works in various media including electronic and robotic installations, sound art, electroacoustic music, and photography, and has been exhibited in Toronto, and internationally. Rob has developed a number of workshops at InterAccess, providing an opportunity to learn electronics, and has assisted numerous artists with the technological challenges of realizing their works.
EXTRA INFO!
Do I need prerequisite knowledge for this workshop?
Nope. Just an enthusiasm to learn.
Do I need to bring anything?
A notebook, pens pencils and erasers. A ruler is helpful for drawing diagrams. A calculator. (the one in your phone or laptop is Ok, but a scientific calculator, even an inexpensive one, is better.) Breadboards and tools are supplied, but you are welcome to bring your own.
Do I get to keep any cool stuff to take home?
You will be provided with a small kit of parts to take home with you. If you'd like to purchase the breadboard you're using from us at the end of the workshop, so you can keep all your circuits more or less in place, you can do that.
Do I need a computer?
You will not require a computer, unless you are using it as a calculator.
- - -
Please note that the workshop sessions will start promptly, and go quickly. A lot of the important material is right at the start, so please make every effort to be on time.
Finally, come prepared to have some fun!
Receive a discount on workshops!
Did you know you can receive a discounted rate on most workshops? By purchasing a Workshop Discount Pass or an Annual Studio Membership you will receive a discounted rate on workshops, in addition to other great benefits. This is an excellent option if you foresee yourself attending multiple workshops over the course of the year.
Buy Workshop Discount Pass
Buy Annual Studio Membership