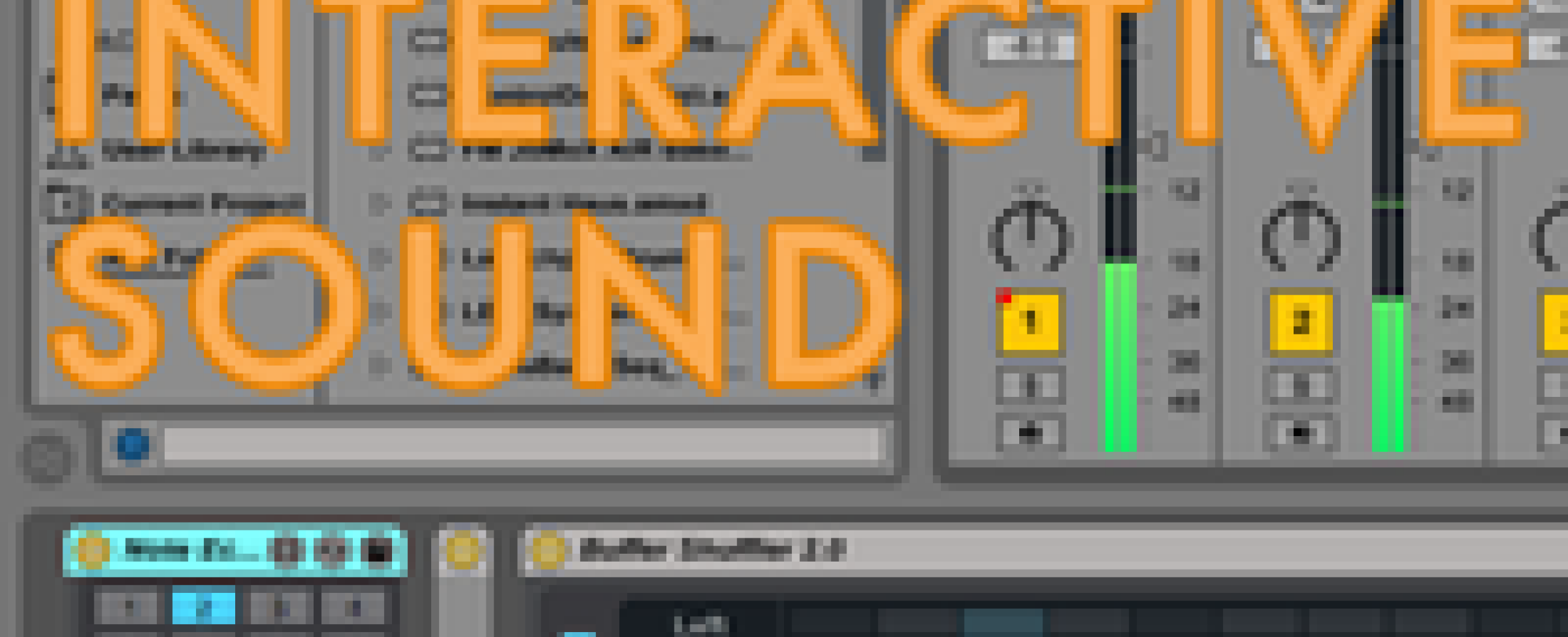 Introduction to Interactive Sound: 3-Part Workshop
NOTE: This is a 3-part workshop, taking place on TUESDAYS March 4, March 11, & March 18th, from 7-10PM each night. Registering here will includes you in all three sessions. We've changed the date of this workshop since we originally posted it, so be sure you don't have the old dates in your calendar. We're definitely running this on Tuesday nights now!

COURSE DESCRIPTION:

This is an exciting time for electronically produced sounds because the lines between instrument, environment, gesture, and performance are all mixing into a pumping aural cocktail. In this workshop series you will learn basic approaches and techniques used to create interactive and generative sonic experiences. We'll be using the powerful visual programming software Max, and the industry-leading music software Ableton Live. This is ideal for participants looking to create interactive audio installations or learn some nifty tricks to enhance their audio performances with technology.

What, if any, prerequisite knowledge should students have?

No prerequisite, we're starting from scratch. Basic knowledge of audio/video an asset.

What materials/equipment should students bring?
Bring a laptop computer with functioning webcam and microphone.
Ableton Live with Max4Live and Max 6 should be loaded onto computer. You can get free 30 day trials of the software here: http://cycling74.com/ for Max 6, and https://www.ableton.com/en/trial/ for Ableton Live w/ Max For Live
If you're running Windows, Quicktime should be installed.
Note that Macs tend to be easier to deal with as things like webcams and mics tend to actually work.
If you can't bring your own laptop to class, let us know and we can arrange a loaner for you!
What will you learn?

Students should expect an overview of the basics of working with audio from an electronic production standpoint and how to use real-time data to affect both audio and video. As we go through the process, students will learn how to navigate the Max 6 interface, and learn very basic approaches to initiating interaction with accessible hardware tools.

About the instructor:

Kyle Duffield is a Toronto based intermedia artist. His primary works tend to combine audio, video, and various electronic devices into immersive interactive installations. Kyle is continuing to pursue a multidisciplinary practice and is currently focusing on producing and teaching interactive art and coding.
Receive a discount on workshops!
Did you know you can receive a discounted rate on most workshops? By purchasing a Workshop Discount Pass or an Annual Studio Membership you will receive a discounted rate on workshops, in addition to other great benefits. This is an excellent option if you foresee yourself attending multiple workshops over the course of the year.
Buy Workshop Discount Pass
Buy Annual Studio Membership