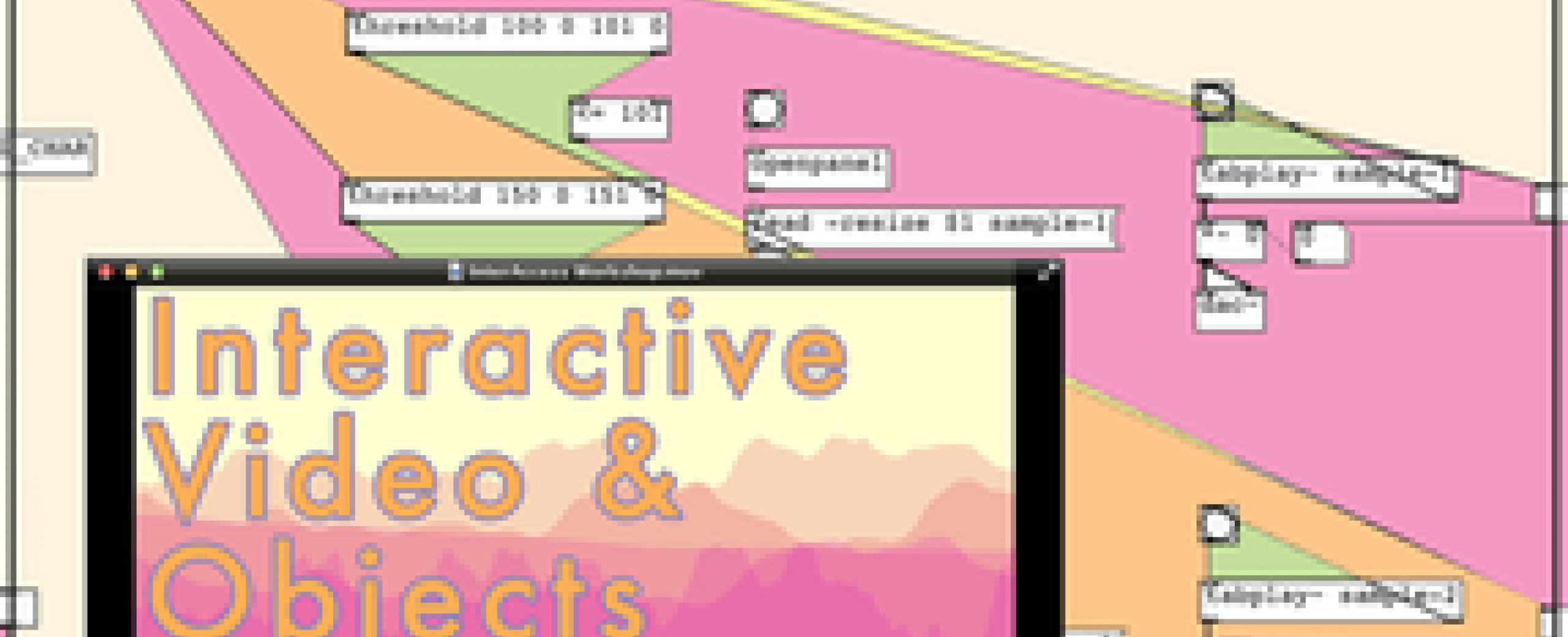 Pure Data: Interactive Video & Objects
NOTE: This is a two-part workshop, taking place on Saturday, April 12th and Sunday, April 13th, from 12-5 PM both days. Registering here signs you up for both classes.

About the workshop:
In the first afternoon, we'll introduce you to a powerful, open-source visual programming environment called Pure Data. To learn the ropes, you'll make an interactive, sound-responsive video in a single afternoon.
In the Sunday session, we'll turn our attention from video to real-world physical projects. We'll learn how to translate physical sensor inputs into numbers that PD can understand, and build physical controls for our programs. We'll also learn how to translate those numbers in Pd into control for physical electronic objects. We'll use Arduino microcontrollers and an interface called Firmata to communicate between our programs and real-world objects.
What is Pd?
Pure Data, also known as Pd, is an open source graphical programming environment. It is frequently used by artists and musicians to create custom digital sythesizers, images that respond to sound and other inputs, or to interface with hardware such as Arduino and midi keyboards.
The big difference between Pd and other programming languages: this tool uses an interface that relies on visually connecting onscreen elements, as opposed to writing out code.
Do I need any prior experience?
Nope! We're expecting that this is the first time you'll be using PureData. You're going to be surprised how far we can get you in two afternoons.
What should I bring?
Bring your laptop, with PureData downloaded and installed. PureData is an open-source software, which means it's absolutely free! You can get it here: http://puredata.info/downloads
Pd runs on Mac, PC, Linux and some other operating systems we've never heard of. The instructor will be teaching on a Mac.
We'll have all the Arduinos, breadboards, and sensors you need!
About the instructor:
Dafydd Hughes is a musician, an artist, and programmer and an educator based in Toronto. He has performed and recorded with some of Canada's most notable artists, including Feist, Esthero and Jacksoul. His work, both musical and visual, playfully explores the unpredictable intersection of analog and digital experiences of the world.
In addition to sitting on the Board of Directors at InterAccess Electronic Media Arts Centre, Dafydd is an instructor at Ryerson University, OCAD University and Sheridan College.
Receive a discount on workshops!
Did you know you can receive a discounted rate on most workshops? By purchasing a Workshop Discount Pass or an Annual Studio Membership you will receive a discounted rate on workshops, in addition to other great benefits. This is an excellent option if you foresee yourself attending multiple workshops over the course of the year.
Buy Workshop Discount Pass
Buy Annual Studio Membership