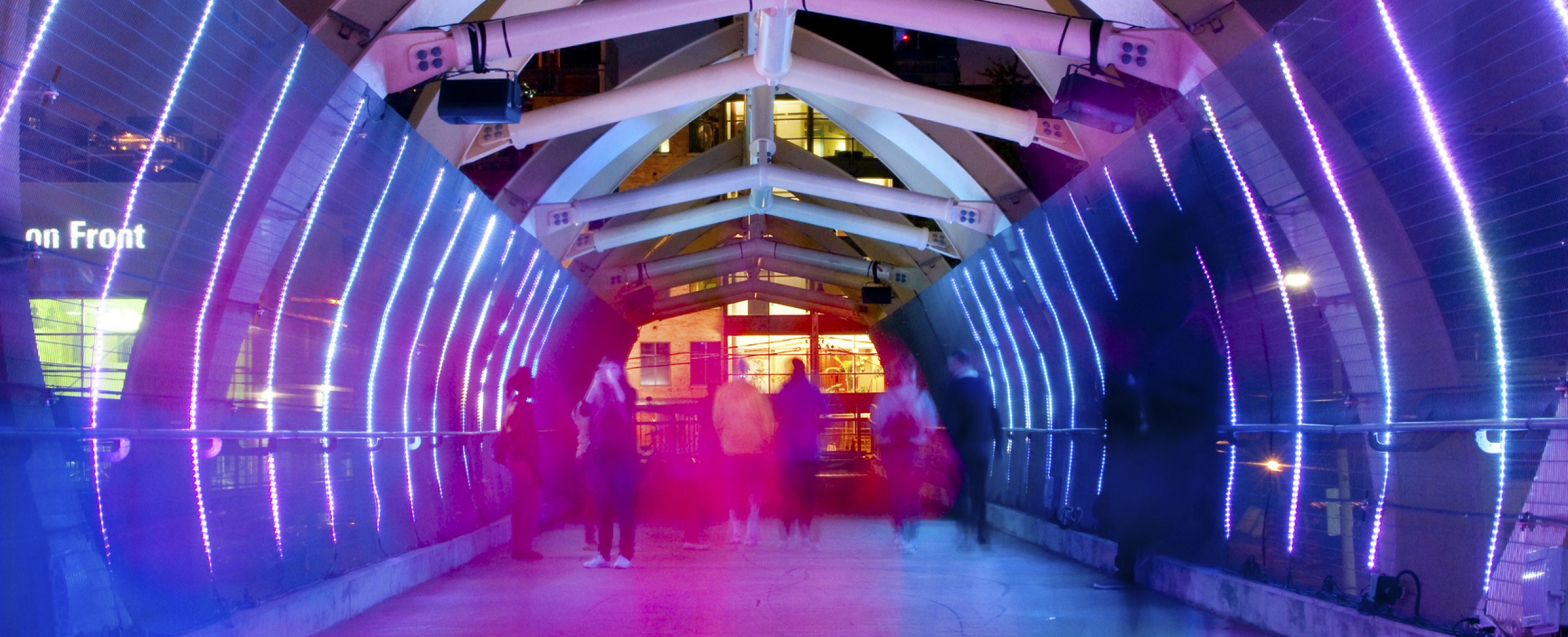 Nathan Whitford (Urban Visuals)
Large-Scale Light Art (Series)
THIS WORKSHOP IS SOLD OUT.
Learn how to control robotic lights, theatrical dimmer units and addressable RGB LEDs! Participants will explore different ways of controlling sample lighting units (provided) using Arduino, Processing, and openFrameworks, and will consider ways that a small breadboard circuit can be scaled up to a large artwork. We will have samples of many different types of lighting fixtures to control, and discuss ways that you can create your own lighting fixtures.
Dates: Tuesday October 6 & 13
Time: 7-10pm
Registration Fee: $90 (Members); $120 (Non-Members)
Material Fee: None.
What, if any, prerequisite knowledge should students have? While no actual prerequisite knowledge is required, it would be helpful is students have a simple understanding of some programming, and have a current model laptop. Mac preferred, but PC is also an option. Familiarity with Processing and/or Arduino IDEs would be an asset.
What to Bring: Laptop. Preferably Mac OSX, but can also use PC. If you have an Arduino board, please bring it. If not, boards will be provided.
Required Software: Students should have Processing and Arduino preloaded on their computer.
About the Instructor: Nathan Whitford is the cofounder and director of Urban Visuals, a multi-disciplinary studio founded in Vancouver in 1994 and now based in Toronto and London, England. Urban Visuals creates a wide variety of interactive installations and public art works that span corporate and artistic sectors. Nathan Whitford's recent light-based art installations include Shy Lights (Scotiabank Nuit Blanche, Toronto, 2014), Good Bones (Come Up To My Room, Toronto, 2014), lightbridge (Scotiabank Nuit Blanche, Toronto, 2013), 125 Steps (Vancouver 125, Vancouver, 2011), and lightmodal (Surrey, BC, 2011). His work has also been featured at Vancouver's 2010 Cultural Olympiad and Illuminate Yaletown (2009, 2011, 2012) and Ottawa's Winterlude (2013). More details can be found at www.urbanvisuals.com
Receive a discount on workshops!
Did you know you can receive a discounted rate on most workshops? By purchasing a Workshop Discount Pass or an Annual Studio Membership you will receive a discounted rate on workshops, in addition to other great benefits. This is an excellent option if you foresee yourself attending multiple workshops over the course of the year.
Buy Workshop Discount Pass
Buy Annual Studio Membership