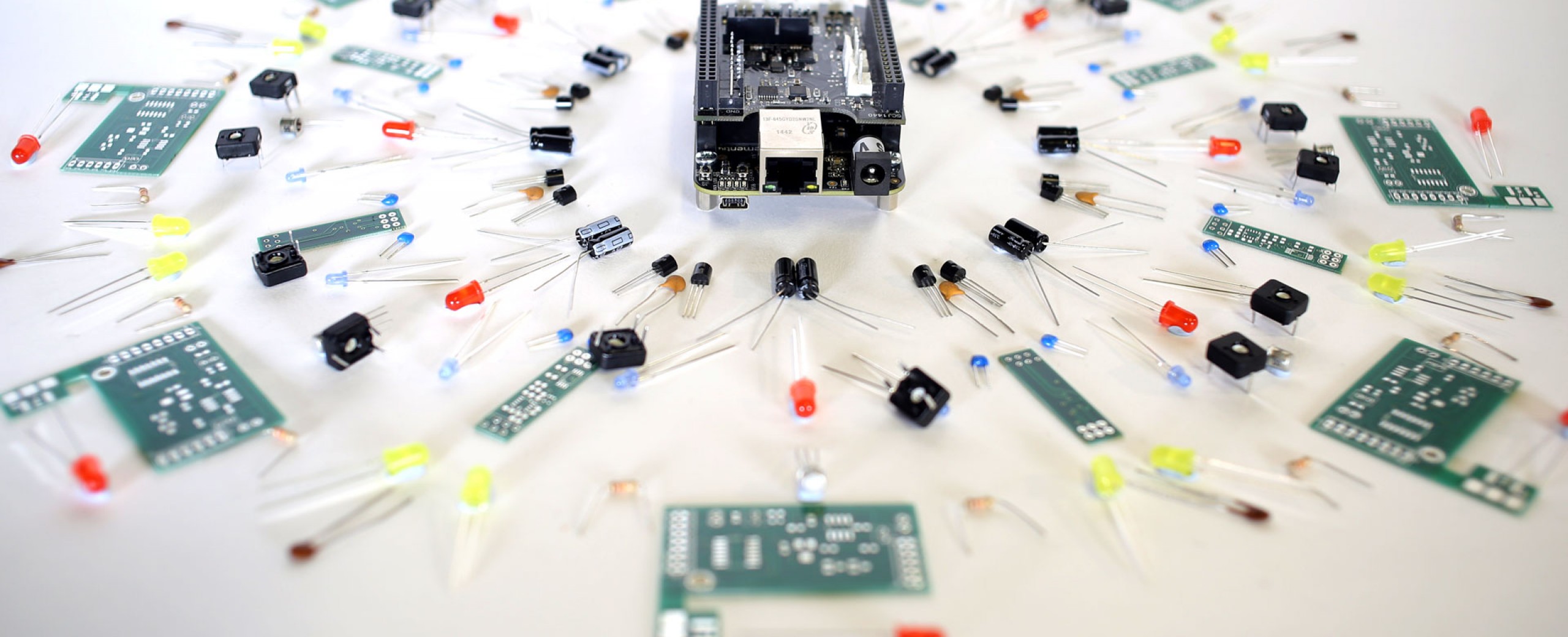 Out Through the Outlet: Making sounds in real time with Bela and Pure Data
In this workshop you'll get an introduction to Bela, a platform for ultra-low latency audio and sensor processing. You'll get to know Bela, become familiar with what's involved in real-time digital signal processing, and discover how to use Pure Data with Bela to control sensors and make sounds. Using a Bela system, a breadboard and any components available (or ones you bring with you), you'll be able to make sounds.
From the Bela website: Bela is an embedded system for real-time audio processing with ultra-low latency. Based on the BeagleBone Black single-board computer and featuring a custom hardware and software environment, Bela integrates audio processing and sensor connectivity in a single high-performance package.
Bela is an ideal platform for musicians, instrument designers, audio enthusiasts and interactive artists.
Bela was designed for audio hardware projects, but it doesn't stop there. Bela is ideal for any project that requires ultra-fast processing of multiple streams of data for maximum responsiveness. Bela is the core of many electronic musical instruments, but has also been used for kinetic sculpture, interactive installations, even a game played in an analogue oscilloscope.
Read more about Bela here
Date: Sunday October 23
Time: 12-5pm
Registration:
$ 140 Regular Price
$ 120 With Annual Studio/Workshop Pass (see below)
What to bring:
Your laptop with PureData Installed - download it here
Bela Kits will be provided to you for use during the workshop courtesy of the Instructor. If you wish to purchase a kit to take away, you must do so before October 10th by contacting us at education@interaccess.org
About the Instructor:
S. Astrid Bin is a PhD researcher at the Centre for Digital Music at Queen Mary University of London, where she builds augmented instruments and studies how they're used. She is one of the developers of Bela. See some of her work here.
Questions? If you have any questions about the workshop or special requirements, please contact us at education@interaccess.org. Cancellation and Rescheduling Policy: We are unable to accommodate attendee cancellations or refunds less than 1 week prior to a workshop or event. InterAccess reserves the right to cancel or reschedule this workshop if necessary.
Receive a discount on workshops!
Did you know you can receive a discounted rate on most workshops? By purchasing a Workshop Discount Pass or an Annual Studio Membership you will receive a discounted rate on workshops, in addition to other great benefits. This is an excellent option if you foresee yourself attending multiple workshops over the course of the year.
Buy Workshop Discount Pass
Buy Annual Studio Membership