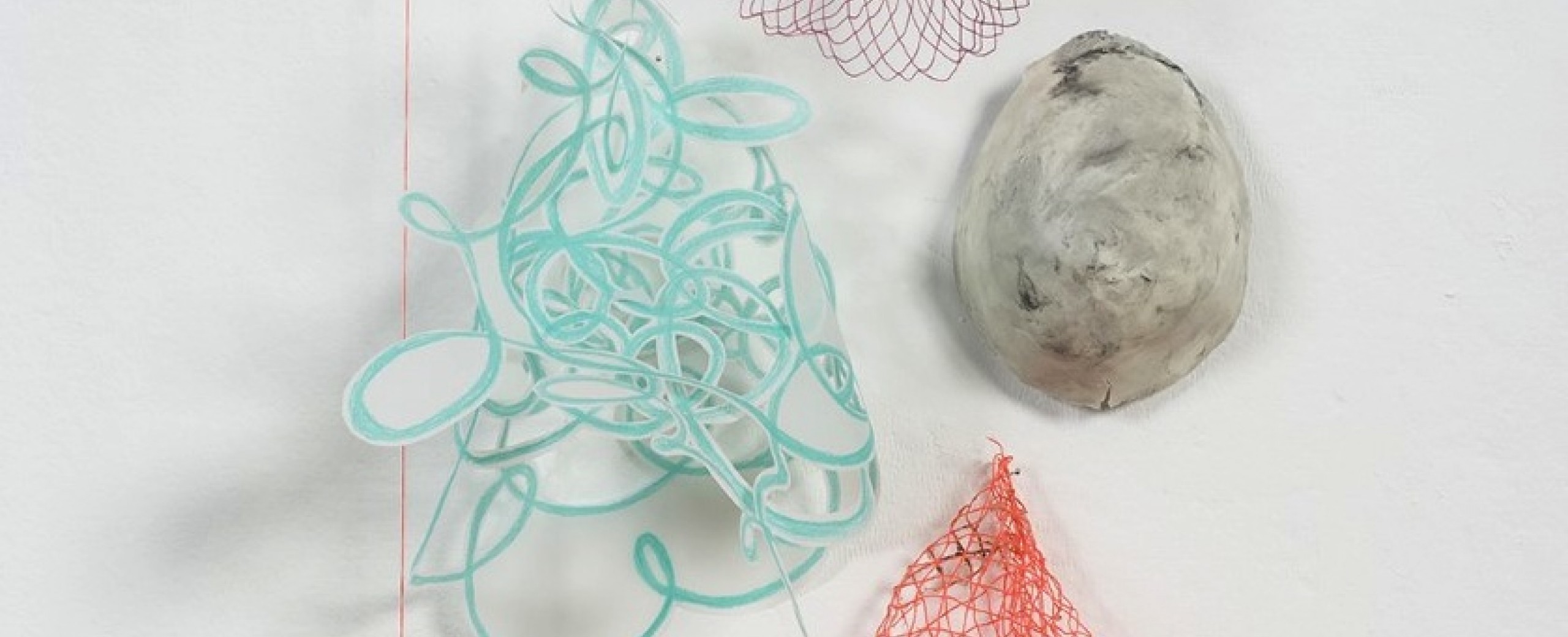 Exploring Fiber as Installation: Techniques and Materials
Exploring Fiber as Installation: Techniques and Materials
This two part workshop intensive will provide a survey of textile and fiber materials and techniques, including water soluble fabrics, combining specific techniques with experimental approaches to making. Embroidery, weaving, macrame, wrapping, twisting and binding will be combined with a variety of materials like fabrics, threads, wire, paper- and more!
Working at both small and large scale we will look at exploration and process as an essential part of making a "finished work." We will build our own installations while looking at contemporary artists using innovative methods to make large-scale works.
Students should expect to come away from the class with the skills to create and hang an installation work based in textile processes or materials. Students will have the time to create some prototypes or small objects that can be expanded into larger works.
Date: Saturday April 29 and Saturday May 6
Time: 12-4pm
Registration Fees:
Regular Price $160 + $15 Material Fee
Annual Studio/Workshop Pass Discount $120 + $15 Material Fee
What, if any, prerequisite knowledge should students have?
All levels of experience are welcome.
As starting points for works like: Pattern Study by Amanda McCavour: http://amandamccavour.com/?p=965
What materials/equipment should students bring?
Embroidery Hoop: This should be a smaller hoop that is around 8-10 inches across. Anything slightly bigger or smaller, you are welcome to bring as well.
Scissors: Fabric scissors and/or Embroidery scissors and/or fun scissors
Xacto Knife
Scrap yarn, Ribbon, and Notions: Bring materials that you love. Anything that you would like to include like buttons, sequins, lace, trim, etc. are welcome.
Plastics and Papers: Plastics and papers can be used with this technique as well. Thin plastics or papers with long fibers such as washi paper are ideal but we can also experiment with other things.
Found Fabrics: I know I have bins of beautiful fabric I'm just saving- and you might too! Bring some of your beauties to integrate into your project.
Thread: Any specialty thread that you would like to play with- bring it in! I will have a variety of colors available but if you have something particular you would like to use- bring that in!
Sketchbook for Reference: If you keep some of your ideas in a book, bring that with you. Photographs, picture books- really anything that you think you would like to reference in your project. This is not required but could be helpful.
Extras: Do you have an idea for something different? Bring in whatever wild materials you think of and we can try them out.
Optional:
Sewing Machine: One of the most challenging things about machine embroidery is working with the sewing machine. It can be frustrating, it can be tricky. So before the workshop starts, make sure that you are familiar with your sewing machine. Spend some time exploring the different stitches and make sure you know how to thread the machine, load the bobbin etc. This workshop will be about exploring stitching and experimenting with it so it is ideal to have a handle on the quirks and personality of your tools before coming into the workshop. **InterAccess has one Sewing Machine & one Serger to share, we will try to borrow more but if you have one, it would be good to bring it.
Sewing Needles for your Machine: The needles in your machine can break- so bring some extras with you. I would recommend picking up Universal, Sharp or Machine Embroidery needles that fit your machine.
Extra Bobbins: I would recommend to bring about 5 of these.
About the Instructor:
McCavour holds a BFA from York University and MFA from Tyler School of Art in Philadelphia, PA. McCavour shows her work in galleries nationally and internationally with solo exhibitions in 2016 in Cornerbrook (NL), Roanoke (VA), Olympia (WA), Washington (PA), Smithville (TN) and Ruston (LA). She has recently completed residencies at Harbourfront Centre's Textile Studio in Toronto, at Maison des Metiers D'art de Quebec in Quebec City and the Klondike Institute of Art and Culture in Dawson City, Yukon. She has received numerous awards and scholarships from The Canada Council for the Arts, The Ontario Arts Council, The Toronto Arts Council, Craft Ontario, The Ontario Society of Artists, The Surface Design Association and The Embroiderers Guild of America. Check out Amanda's work here
Questions? If you have any questions about the workshop or special requirements, please contact us at education@interaccess.org. Cancellation and Rescheduling Policy: We are unable to accommodate attendee cancellations or refunds less than 1 week prior to a workshop or event. InterAccess reserves the right to cancel or reschedule this workshop if necessary.
Receive a discount on workshops!
Did you know you can receive a discounted rate on most workshops? By purchasing a Workshop Discount Pass or an Annual Studio Membership you will receive a discounted rate on workshops, in addition to other great benefits. This is an excellent option if you foresee yourself attending multiple workshops over the course of the year.
Buy Workshop Discount Pass
Buy Annual Studio Membership