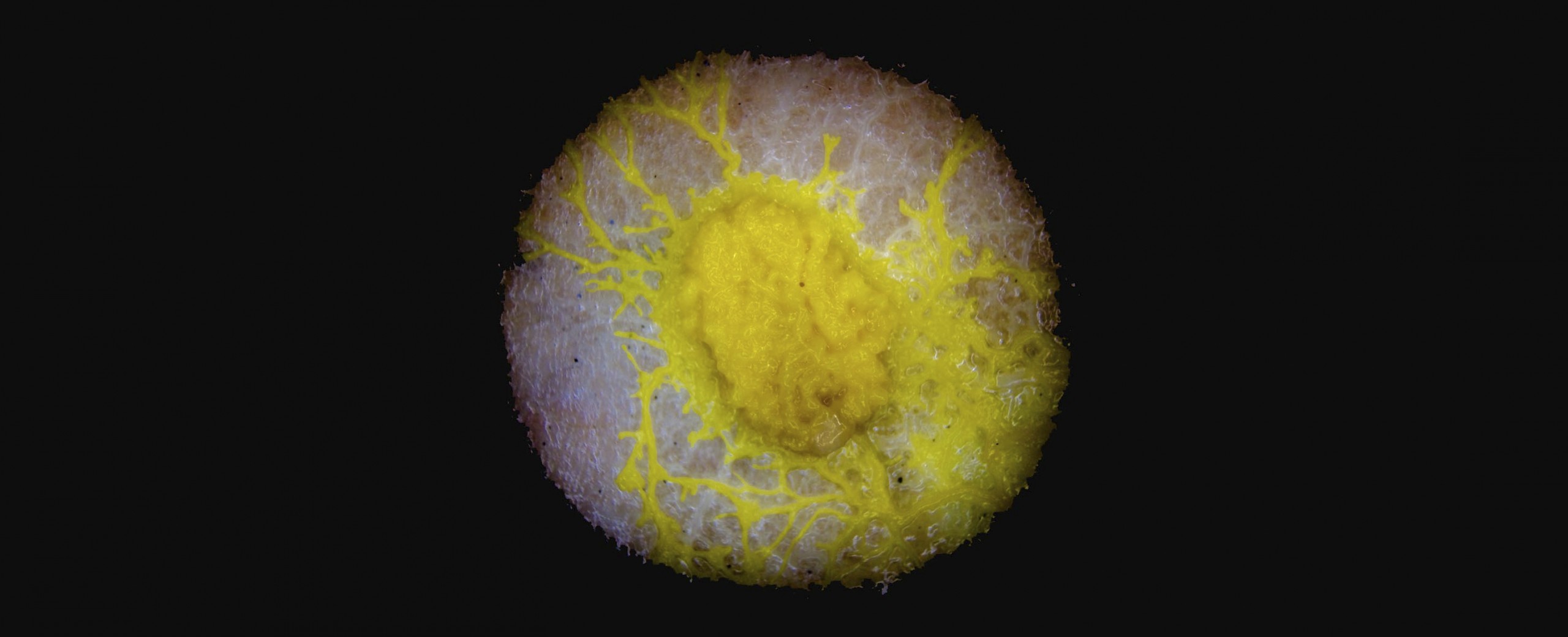 Biomedia: Caring for Home-Grown Cultures

Learn to make biological media at home and start growing cultures of attractive and intelligent slime mold (a.k.a Physarum Polycephalum). Sarah Choukah will introduce slime mold's amazing potential for collaboration at the intersection of art, science and technology. Participants will learn how to transform their kitchens and closets in safe, mini Physarum biolabs. They will leave the workshop with a feeding and growing kit, as well as their own new pet slime mold.
Physarum is a yellow ameboid, blobby, veiny dweller of decaying logs and decomposing vegetation on dim forest floors. It made headlines when Japanese biologists demonstrated its uncanny ability to optimize paths through mazes and reproduce tracks between mapped Tokyo railway stations. Since then, slime mold has become an attractive living substrate for research in diverse areas such as mathematical modeling, computation and bioart.
By the end of the workshop, participants will be able to prepare a variety of biological media at home for art and research. They will have learned the basics of DIY aseptic technique. They will know of the main constraints and wide array of possibilities of slime mold culturing. They will also be able to experiment with different biological media and feeding substrates, and how they inform the growth and morphology of protozoans and protists.

Dates: Thursday October 5 and 12
Time: 7-10pm
Registration Fee:
Annual Studio or Workshop Pass Discount $90 + $10 Materials Fee
Regular Price $120 + $10 Materials Fee
What, if any, prerequisite knowledge should students have? No previous experience is necessary-- this is an introductory course!
What to Bring: If they wish, participants can bring small, non-valuable and inexpensive personal or found objects. These should be small enough to fit in a petri dish or small plastic container. They can be used to experiment with slime mold growth.
About the Instructor: Sarah Choukah is a doctoral candidate at the Université de Montréal's department of communication. Sarah grows concepts and living creatures that blur boundaries between information and media studies, philosophy, technology and biohacking. Her dissertation dissects modes of relation with amateurism and failure through an autoethnographic approach.Check out her work at : schoukah.com
Questions? If you have any questions about the workshop or special requirements, please contact us at education@interaccess.org. Cancellation and Rescheduling Policy: We are unable to accommodate attendee cancellations or refunds less than 1 week prior to a workshop or event. InterAccess reserves the right to cancel or reschedule this workshop if necessary.
Receive a discount on workshops!
Did you know you can receive a discounted rate on most workshops? By purchasing a Workshop Discount Pass or an Annual Studio Membership you will receive a discounted rate on workshops, in addition to other great benefits. This is an excellent option if you foresee yourself attending multiple workshops over the course of the year.
Buy Workshop Discount Pass
Buy Annual Studio Membership