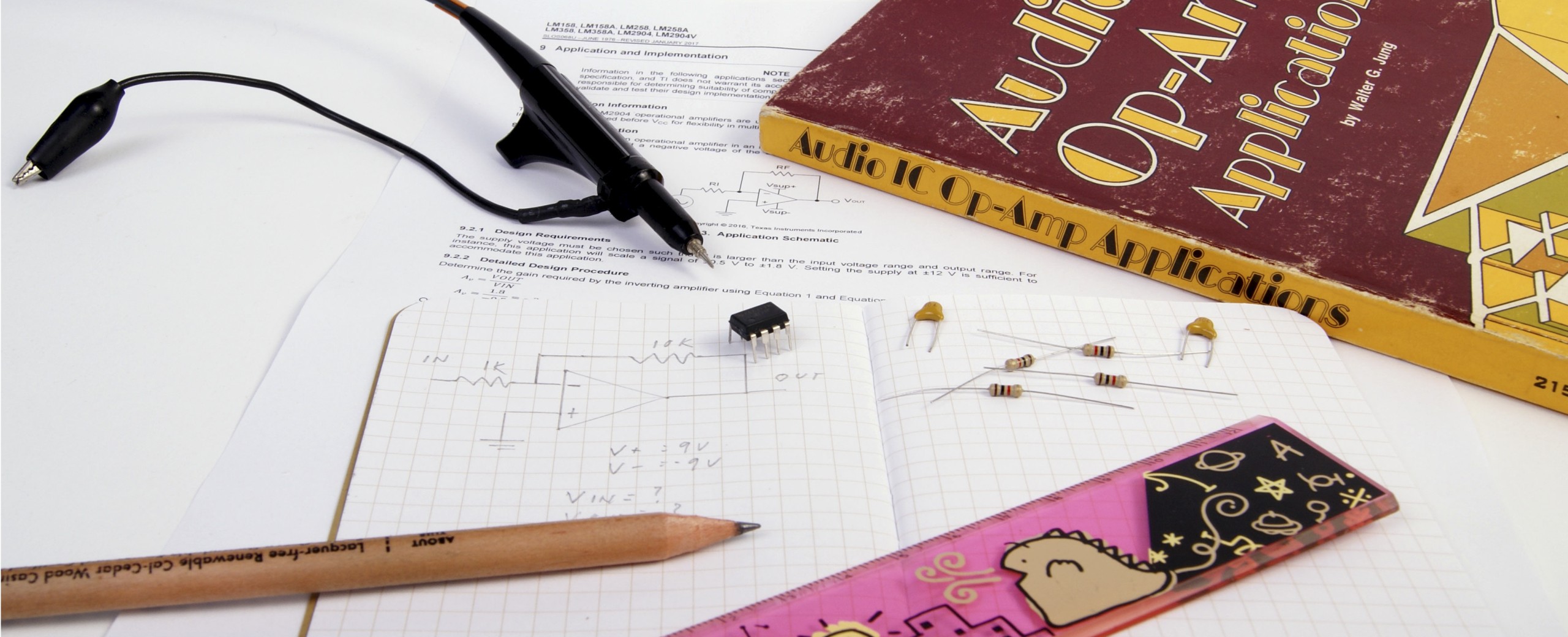 Intro to Op Amps and Analog Electronics
Maybe you've struggled to get a wider range of values from a sensor into your Arduino. Maybe you're interested in building an analog synth. Maybe you are a sound artist who wants to build a microphone preamp, or a mixer. You might not know it yet, but Op-amps are what you need in your life! In this workshop we'll learn the basics of op amps, (including why they are called "op-amps"!) You'll learn how to deal with their special power supply requirements, learn about some of the more common op-amp circuit configurations, learn about adding gain and offset to signals, and be introduced to using an oscilloscope to visualize analog voltages.
Date: Tuesday November 7
Time: 7-10pm
Registration Fees:
$45 (With Annual Studio/Workshop Pass) + $10 Materials Fee
$60 (Regular) + $10 Materials Fee
What, if any, prerequisite knowledge should students have? This is an intermediate skill-level workshop. Participants should have completed the Intro to Electronics workshop or have similar knowledge, in particular, a good grasp of voltage, current, resistance, and Ohm's Law. You must be able to read a simple schematic , and build a circuit on a breadboard without assistance. Some knowledge of Arduino would be helpful, but not necessary. If you need a refresher, come to an Open Studio night before the workshop!
What to bring: You will need a pencil and paper for taking notes, a ruler may be helpful for drawing circuits. The math involved will be simple, but you should bring a calculator or calculator app for your phone. (scientific calculators are best if you are comfortable using one)
About the Instructor: Rob Cruickshank, an IA board member and our resident genius, is a Toronto-based multidisciplinary artist. He works in various media including electronic and robotic installations, sound art, electroacoustic music, and photography, and has been exhibited in Toronto, and internationally. Rob has developed a number of workshops at InterAccess, providing an opportunity to learn electronics, and has assisted numerous artists with the technological challenges of realizing their works.
Questions? If you have any questions about the workshop or special requirements, please contact us at education@interaccess.org. Cancellation and Rescheduling Policy: We are unable to accommodate attendee cancellations or refunds less than 1 week prior to a workshop or event. InterAccess reserves the right to cancel or reschedule this workshop if necessary.
Receive a discount on workshops!
Did you know you can receive a discounted rate on most workshops? By purchasing a Workshop Discount Pass or an Annual Studio Membership you will receive a discounted rate on workshops, in addition to other great benefits. This is an excellent option if you foresee yourself attending multiple workshops over the course of the year.
Buy Workshop Discount Pass
Buy Annual Studio Membership