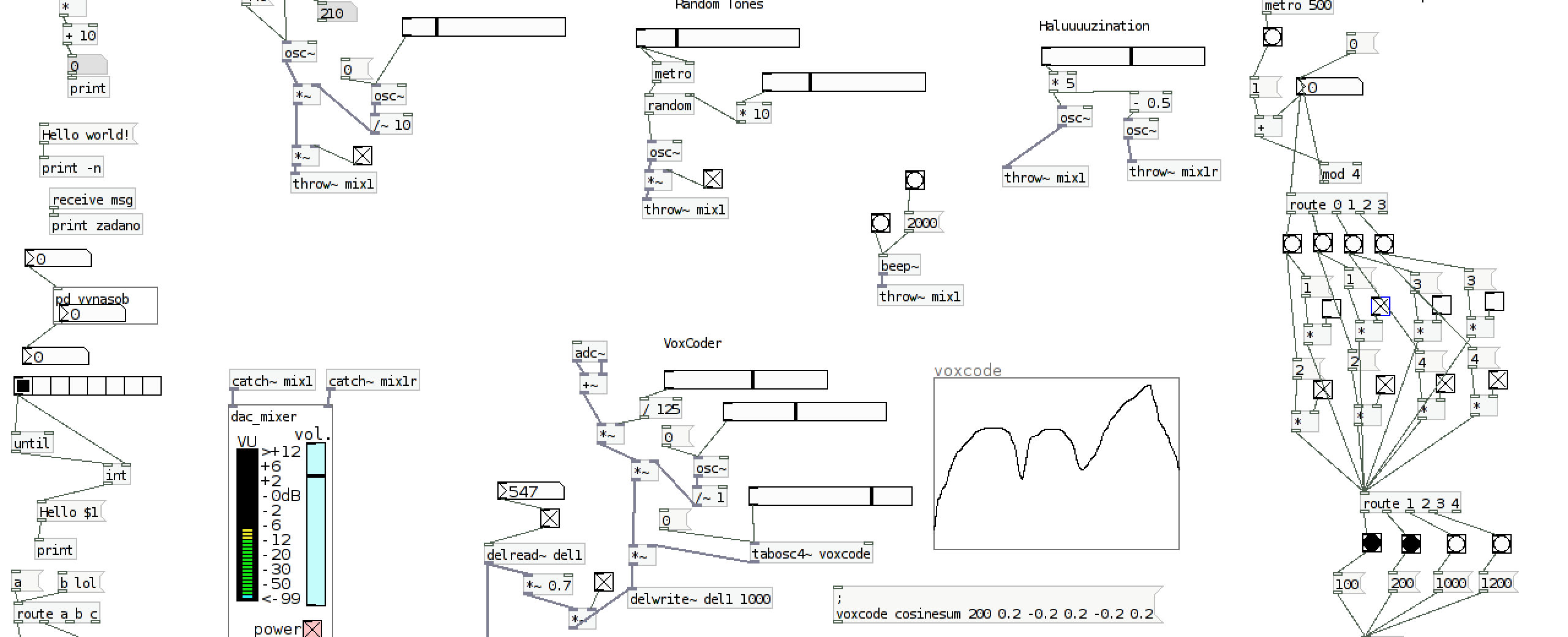 Learn the Basics or Pure Data (Pd), a free, Open Source environment specifically designed to help artists, musicians and other creators make things that react to what's going on around them. Learn how to make simple reactive video artworks, and how to connect your pieces to the real world by connecting Pure Data to an Arduino. In part 1 (Think in Pd) of this two part workshop we'll learn the basics of working in Pd by creating one or two simple reactive video artworks. The following week, we'll apply what we learned to working with or physical sensors and outputs. By the end of this workshop, you should have the basic tools to allow you to create your own work, as well as an understanding of how to translate a problem or question into a solution using Pd.
Dates: Tuesday November 13 and 20
Time: 7-10pm
Registration Fee:
Annual Studio or Workshop Pass Discount $90
Regular Price $120
What, if any, prerequisite knowledge should students have? No experience is necessary. We'll be doing some math, but nothing too hard.
What to Bring: Please bring a laptop with Pure Data installed: https://puredata.info/downloads
About the Instructor: Dafydd Hughes is a musician, artist, programmer and educator based in Toronto, Canada. He has performed and recorded with some of Canada's most notable artists, including Feist, Esthero, Chantal Kreviazuk and Raine Maida. He is active in Canada's jazz, pop and experimental music scenes through solo work and various collaborations. His work, both musical and visual, playfully explores the unpredictable intersection of analog and digital experiences of the world.
Questions? If you have any questions about the workshop or special requirements, please contact us at education@interaccess.org. Cancellation and Rescheduling Policy: We are unable to accommodate attendee cancellations or refunds less than 1 week prior to a workshop or event. InterAccess reserves the right to cancel or reschedule this workshop if necessary.
Receive a discount on workshops!
Did you know you can receive a discounted rate on most workshops? By purchasing a Workshop Discount Pass or an Annual Studio Membership you will receive a discounted rate on workshops, in addition to other great benefits. This is an excellent option if you foresee yourself attending multiple workshops over the course of the year.
Buy Workshop Discount Pass
Buy Annual Studio Membership