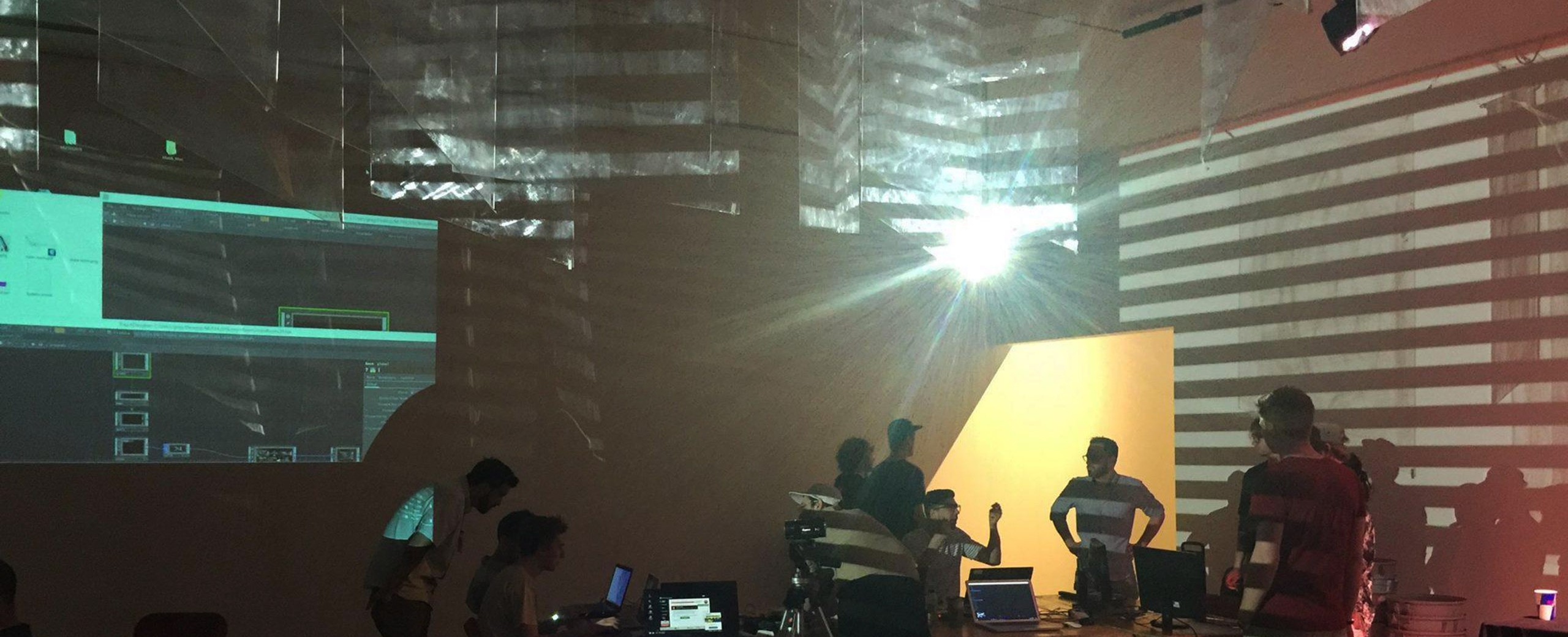 Large Scale Projection Mapping with TouchDesigner
Organised as a 3 part workshop, this series will introduce participants already familiar with the TouchDesigner interface to standard techniques of projection mapping and give everyone the chance to apply the acquired knowledge at the Big on Bloor Festival by throwing some light onto the façade of the Kent School. While the first session will be an introduction to all the tools available in TouchDesigner for mapping surfaces and buildings, the second part of the workshop will be spent in teams exploring and developing ideas for the final night. During the workshop each team will be given a projector and a surface to test-drive their creations. The final night at the Kent School will be spent learning about the technical details and hardware requirements of the projection setup with time to present and experience final results.
This workshop is presented in partnership and with support from Big on Bloor Festival.
Dates and Times:
Tuesday, July 3 | 7-10pm
Tuesday, July 17 | 7-10pm
Saturday, July 21 | 8-12pm
Registration Fee: $360 Regular, $310 with Annual Studio/Workshop Discount Pass
What, if any, prerequisite knowledge should students have? This is an intermediate workshop-- participants should be comfortable with the TouchDesigner Interface and have an understanding for basic workflows in the software. A familiarity with concepts like "Exporting" and the ability to create a basic render setup is required.
What materials/equipment should students bring? Students should bring a laptop with the latest version of TouchDesigner installed, a 3-button mouse (or two-button with a clickable scroll wheel), and a pair of headphones. TouchDesigner is available for download at: https://www.derivative.ca/099/Downloads/Default.asp. Participants are also encouraged to bring compatible devices they might want to use in their projects for added interactivity.
TouchDesigner requires Windows 7 SP1 and up or MacOS 10.11 and up. The software supports Integrated Intel Graphics (HD4000 and up) but we do recommend a discreet GPU of the NVIDIA GeForce 600 or AMD HD 7000 Series and up. Make sure all drivers are up to date. If you haven't updated your graphics drivers in a long time, it would be a good idea to check for new ones at Nvidia.com or AMD.com. You will also need a 3-button (or 2 button with clickable scroll wheel).
Before you arrive, please Open TouchDesigner to make sure everything is working. If this is the first time running TouchDesigner on your laptop it will ask you to create a key. You will need to be a member at www.derivative.ca to create a key, you can register here.
About the Instructors:
Markus Heckmann, a native to Leipzig, Germany is a Technical Director with Derivative where he works on commercial and artistic projects alike spanning major theme park attractions to public video displays, art installations like Carsten Nikolai's uni series, live visual projects for musicians such as Plastikman or Alva Noto and the development of fully fledged control applications like WhiteVoids KineticLights. Apart from project and development work, Heckmann is active promoting TouchDesigner and teaching its uses in the fields of art and technology to the interested public at companies, festivals and conferences around the world.
A 16 year veteran with Derivative, Ben Voigt has seen TouchDesigner develop from the earliest days of version 007. Currently he is engaged in software design and client production at Derivative, working as part of the R&D team. He is also integral in shaping TouchDesigner learning material and in teaching workshops. Coming from a background in Computer Science at University of Toronto, he later found his passion for visuals through film visual effects and games. TouchDesigner's hybrid of art and technology and working with artists and engineers alike keeps Ben engaged with the TouchDesigner community wherever he goes.
Questions? If you have any questions about the workshop or special requirements, please contact us at education@interaccess.org. Cancellation and Rescheduling Policy: We are unable to accommodate attendee cancellations or refunds less than 1 week prior to a workshop or event. InterAccess reserves the right to cancel or reschedule this workshop if necessary.
Receive a discount on workshops!
Did you know you can receive a discounted rate on most workshops? By purchasing a Workshop Discount Pass or an Annual Studio Membership you will receive a discounted rate on workshops, in addition to other great benefits. This is an excellent option if you foresee yourself attending multiple workshops over the course of the year.
Buy Workshop Discount Pass
Buy Annual Studio Membership