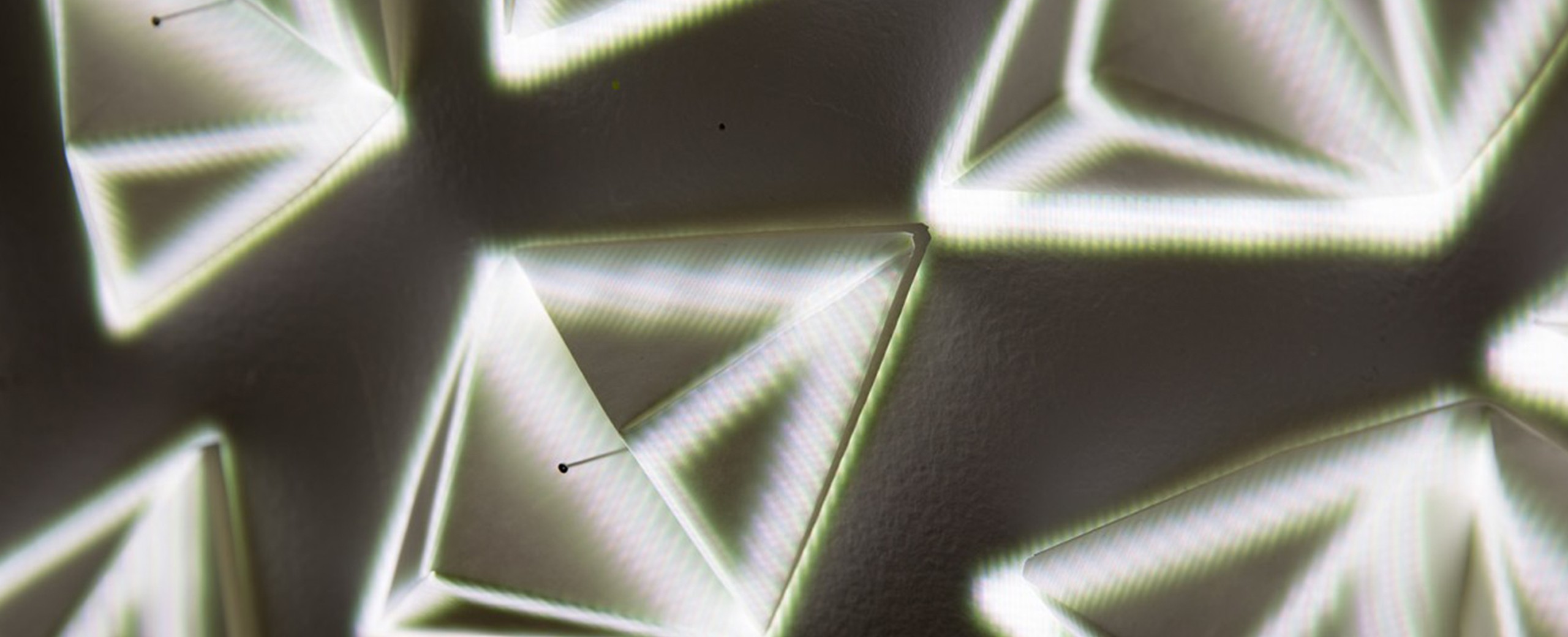 Intro to Projection Mapping with TouchDesigner
Organized as a 3-part workshop, this series will introduce participants to the TouchDesigner interface and standard techniques of projection mapping to turn objects and spaces into display surfaces for video projection. The first session will be an introduction to all the tools available in TouchDesigner for mapping surfaces, walls and buildings, while the second part of the workshop will be spent developing and testing out ideas through tape-mapping in the gallery and wall-mounted foam core structures. During the sessions, each participants will be given a projector and a surface to test-drive their creations in the InterAccess gallery. The final session will be spent learning about the technical details and hardware requirements of the projection setup with time to present and experience final results.
With the Spring 2019 update, TouchDesigner has gained a wide range of features that can help with realizing more visual exalting installations and real-time content. Aside from Physical Based Rendering and full Unicode support, the integration of the Bullet Physics Engine adds another tool-set available to the community through the intuitive node based architecture. Being a Beginner Level, this workshop will give participants a fast track start on working with TouchDesigner, providing a good basis to gain an initial understanding on work-flow, concepts and techniques and equipping attendees with the knowledge to start creating interactive / generative setups.
It is still encouraged that participants familiarize themselves with the basics of TouchDesigner. A good resource of past workshop videos can be found for example here: https://www.youtube.com/user/raganmd or https://www.youtube.com/channel/UCbgFCfj0vp-nNGQ4hT5uEAg or https://www.youtube.com/user/Wuestenarchitekten
This workshop is currently sold out! We offer this workshop often, so stay tuned for the next opportunity by signing up to our newsletter or following us on social media.
Part 1: Saturday, June 1
Part 2: Saturday, June 8
Part 3: Saturday, June 15
Times: 1-4pm
Registration Fee:
Annual Studio or Workshop Pass Discount $135
Regular Price $225
Technical Requirements:
a computer with the latest official TouchDesigner099 installed and keyed (more information on installation and licenses here)
make sure your graphics card drivers are up to date
a 3 button mouse
please consult the System Requirements to make sure your computer is capable of running TouchDesinger099
About the instructor:
Markus Heckmann, a native to Leipzig, Germany is a Technical Director with Derivative where he works on commercial and artistic projects alike spanning major theme park attractions to public video displays, art installations like Carsten Nikolai's uni series, live visual projects for musicians such as Plastikman or Alva Noto and the development of fully fledged control applications like WhiteVoids KineticLights. Apart from project and development work, Heckmann is active promoting TouchDesigner and teaching its uses in the fields of art and technology to the interested public at companies, festivals and conferences around the world.
Questions? If you have any questions about the workshop or special requirements, please contact us at education@interaccess.org.
Cancellation and Rescheduling Policy: We are unable to accommodate attendee cancellations or refunds less than 1 week prior to a workshop or event. InterAccess reserves the right to cancel or reschedule this workshop if necessary.
Receive a discount on workshops!
Did you know you can receive a discounted rate on most workshops? By purchasing a Workshop Discount Pass or an Annual Studio Membership you will receive a discounted rate on workshops, in addition to other great benefits. This is an excellent option if you foresee yourself attending multiple workshops over the course of the year.
Buy Workshop Discount Pass
Buy Annual Studio Membership