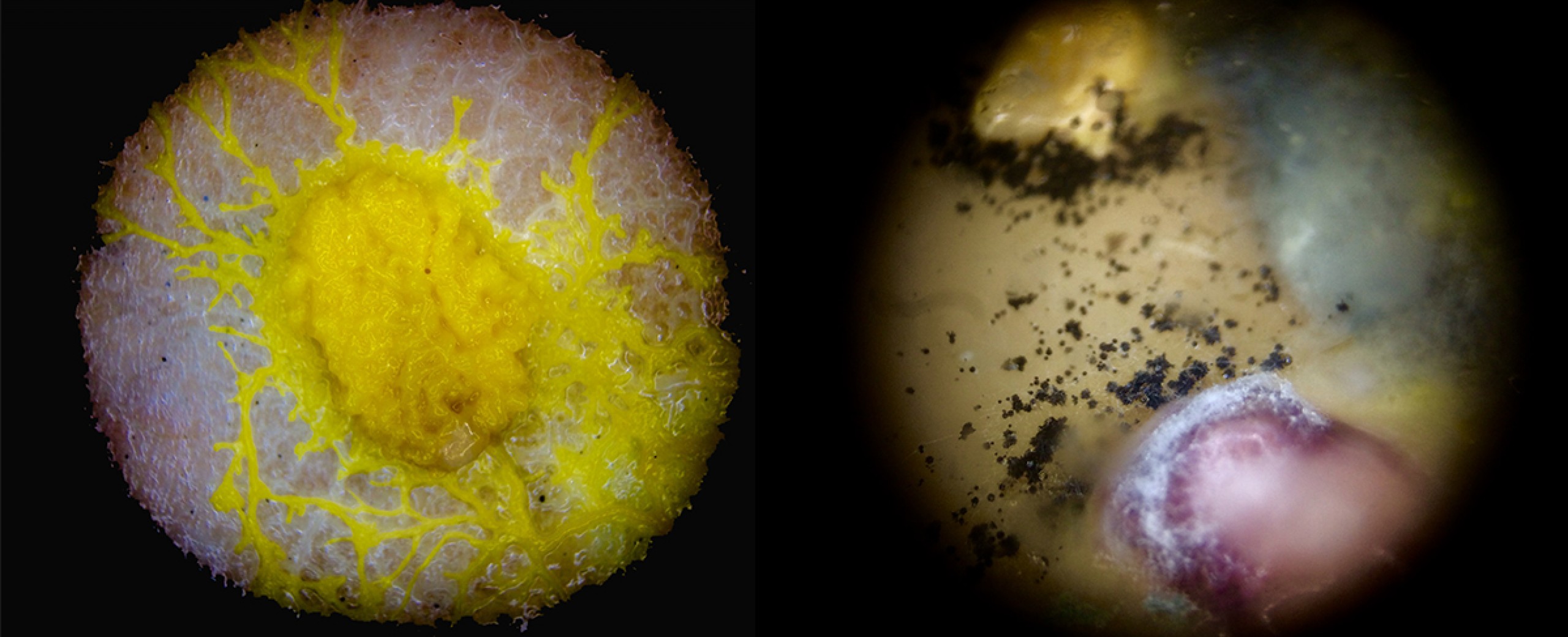 Slime Mold as Capacitive Storytelling
Slime mold is a beautiful living monoculture. Due to its tendency to grow in the pattern of nodes and branches, new media bio-artists have been using it as a medium to represent everything from the functionality of the Internet to diaspora migration patterns of the human race.
In this workshop, you'll learn how to cultivate and care for your slime mold, creating a hospitable ecosystem for it to flourish. We'll also mount low fi capacitive sensors to our habitat that will act as switches, safely triggering sound samples that will play when the slime mold makes contact. We'll discuss the kinds of audio both narrative and non-linear that may be meaningful to program. In session two we'll discuss the experience of witnessing this collaborative performance piece and look at creating more elaborate bio-ecosystems.
Dates:
Part 1: Tuesday, June 25
Part 2: Tuesday, July 2
Time: 7-10pm
This workshop is now sold out! Please sign up for our mailing list or write an email to education@interaccess.org to be notified of future slime mold workshop opportunities.
Prerequisites: No former bio art knowledge needed. Beginner/basic knowledge of Arduino is recommended.
About the Instructor: Ashley Jane Lewis is a 29 year old Interactive Artist, Maker and Youth Tech Educator. In the summer of 2016 she was listed in the Top 100 Black Women to Watch in Canada. She is now studying to get her Masters in Interactive Telecommunications in New York University's Tisch School of the Arts. Ashley's previous roles have included interning at Kids' CBC's Interactive Department, Digital Media Production at TVO, web content for Mozilla and event host for NASA Space Apps, to name a few. In 2014, with a project that inspires kids to read using interactive and collectable story beads, Ashley's team won Toronto's Startup Weekend Maker Edition and placed 2nd globally. Lewis has been featured as a Tech Activist in Metro News and has highlighted diverse tech education as a keynote speaker on numerous occasions for audiences at TEDx, FITC, International Women's Day and Maker Faire. For more on her work, check out Ashley's website: https://ashleyjanelewis.com/
Questions? If you have any questions about the workshop or special requirements, please contact us at education@interaccess.org.
Cancellation and Rescheduling Policy: We are unable to accommodate attendee cancellations or refunds less than 1 week prior to a workshop or event. InterAccess reserves the right to cancel or reschedule this workshop if necessary.
Receive a discount on workshops!
Did you know you can receive a discounted rate on most workshops? By purchasing a Workshop Discount Pass or an Annual Studio Membership you will receive a discounted rate on workshops, in addition to other great benefits. This is an excellent option if you foresee yourself attending multiple workshops over the course of the year.
Buy Workshop Discount Pass
Buy Annual Studio Membership