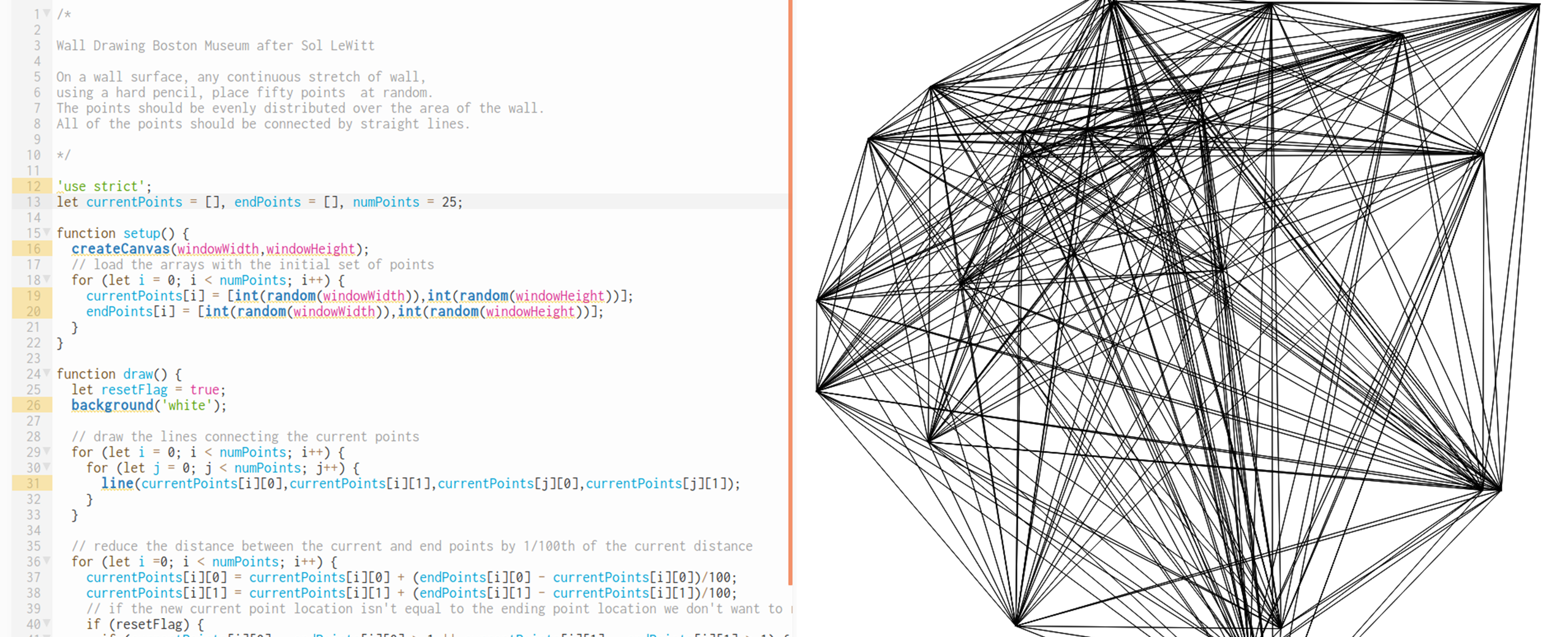 Drawing with Code using p5.js
p5.js is a JavaScript library that starts with the original goal of Processing to make coding accessible for artists, designers, educators, and beginners, and reinterprets this for today's web. p5.js sketches will run in most browsers making it easier than ever to share your art over the web without the need for plugins or other additional software. p5.js has addon libraries that make it easy to interact with other HTML5 objects, including text, input, video, webcam, and sound.
In this workshop, participants will be introduced to generative art and the fundamentals of p5.js, a programming language developed for artists to simplify drawing with code. Participants will learn how to use the p5.js web editor to create sketches using built-in and user-defined shapes, animate the shapes to create dynamic sketches, introduce randomness to create sketches that are different each time they are run, and share the sketches over the web.
View a live demo here.
Date: Saturday, October 19, 2019
Time: 1-4 PM
Registration fee:
Member: $48
Non-Member: $72
About the Instructor: Adam Herst is a Toronto based artist, arts manager, and technology consultant. He is interested in the tension between ideas, their ownership, and their reproduction, and in exploring the proposition that ideas which are designed for dissemination will be disseminated. When Adam isn't creating art, he helps arts organizations and other non-profits make the most of their investments in technology. https://adamherst.art/
Questions? If you have any questions about the workshop or special requirements, please contact us at education@interaccess.org.
Cancellation and Rescheduling Policy: We are unable to accommodate attendee cancellations or refunds less than 1 week prior to a workshop or event. InterAccess reserves the right to cancel or reschedule this workshop if necessary.
Receive a discount on workshops!
Did you know you can receive a discounted rate on most workshops? By purchasing a Workshop Discount Pass or an Annual Studio Membership you will receive a discounted rate on workshops, in addition to other great benefits. This is an excellent option if you foresee yourself attending multiple workshops over the course of the year.
Buy Workshop Discount Pass
Buy Annual Studio Membership