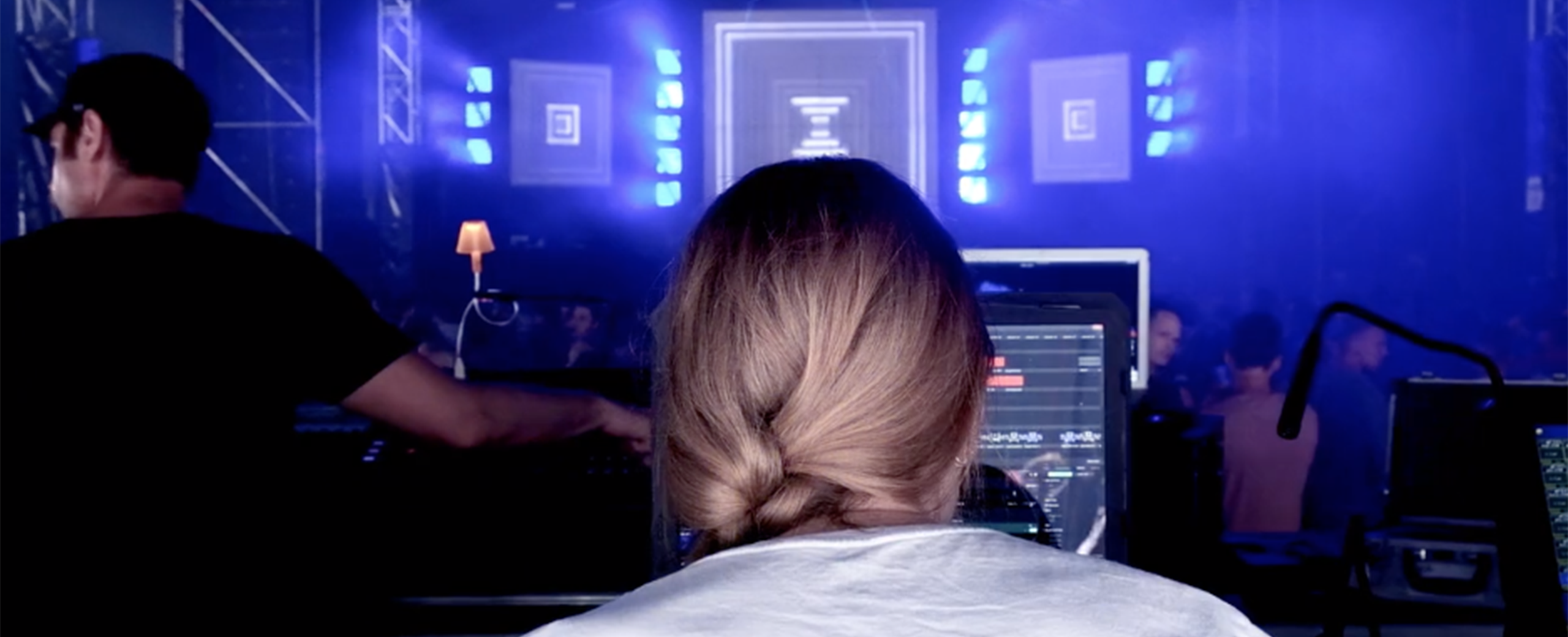 This workshop is designed for participants to gain practical introductory skills at live VJing using the Resolume Arena software. You will learn the functionality and tools included in the software, understand and execute basic set-up for running a live visual show using projectors, live music and midi devices. We are also teaming up with a techno producer Monochef and there will be an opportunity to showcase our work at a live music venue after the 3rd session of the workshop.
On the first day, we will learn the functionality and tools included in the Resolume package. Our focus will be on creative practices and building video compositions from scratch, without prearranged material by using only Resolume's built-in features. On our second day, we will hook up projectors and extend visual canvases we created in Resolume out into the surrounding space. We will critically focus on non-traditional and experimental approaches and touch upon advanced mapping techniques. We will continue to develop individual styles and strategies in live performance using midi devices. On day 3, we will collate all the skills learned during workshops into live mini VJ sets. Our final seminar concludes into a visual treat using sound and visuals and live performance elements, all happening at the same time. Get your party gear on and dive into the world of video jockeying.
About Resolume: Resolume is an instrument for VJs, AV performers and video artists. It puts all your media and effects right at your fingertips, so you can quickly play and improvise your live visuals. https://resolume.com
Dates:
Part 1: Tuesday, October 1, 7PM-10PM
Part 2: Thursday, October 3, 7PM-10PM
Part 3: TBC
Registration fee:
Member: $180
Non-Member: $240
What to bring: Your own laptop, mouse and charger. Please also download the latest version of Resolume Arena 7 prior to the workshop.
If you happen to have a midi device: a box with many buttons and sliders which hooks up with USB to your laptop, bring it along! If you have any additional questions regarding software or hardware, please don't hesitate to get in touch: mailit2kavi@gmail.com
About the Instructor: Ilze Briede (artist name Kavi), is a Toronto based digital media artist and a creative specialising in video projection and installation art. For Kavi, video projection is a hybrid between machine-made data and physical encounter in the form of light, occupying a unique durational moment in the space amongst the human subject and the material object. Kavi is interested in projected light as a means to subject our visual perception models, resulting in newly defined and reimagined realities. Besides working as an educator and workshop instructor, Kavi also creates time-based installation pieces, does live VJing for electronic music events and enjoys collaborative projects. She has previously worked with Fashion Art Toronto, Kensington Market Art Fair, Toronto Burlesque Festival, Toronto Sidewalklabs, and multiple music venues across Toronto. Kavi is a recent graduate from York University with an MFA degree in Visual Arts. www.ka-vi.com https://monochef.me
Questions? If you have any questions about the workshop or special requirements, please contact us at education@interaccess.org.
Cancellation and Rescheduling Policy: We are unable to accommodate attendee cancellations or refunds less than 1 week prior to a workshop or event. InterAccess reserves the right to cancel or reschedule this workshop if necessary.
Receive a discount on workshops!
Did you know you can receive a discounted rate on most workshops? By purchasing a Workshop Discount Pass or an Annual Studio Membership you will receive a discounted rate on workshops, in addition to other great benefits. This is an excellent option if you foresee yourself attending multiple workshops over the course of the year.
Buy Workshop Discount Pass
Buy Annual Studio Membership