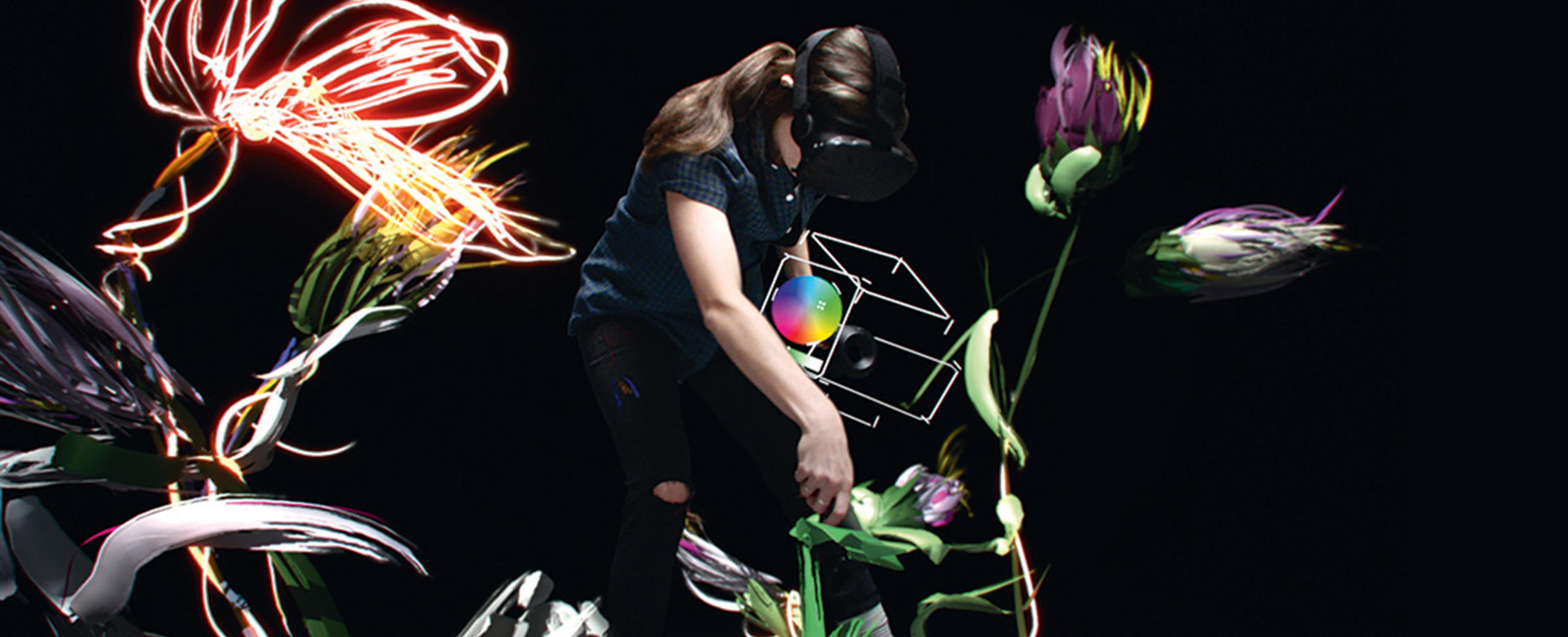 In this workshop, Casey Koyczan will cover an introduction to the tools and brushes within the Tilt Brush environment, and how to utilize them for different creative approaches. An array of topics will be covered including: Working with mirrors, Loading models and images for reference and use in artworks, Lighting your environment, Finding your style in virtual art, and Creating highly scaled VR art. Attendees will have a chance to view previously made VR artwork by Casey Koyczan, and get an opportunity to create artworks of their own.
This workshop is presented as part of imagineNATIVE Film + Media Arts Festival 2019.
Thank you to Another Reality for the generous support in VR equipment.
About Tilt Brush: Tilt Brush is a room-scale 3D-painting virtual-reality application available from Google. Tilt Brush lets you paint in 3D space with virtual reality. https://www.tiltbrush.com/
Date: Saturday, October 26, 2019
Time: 11AM-2PM
Location: TIFF Bell Lightbox Learning Studio A+B (3rd Floor), 350 King St W, Toronto, ON M5V 3X5
Registration Fees:
Member: $45
Non-Member: $60
imagineNATIVE Festival Pass: FREE
imagineNATIVE passholders are asked to RSVP by sending an email to education@interaccess.org to reserve your spot. Space is limited
About the Instructor: Inspired by history, culture, technology, and their interactions with the human world, Casey Koyczan seeks to bridge the gap between visual and audio art. His large-scale artworks provide compositional value and experimental techniques to achieve his aesthetic; previous installations take on traits of amorphous beings that are invading or reclaiming space in modern architecture. Now as an interdisciplinary artist, he utilizes a wide skill-set within media-based outlets such as experimental video and virtual reality as a platform to present his visions.
Casey has acquired a Multimedia Production Diploma from Lethbridge College, a Bachelor of Fine Arts from Thompson Rivers University, and will be attending the University of Manitoba in the fall of 2019 for their Master of Fine Arts program. His artwork has been shown across Canada and in parts of Europe and South America. He is also a musician, actor, writer, and overall arts advocate for future generations in the Northwest Territories.
About imagineNATIVE: imagineNATIVE is the world's largest presenter of Indigenous screen content. The organisation is recognised locally, nationally, and internationally for excellence and innovation in programming and as the global centre for Indigenous media arts. imagineNATIVE (legal entity: The Centre for Aboriginal Media) is a registered charity committed to creating a greater understanding of Indigenous peoples and cultures through the presentation of contemporary Indigenous-made media art including film, video, audio and digital media.
Questions? If you have any questions about the workshop or special requirements, please contact us at education@interaccess.org.
Cancellation and Rescheduling Policy: We are unable to accommodate attendee cancellations or refunds less than 1 week prior to a workshop or event. InterAccess reserves the right to cancel or reschedule this workshop if necessary.
Receive a discount on workshops!
Did you know you can receive a discounted rate on most workshops? By purchasing a Workshop Discount Pass or an Annual Studio Membership you will receive a discounted rate on workshops, in addition to other great benefits. This is an excellent option if you foresee yourself attending multiple workshops over the course of the year.
Buy Workshop Discount Pass
Buy Annual Studio Membership