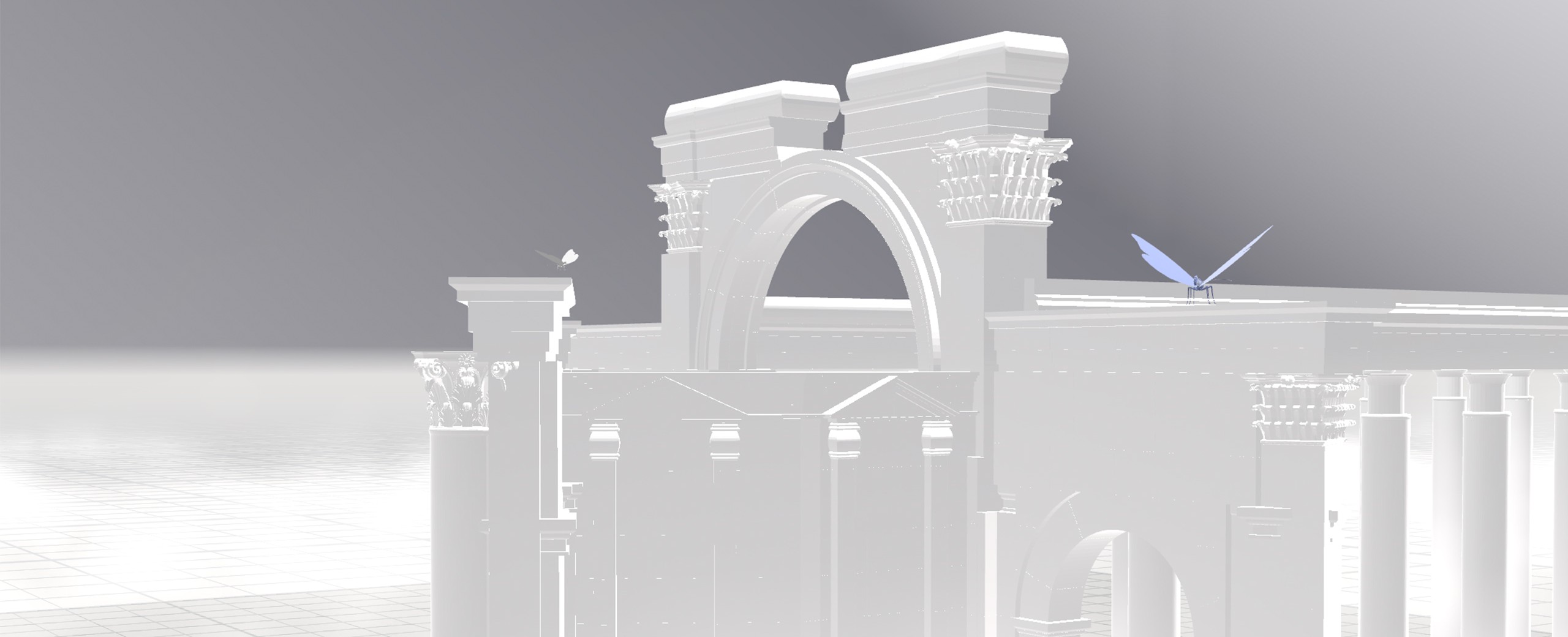 In this three-part workshop series, Jawa El Khash will teach the history, basic hardware, and process of world-building in virtual reality. Participants will learn how to create panoramic images, generate spherical sky maps, build custom textures to use as materials for 3D objects, and incorporate typography and spatial audio into their virtual environment.
Using programs such as Unity and Photoshop, participants will have the opportunity to design their own environments, which will be applicable into a VR experience. In the first workshop, we will begin with setting up the VIVE headset within Unity by downloading the Steam VR asset. We will start by optimizing our scene for VR, then use the asset to set up teleporting and interaction with objects in Unity. Next, we will download 3D models, and learn how to animate and texture them. The second workshop will focus on creating custom textures using Photoshop in order to use as materials for 3D objects. We will use these textures to create panoramic images and generate spherical sky maps. Incorporating typography and spatial audio into the environment will be covered and will serve as a self-exploration exercise. The third workshop will be an introduction to lighting using Unity's standard lights, as well as Reflection probes.
This workshop is based on learning technical components of VR world-building, while also encouraging a self-explorative process throughout the three sessions. A chunk of each workshop will be spent on developing the concept and interest of each student's vision within VR. Therefore, it is recommended that students have an idea of what they would like to achieve within VR before attending the workshop.
This series is co-presented with Gallery 44.
Dates:
Part 1: Tuesday, April 7, 2020
Part 2: Tuesday, April 14, 2020
Part 3: Tuesday, April 21, 2020
Time: 6:30pm-9:30pm
Registration Costs:
Membership Price: $180
Regular Price: $225
What to bring: A laptop with Unity downloaded: https://unity3d.com/get-unity/download
Please note that InterAccess has a few laptops and computers available. Email education@interaccess.org to reserve one for the workshops.
About the Instructor:
Jawa El Khash (born 1995, Damascus) is a multidisciplinary artist that uses virtual reality, holography and painting to investigate nature, architecture, and immigrant refugee culture. By collecting and rendering digital materials, El Khash is able to reimagine and construct realms for lost cultural relics, oral traditions, and concepts. Recent exhibitions include "The Upper Side of The Sky" at Crutch CAC (2019), Digital Deserts at Kit & Ace (2018), "Liminal Forms"
About Gallery 44:
Gallery 44 Centre for Contemporary Photography is a charitable, non-profit, artist-run centre committed to supporting multi-faceted approaches to photography and lens-based media. Founded in 1979 to establish a supportive environment for the development of artistic practice, Gallery 44's mandate is to provide a context for meaningful reflection and dialogue on contemporary photography.
Questions? If you have any questions about the workshop or special requirements, please contact us at education@interaccess.org.
Payment Options: Cash and credit card payments on the day are also accepted. Please email education@interaccess.org to reserve your spot and let us know your payment preference.
Cancellation and Rescheduling Policy: We are unable to accommodate attendee cancellations or refunds less than 1 week prior to a workshop or event. InterAccess reserves the right to cancel or reschedule this workshop if necessary.
ACCESSIBILITY
We regret that at this time InterAccess does not have barrier-free access; we are currently working to improve the accessibility of all facilities. There are five steps up to our main entrance. Once inside all facilities are on the same level, and there is a single-user washroom inside the unit.
Image credit: Jawa El Khash, The Upper Side of The Sky sketch, 2019, made in Houdini.
Receive a discount on workshops!
Did you know you can receive a discounted rate on most workshops? By purchasing a Workshop Discount Pass or an Annual Studio Membership you will receive a discounted rate on workshops, in addition to other great benefits. This is an excellent option if you foresee yourself attending multiple workshops over the course of the year.
Buy Workshop Discount Pass
Buy Annual Studio Membership