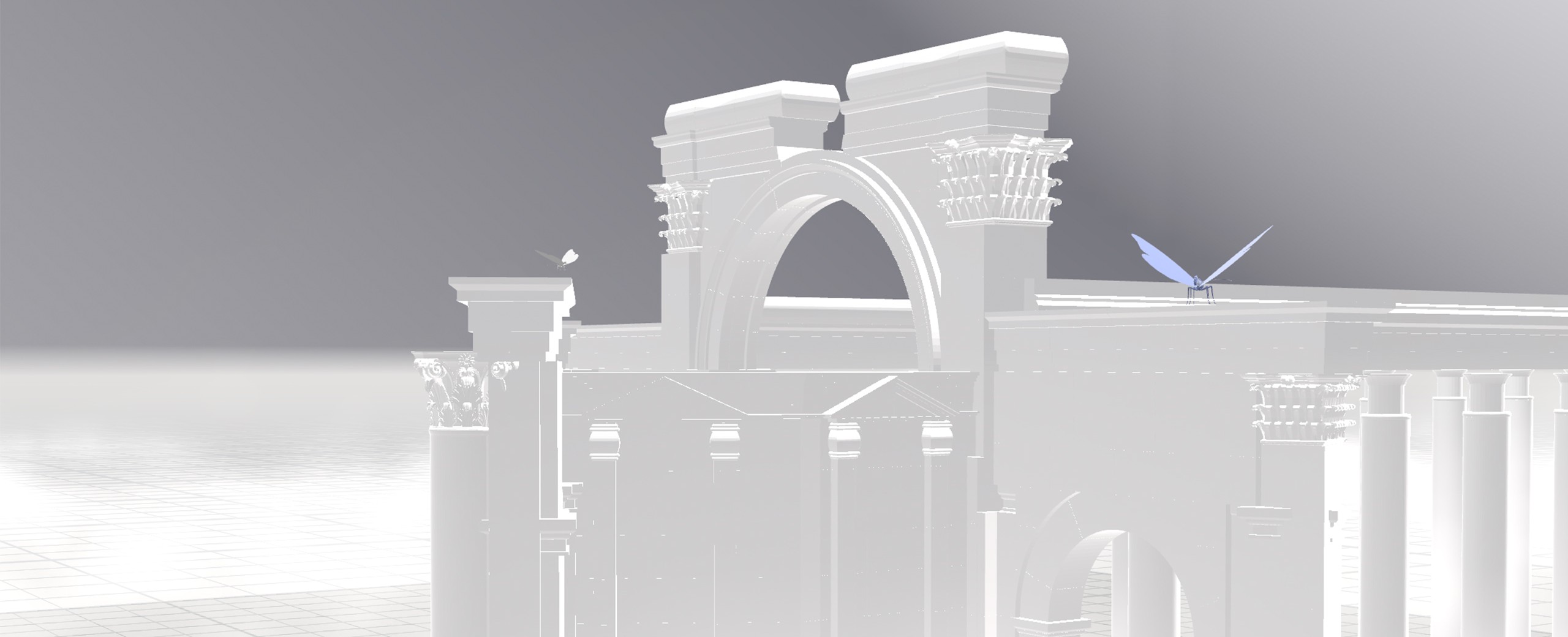 In this two-part workshop, Jawa El Khash will teach the history, basic hardware and process of world-building in virtual reality with a VIVE headset. Participants will learn how to set up a teleportation system and create interaction in VR. Along with learning how to create panoramic images, generate spherical sky maps, build custom textures to use as materials for 3D objects, and incorporate typography and spatial audio into their virtual environments, participants will also be introduced to basic physics in Unity including wind effects and particle systems.
The first workshop will consist of introducing Unity's User Interface and Asset Store, creating a Unity Environment and preparing it for VR by using Steam VR. Next we will start importing models from TurboSquid and learning how to apply textures and animate the models. Next we will introduce 3D audio and typography. We will continue to explore interaction within VR with teleporting, and interacting with objects.
The second session will consist of introducing physics in Unity by creating a water fountain and cloth that responds to wind forces. We will continue by leveraging the animated models into an Augmented Reality experience using Vuforia Engine AR. To conclude, we will upload the file to the web and create high quality screenshots within Unity using Screenshot Asset.
Dates:
Part 1: Tuesday, April 7, 2020
Part 2: Wednesday, April 8, 2020
Time: 5pm-7pm
Register here: https://www.eventbrite.ca/e/immersive-world-building-online-workshop-tickets-101325904508
This workshop is PWYC ($20 suggested donation). Please note that the fee can be waived if it is a financial barrier to participation.
After registering you will receive an email with a Zoom event link. Contact education@interaccess.org for any questions.
Essential Materials:
About the Instructor:
Jawa El Khash (born 1995, Damascus) is a multidisciplinary artist that uses virtual reality, holography and painting to investigate nature, architecture, and immigrant refugee culture. By collecting and rendering digital materials, El Khash is able to reimagine and construct realms for lost cultural relics, oral traditions, and concepts. Recent exhibitions include "The Upper Side of The Sky" at Crutch CAC (2019), Digital Deserts at Kit & Ace (2018), "Liminal Forms"
Questions? If you have any questions about the workshop or special requirements, please contact us at education@interaccess.org.
Cancellation and Rescheduling Policy: We are unable to accommodate attendee cancellations or refunds less than 1 week prior to a workshop or event. InterAccess reserves the right to cancel or reschedule this workshop if necessary.
Receive a discount on workshops!
Did you know you can receive a discounted rate on most workshops? By purchasing a Workshop Discount Pass or an Annual Studio Membership you will receive a discounted rate on workshops, in addition to other great benefits. This is an excellent option if you foresee yourself attending multiple workshops over the course of the year.
Buy Workshop Discount Pass
Buy Annual Studio Membership