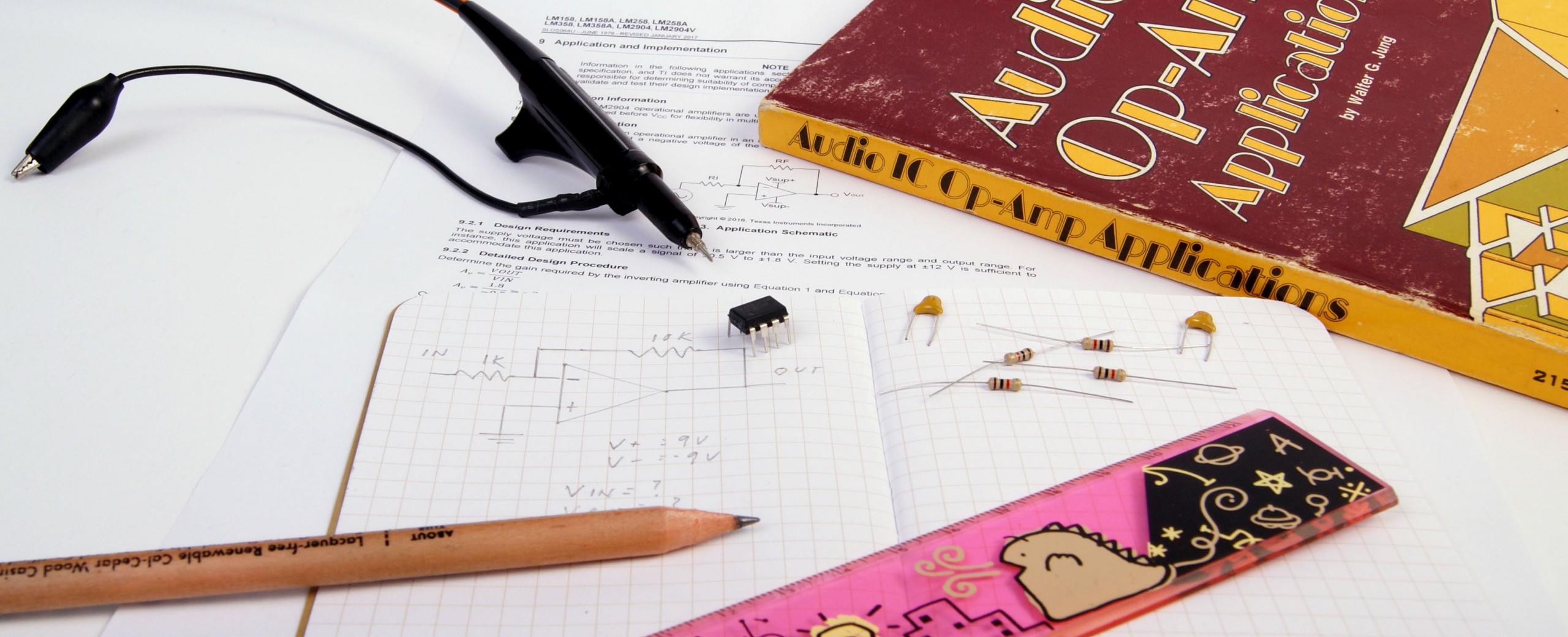 Building Blocks to Analog Electronics
Operational amplifiers are the building blocks of analog electronics. If you are interested in audio, synthesisers, or adding analog sensors to digital circuits such as Arduino, you will want to learn about op-amps. In this workshop participants will learn the basics of op amps - including why they are called "op amps"!
You will learn how to deal with their special power supply requirements, learn about some of the more common op-amp circuit configurations, and be introduced to using an oscilloscope to visualize analog voltages.
Please note: This is an intermediate workshop. You need a basic understanding of Ohm's law and Kirchoff's law, and have the knowledge of building a simple circuit on a breadboard from a schematic on your own.
Date: Tuesday, February 18, 2020
Time: 6:30PM - 9:30PM
Registration Costs:
Membership Price: $60 (includes $10 materials fee)
Regular Price: $85 (includes $10 materials fee)
About the Instructor: Rob Cruickshank is a Toronto-based multidisciplinary artist. He has developed a number of workshops at InterAccess, providing an opportunity to learn electronics, and has assisted numerous artists with the technological challenges of realizing their works.
Questions? If you have any questions about the workshop or special requirements, please contact us at education@interaccess.org.
Payment Options: Cash and credit card payments on the day are also accepted. Please email education@interaccess.org to reserve your spot and let us know your payment preference.
Cancellation and Rescheduling Policy: We are unable to accommodate attendee cancellations or refunds less than 1 week prior to a workshop or event. InterAccess reserves the right to cancel or reschedule this workshop if necessary.
ACCESSIBILITY
We regret that at this time InterAccess does not have barrier-free access; we are currently working to improve the accessibility of all facilities. There are five steps up to our main entrance. Once inside all facilities are on the same level, and there is a single-user washroom inside the unit.
Receive a discount on workshops!
Did you know you can receive a discounted rate on most workshops? By purchasing a Workshop Discount Pass or an Annual Studio Membership you will receive a discounted rate on workshops, in addition to other great benefits. This is an excellent option if you foresee yourself attending multiple workshops over the course of the year.
Buy Workshop Discount Pass
Buy Annual Studio Membership