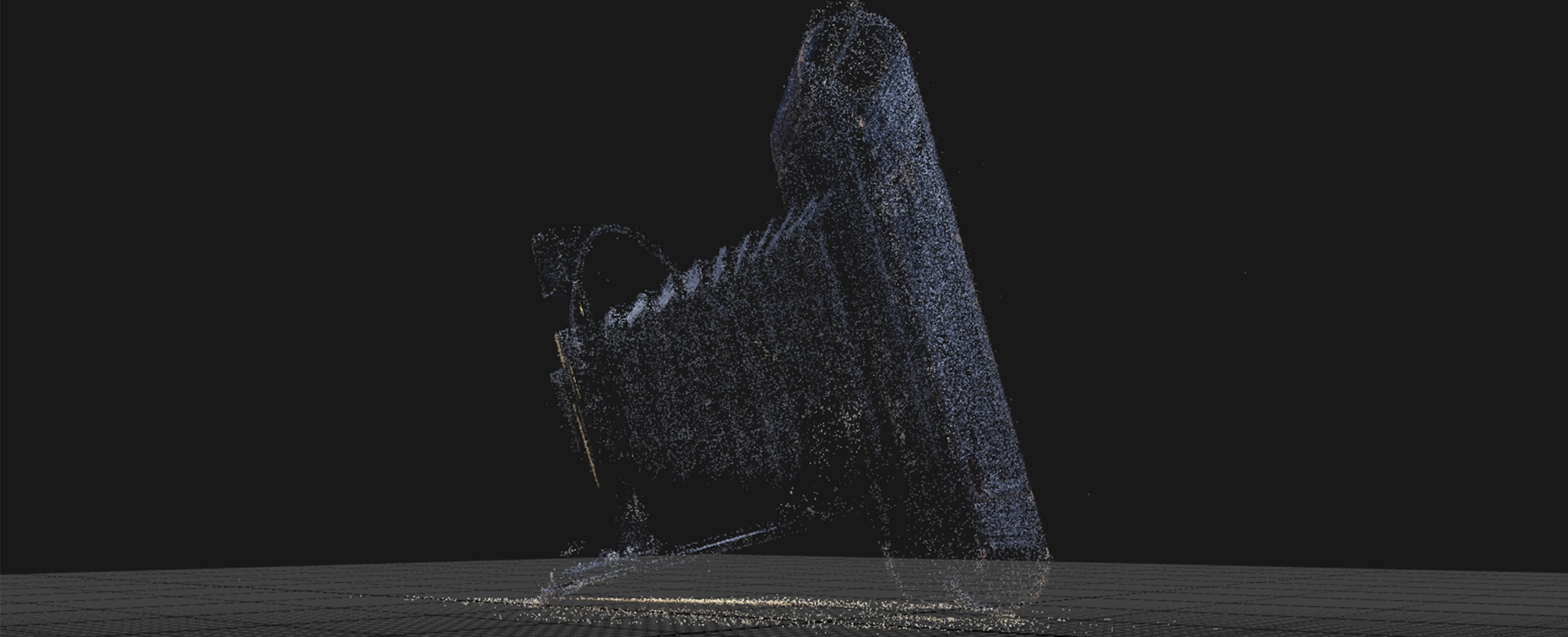 Codrin Talaba & Andre Markovic
From Photogrammetry to 3D Printing
Learn how to transform physical objects into 3D prints! This two-part workshop will begin with a hands-on introduction to the basics of photogrammetry and will acquaint artists with digital modeling and the 3D printing process.
Part 1: Intro to Photogrammetry
Instructor: Codrin Talaba
Saturday, February 22, 1pm – 4pm
Are you curious to digitize physical objects or spaces into 3d models? This workshop will provide an overview of the workflow to capture, process, cleanup and optimize the results. The outputs from this session can be published online, serve as inputs for gaming engines, and can be used for the second part of the workshop on 3d printing.
Participants are welcome to bring a physical object (bigger than an apple, smaller than a microwave) and/or their own camera equipment (from phone to DSLR+tripod). There will be opportunities to participate or simply follow along with the provided demos. The final portion of this workshop will illustrate how to scale this approach to larger physical spaces. And by the end, participants will have a 3D model that they can bring to the second part of the workshop to use with the 3D printers in the InterAccess Studio.

Part 2: From 3D modeling to 3D printing
Instructor: Andre Markovic
Saturday, February 29, 2020, 1pm – 5pm
By using a mixture of lecture, demonstration, and hands-on learning approaches, Andre Markovic will teach participants how to operate and potentially "hack" a 3D printer. Participants will learn how to prepare files in the Slic3r software using the 3D models made during the Photogrammetry session. Participants will be encouraged to explore applications for 3D printing technologies for their own work.
What to bring? Participants are encouraged to bring their own computers (a limited number can be provided by Interaccess) in order to download software and resource material, and to consider project ideas they would like to explore.
Registration Costs:
Membership Price: $115
Regular Price: $150
Participants can purchase one workshop separately at the price of $75
About the Instructors:
Codrin Talaba is a design researcher exploring the intersection of physical and digital space. With a background in architecture, materials engineering and visual arts, he brings a multi-disciplinary approach that seeks to integrate diverse perspectives and ways of seeing - both human and machine - to enable better design planning, collaboration and storytelling.
Andre Markovic is a Toronto-based CAD specialist, model maker, digital fabricator, and maker. He received an Honours Bachelor of Arts in Art and Art History from the University of Toronto and Sheridan College in 2013. It was there that he was first exposed to 3D printing technology in the form of a first-generation RepRap Mendel. Markovic's ongoing explorations into industrial design and electronics led him to become more dedicated to 3D printing over the past years, during which he built his own 3D printer. He has been 3D printing every day since then.
Questions? If you have any questions about the workshop(s) or special requirements, please contact us at education@interaccess.org.
Payment Options: Cash and credit card payments on the day are also accepted. Please email education@interaccess.org to reserve your spot and let us know your payment preference.
Cancellation and Rescheduling Policy: We are unable to accommodate attendee cancellations or refunds less than 1 week prior to a workshop or event. InterAccess reserves the right to cancel or reschedule this workshop if necessary.
ACCESSIBILITY
We regret that at this time InterAccess does not have barrier-free access; we are currently working to improve the accessibility of all facilities. There are five steps up to our main entrance. Once inside all facilities are on the same level, and there is a single-user washroom inside the unit.
Receive a discount on workshops!
Did you know you can receive a discounted rate on most workshops? By purchasing a Workshop Discount Pass or an Annual Studio Membership you will receive a discounted rate on workshops, in addition to other great benefits. This is an excellent option if you foresee yourself attending multiple workshops over the course of the year.
Buy Workshop Discount Pass
Buy Annual Studio Membership