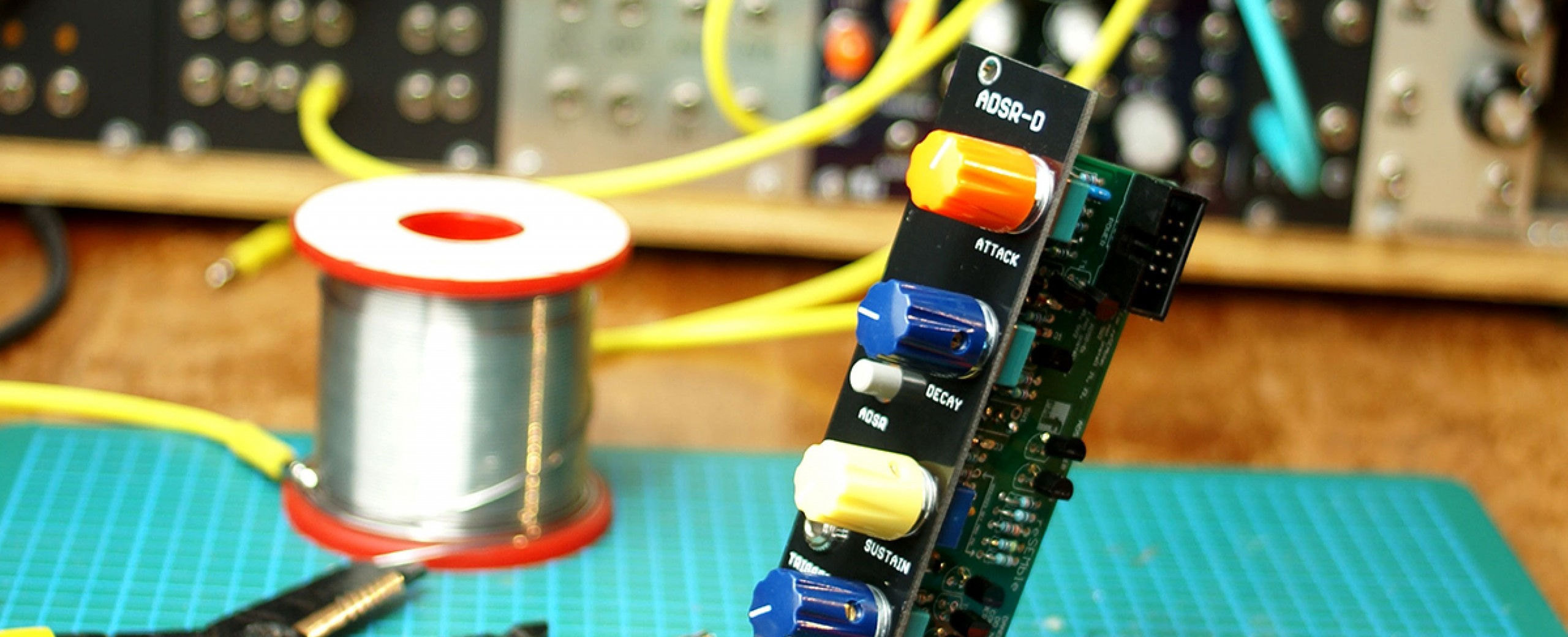 Build your own Eurorack Envelope Generator at the Toronto Sound Festival! If you are just starting out with modular synths, you are going to need at least one envelope generator, and if you've been doing it for a while, you know you need one more. In this workshop, you can improve your soldering and circuit building skills, and add your unit into your rack!
This Envelope Generator can be a modern ADSR (Attack, Decay, Sustain, Release) unit, or can be set to function so that the decay control also controls release time, just like in the classic Oberheim SEM. It has knobs for attack, decay, sustain, and release, and inputs for trigger and gate. During this full-day workshop at Beverley Halls, participants will be guided through the build and we will help you understand how this unit works. The Envelope Generator kit is designed by PM Foundations. It is a high-quality through-hole kit and is relatively easy to assemble for someone with basic soldering experience. We'll do a little soldering tutorial/practice at the start, to get everyone up to speed.
Date: Sunday, November 24, 2019
Time: 11AM-4PM
Location: Beverley Halls, 206 Beverley St, Toronto, ON M5T 1Z3
Registration fee: $120
Register here: https://www.torontosoundfestival.com/diy-workshop-2019/
About the Instructor: Rob Cruickshank is a Toronto-based multidisciplinary artist. He has developed a number of workshops at InterAccess, providing an opportunity to learn electronics, and has assisted numerous artists with the technological challenges of realizing their works.
About Toronto Sound Festival: Toronto Sound Festival is a two-day festival celebrating music, synthesizers, and sound design - for and by musicians. Unlock your creative potential through workshops, talks, and community events. We have an amazing vendor area, huge prizes, and phenomenal musical performances!
Please note: This workshop will be a guided build, not a drop-in, so please plan to show up on time. InterAccess will supply soldering stations, and hand tools. Please note that, even though we will do our best to get all modules running, we cannot guarantee functionality at the end of the workshop. A novice builder with a bit of prior experience will likely finish this build in 4-6 hours. But don't panic if you don't finish, or if it doesn't work right away, you can finish it up at InterAccess during our Open Studio, which runs every Wednesday 6-9pm or during our quarterly Modular Synth meetups.
Questions? If you have any questions about the workshop or special requirements, please contact Toronto Sound Festival.
Receive a discount on workshops!
Did you know you can receive a discounted rate on most workshops? By purchasing a Workshop Discount Pass or an Annual Studio Membership you will receive a discounted rate on workshops, in addition to other great benefits. This is an excellent option if you foresee yourself attending multiple workshops over the course of the year.
Buy Workshop Discount Pass
Buy Annual Studio Membership