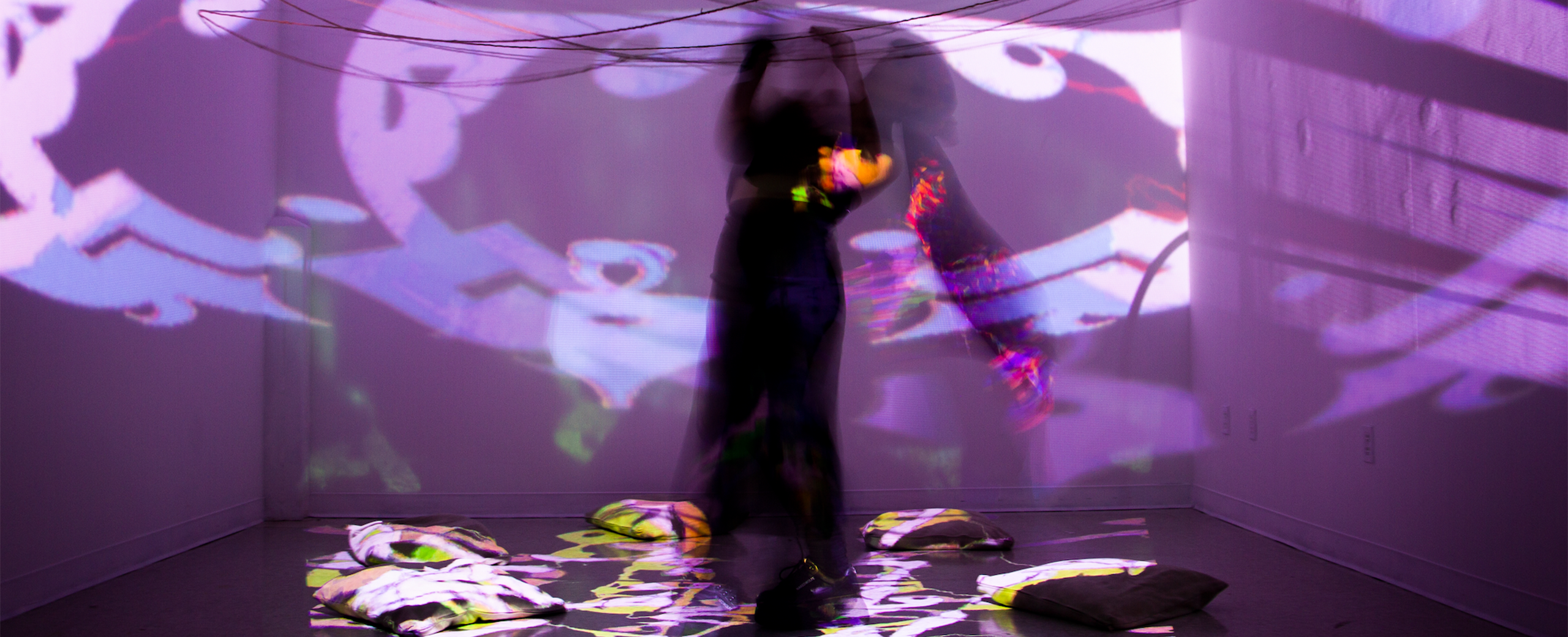 Psychedelia VJ: Experiments in TouchDesigner
In-person at InterAccess - Register Here!
In this introduction workshop, artist and performer Joy will walk participants through the process of using the creative code software Touch Designer to create generative and reactive visuals for musical performances. Participants will learn the fundamentals of node-based coding, with a focus on working alongside audio/musicians and considering aspects of performance in their work. Participants will additionally explore with the basics of site-specific projection mapping while using 1 or more projectors. The end goal of the workshop is to leave all attendees with the necessary skills to further experiment with generative visualizations and perform live at their next DJd event.
About the Instructor
Joy is an Egyptian multi-disciplinary artist. She specializes in VJ , creative Javascript Programming, Projection Mapping and Augmented Reality vandalism. Her style is highly influenced by African psychedelic art. Joy thrives in emerging experimental art with unconventional methods of science and technology. With a developing interest in afrofuturism, she is using new media techniques to cross a variety of visual disciplines
Workshop Setup Requirements
A laptop or computer with HDMI capabilities or an adaptor
Interested participants without access to this equipment can use equipment provided by InterAccess.
Please make sure to prepare and test out this setup well before the workshop. If you run into any issues with installing or using this software, contact education@interaccess.org for troubleshooting advice.
Cancellation and Rescheduling Policy: Please email education@interaccess.org to request a refund. We are unable to accommodate attendee cancellations or refunds less than 1 week prior to a workshop or event. InterAccess reserves the right to cancel or reschedule this workshop if necessary.
Questions? If you have any questions about the workshop or require additional support, please contact us at education@interaccess.org.
Receive a discount on workshops!
Did you know you can receive a discounted rate on most workshops? By purchasing a Workshop Discount Pass or an Annual Studio Membership you will receive a discounted rate on workshops, in addition to other great benefits. This is an excellent option if you foresee yourself attending multiple workshops over the course of the year.
Buy Workshop Discount Pass
Buy Annual Studio Membership