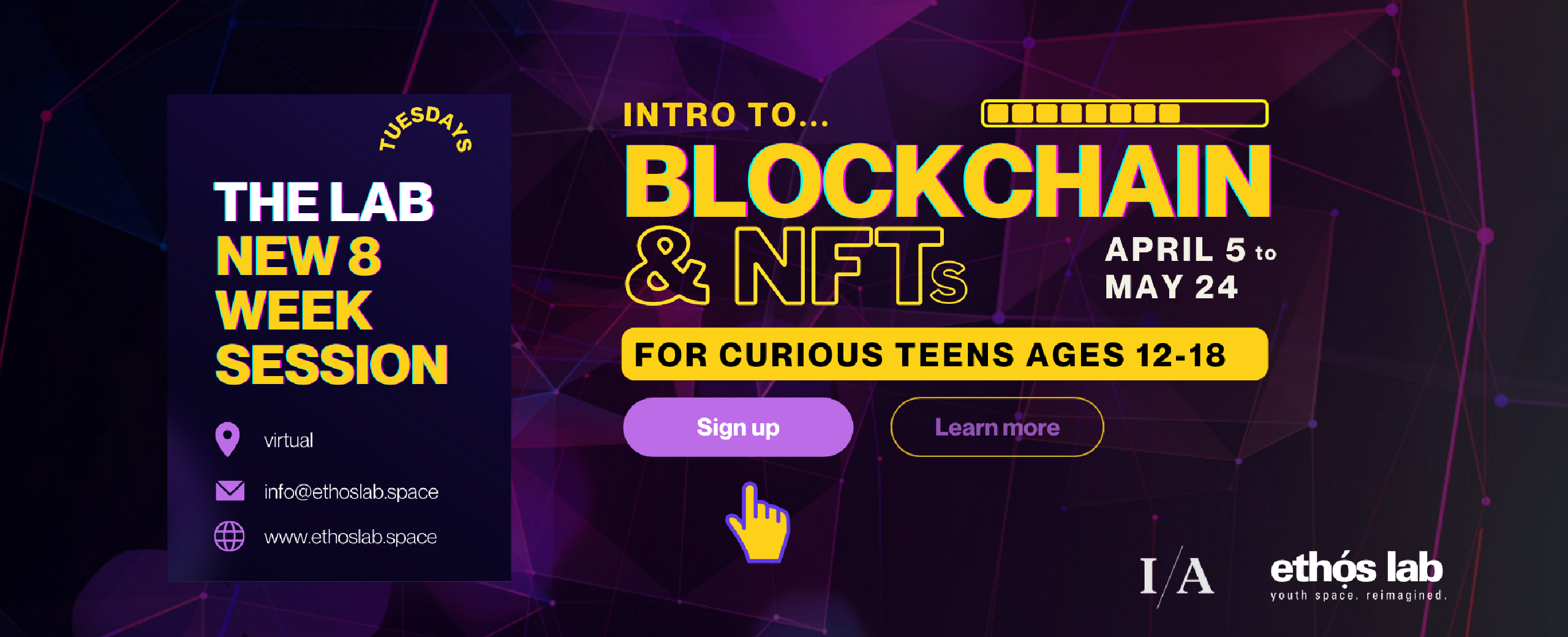 Mitchell Chan and Tyler de Witt
Intro to Blockchain and NFTs
Blockchain, NFTs, and web3.0 have been all the talk this past year but if you're still confused about what these are, we don't blame you. ⁠
⁠
In this 8 week workshop, you'll learn exactly what these terms mean, the technology behind them, and how young creators like you can learn to use this technology now or at least spark your imagination about the future. ⁠
⁠
Delivered in partnership with Ethos Lab, an out-of-school culture-based STEAM-learning academy for teens 12 -18, this 8 week workshop will teach you the ins and outs of Blockchain Technology and NFTs (Non-Fungible Tokens). You will hear from professionals and learn from those in the field the positives and negatives about this new technology. ⁠

To register for the 8 week session email education@interaccess.org to claim a first-come-first-serve spot. InterAccess has a limited amount of free access codes available to youth memebers of our community.
Questions? ​See our new workshops FAQ here and find tips on navigating Zoom-based classes here. You can email education@interaccess.org if you have any other questions about the workshop or require additional support.
Cancellation and Rescheduling Policy: We are unable to accommodate attendee cancellations or refunds less than 1 week prior to a workshop or event. InterAccess reserves the right to cancel or reschedule this workshop if necessary.

First-come-first-serve free admission for this workshop is made possible through the support of Ethos Lab.
Receive a discount on workshops!
Did you know you can receive a discounted rate on most workshops? By purchasing a Workshop Discount Pass or an Annual Studio Membership you will receive a discounted rate on workshops, in addition to other great benefits. This is an excellent option if you foresee yourself attending multiple workshops over the course of the year.
Buy Workshop Discount Pass
Buy Annual Studio Membership