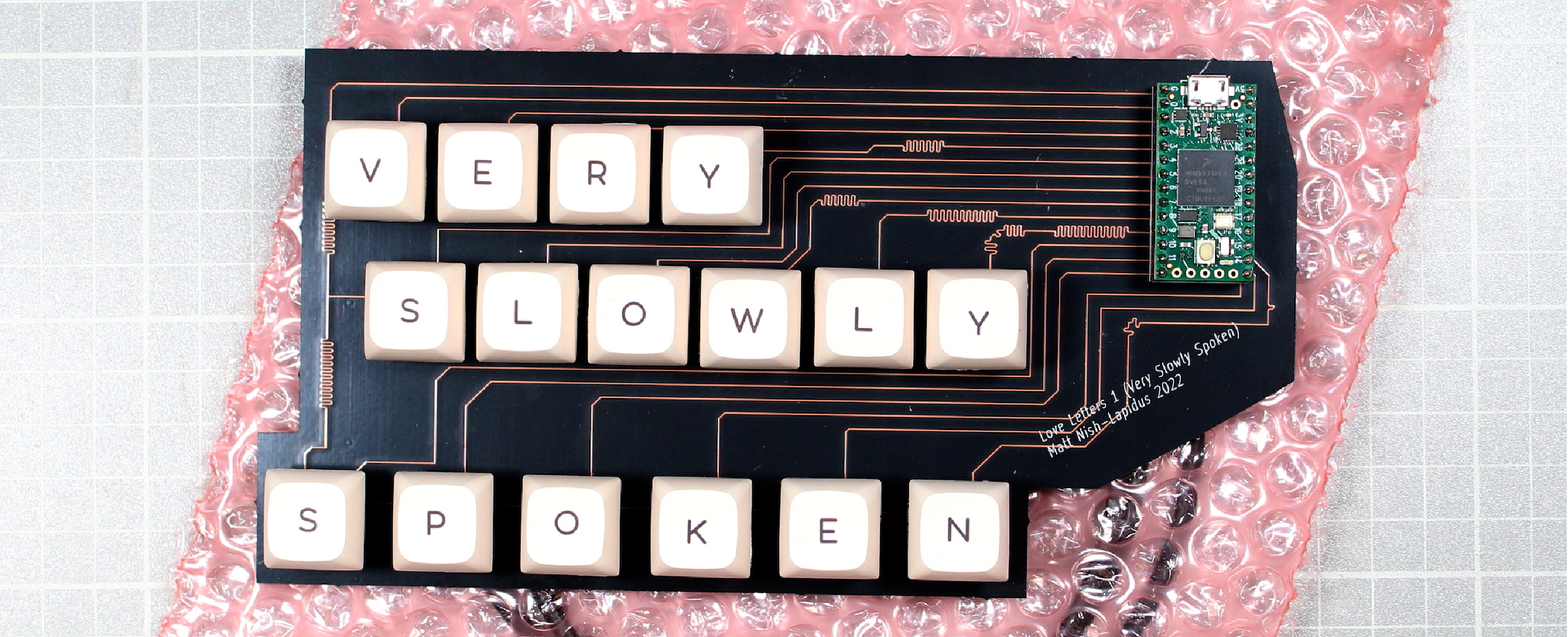 Experimental PCBs for Artists
In-person at InterAccess - Register Here!
Join artist Matt Nish-Lapidus to explore the creative potential of custom circuit board design. Custom PCB's are an amazing tool for any artist working with electronics. They can help you simplify your installations, produce multiples, and even become a part of the aesthetic object themselves.
This intermediate workshop will explore translating a simple circuit from a breadboard to a full printed circuit board layout using the free KiCAD software. We'll also experiment with ways to think about your PCB's as more than just functional objects, looking at their conceptual and aesthetic potential.
By the end of the workshop you will have a working PCB design that is ready for production, and the skills to integrate custom PCB's into your own practice.
About the Instructor
Matt Nish-Lapidus makes software, sounds, and texts probing the myth that computers need to be useful rather than beautiful. He holds a H.BFA in New Media from Toronto Metropolitan University and a Master of Visual Studies in Studio Art from The University of Toronto. Matt's interests lie in the poetics of computation and its proclivity to create meaningful relations through iteration and recombination, as well as how computation can be a source of identity and resistance. His work results in diverse outputs including books, recordings, installations, performances, software, and objects. Matt has performed and exhibited at ACUD Macht Neu, Electric Eclectics, InterAccess, Mayhem Copenhagen, The Plumb, and many DIY spaces in North America and Europe. You can find Matt online and away-from-keyboard under various aliases and collaborations including emenel, New Tendencies, må, and <blink>.
Workshop Prerequisites
Basic electronics experience (i.e. basic understanding of circuits, working with breadboards, microcontrollers (Arduino, Teensy, etc)
Laptop
Interested participants without access to this equipment should email education@interaccess.org to inquire about renting equipment provided by InterAccess. Access to equipment is provided on a first-come-first-serve basis and is not guaranteed.
Please make sure to prepare and test out this setup well before the workshop. If you run into any issues with installing or using this software, contact education@interaccess.org for troubleshooting advice.
Questions? If you have any questions about the workshop or special requirements, please contact us at education@interaccess.org.
Cancellation and Rescheduling Policy: We are unable to accommodate attendee cancellations or refunds less than 1 week prior to a workshop or event. InterAccess reserves the right to cancel or reschedule this workshop if necessary.
Cover image courtesy of Matt Nish-Lapidus
Receive a discount on workshops!
Did you know you can receive a discounted rate on most workshops? By purchasing a Workshop Discount Pass or an Annual Studio Membership you will receive a discounted rate on workshops, in addition to other great benefits. This is an excellent option if you foresee yourself attending multiple workshops over the course of the year.
Buy Workshop Discount Pass
Buy Annual Studio Membership