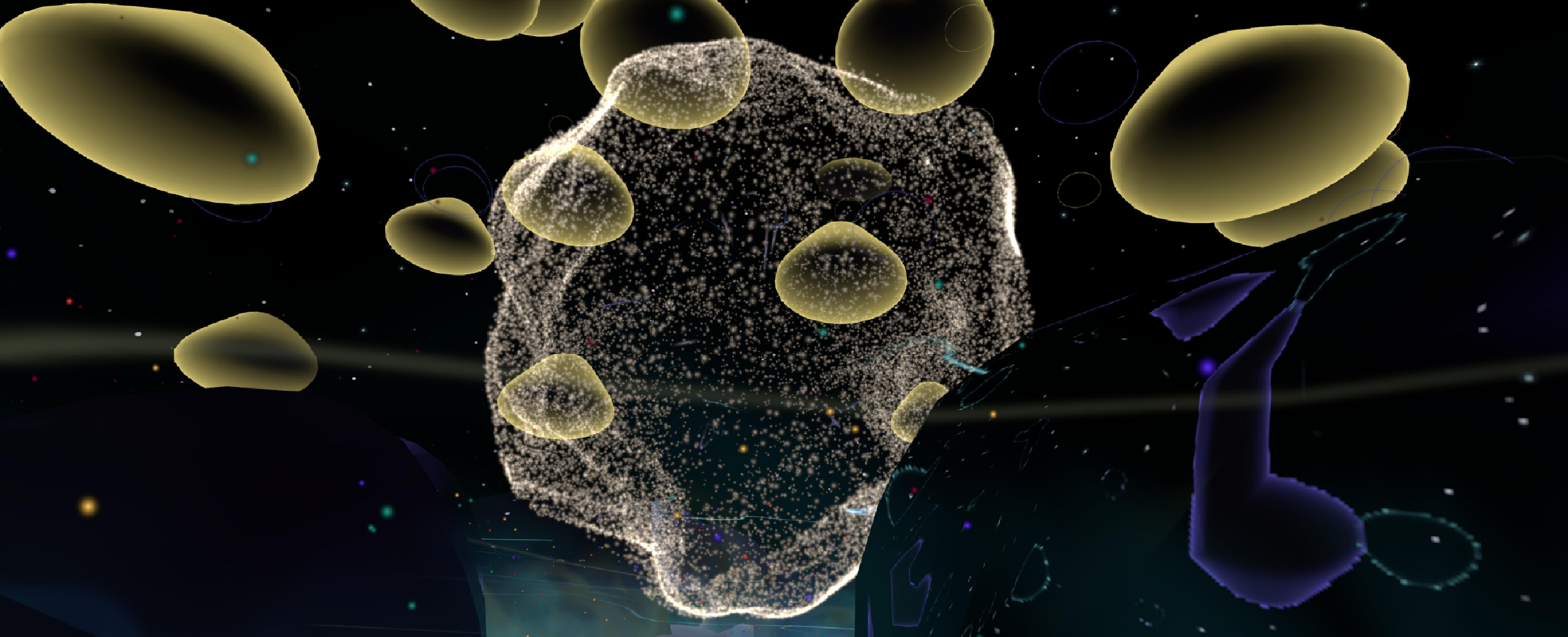 SinkInSync: Creating Interactive VR with Brainwave Data
Online Via Zoom - Register Here!
This virtual workshop will explore creating interactive and responsive VR environments leveraging brainwave data using Unity3D, Muse Headband, and Oculus VR Headset. Participants don't have to have the Muse Headband or the VR Headset to participate.
There are 2 parts to the 3-hour workshop - technical and design. In the technical part, participants will set up and run the Unity3D pipeline with the provided pre-recorded brainwave data, experiment with dynamic shader and VFX graphs responsive to data, and experience a live walkthrough of connecting real-time brainwave stream to the 3D environment. In the design part, participants will leverage the design-thinking framework to brainstorm future-facing use cases for a cross-person neurofeedback VR experience and design data mapping flows between broader biometric data types and VR elements.
Upon completion of the workshop, participants will have created a 3D environment with dynamic visual elements responsive to data and obtained the knowledge and pipeline to independently implement neurofeedback VR experience with commercially-available tools.
About the Facilitator
Tiange Wang is a software designer at IDEO where she creates human-centered and data-driven experiences through interaction design, XR prototyping, data visualization and web/mobile development. She had the opportunity to craft user-friendly and culturally-sensitive experiences for clients across various industries in North America and Japan. As a creative technologist, Tiange designs for experiences that bridge the digital and physical worlds, including novel phygital interfaces, smart homes, educational games, unmanned retail, and spatial storytelling with extended realities and generative AI. Tiange holds a Master of Architecture from Harvard University and a Bachelor of Arts in Architecture from UC Berkeley.
Xin Feng is an independent creative technologist who currently works at Reality Labs VR team. She participates in several user-centered products from ideation to implementation for game developers and VR users. Prior to Meta, she worked at Tencent game studio, specializing in Houdini generative design for a 3A IP game. Her work was nominated by MUSE Creative Awards, Non Architecture. Xin is passionate about creative technology and design on individual well-being including health, cognition, emotion and social relationships, and interested in bridging physical and virtual worlds through XR and other new modalities.
Workshop Prerequisites
A reliable Internet connection
Zoom desktop client (latest version preferable, w/ working mic, speaker, chat, and screen sharing)
Computer with Windows or Mac OS (latest version preferable)
Oculus VR Headset (optional)
Muse 2 Headband (optional)
Visual Studio Code (or another code editor)
3-button mouse
Interested participants without access to this equipment may email education@interaccess.org to inquire about renting equipment provided by InterAccess. Access to equipment is provided on a first-come-first-serve basis and is not guaranteed.
Please make sure to prepare and test out this setup well before the workshop. If you run into any issues with installing or using this software, contact education@interaccess.org for troubleshooting advice.
Questions? If you have any questions about the workshop or special requirements, please contact us at education@interaccess.org.
Cancellation and Rescheduling Policy: We are unable to accommodate attendee cancellations or refunds less than 1 week prior to a workshop or event. InterAccess reserves the right to cancel or reschedule this workshop if necessary.
Cover image courtesy of Tiange Wang and Xin Feng
Receive a discount on workshops!
Did you know you can receive a discounted rate on most workshops? By purchasing a Workshop Discount Pass or an Annual Studio Membership you will receive a discounted rate on workshops, in addition to other great benefits. This is an excellent option if you foresee yourself attending multiple workshops over the course of the year.
Buy Workshop Discount Pass
Buy Annual Studio Membership