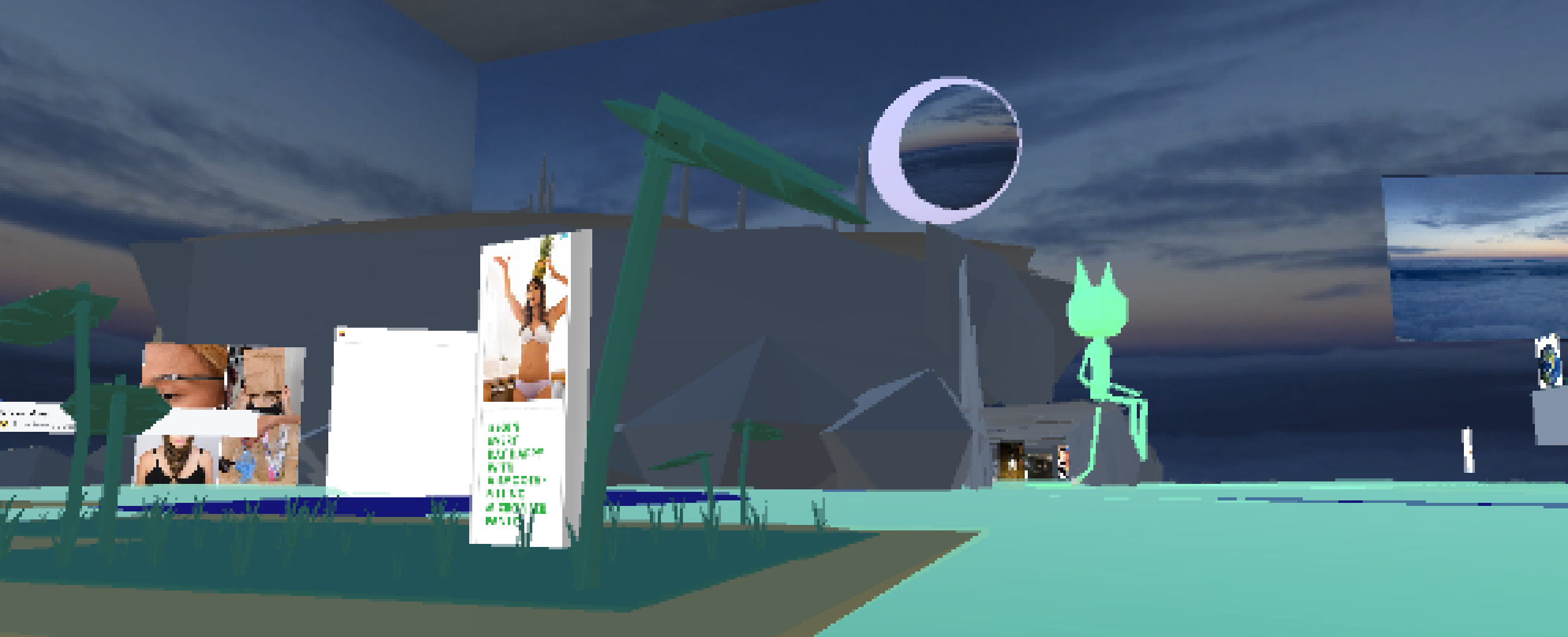 Walking on the Web: An Introduction to Unity through Personal Walking Sims
In-person at InterAccess - Register Here!
Using the framework of designer Flan Falacci's Museum of the Saved Image, this workshop serves to introduce the basics of Unity 3D through walking simulator design and development. We'll discuss the tools Unity has to offer, as well as the design methodology behind walking sims, 3D level design, and games as a form of autobiographical/personal expression. We will also go over how to make WebGL builds and Unity games playable in-browser. No game design or development experience necessary, you'll leave this workshop with a personal digital museum created by you.
This workshop is programmed in collaboration with Toronto Games Week! You can see the entire schedule of TGW programming here.
Participants of this workshop will be given the opportunity to showcase their workshop creations in an online exhibition of game art during Vector Festival 2023.
About the Facilitator
Emily Koonce (she/her) is a writer, educator, and game designer focused on the intersection of folk games, philosophy, and education. She is based in Brooklyn, NY and Chicago, IL. She received a degree in Game Design with minors in Philosophy and Computer Science/Mathematics at the NYU Game Center, where she now teaches classes on game development and theater games. Emily also works as a studio assistant at Tender Claws--a game, tech, and art studio based in Los Angeles--and as the program director of the National Student Leadership Conference's game design high school program. She will be in Toronto as a participant of GAIA, a symposium for game curators and community organizers. Emily is especially interested in house rules and how communities share values through play. She can be found turning movies into drinking games, giving riddles to strangers at parties, or working on "crockpot," her game about being bored in the suburbs.
Workshop Prerequisites
A Laptop with Windows or Mac OS (preferred: Windows 7 (SP1+), Windows 10, High Sierra 10.13+)
Unity (2020 or newer)
3-button mouse
Interested participants without access to this equipment may email education@interaccess.org to inquire about renting equipment provided by InterAccess. Access to equipment is provided on a first-come-first-serve basis and is not guaranteed.
Please make sure to prepare and test out this setup well before the workshop. If you run into any issues with installing or using this software, contact education@interaccess.org for troubleshooting advice.
Questions? If you have any questions about the workshop or special requirements, please contact us at education@interaccess.org.
Cancellation and Rescheduling Policy: We are unable to accommodate attendee cancellations or refunds less than 1 week prior to a workshop or event. InterAccess reserves the right to cancel or reschedule this workshop if necessary.
Cover image courtesy of Emily Koonce
Receive a discount on workshops!
Did you know you can receive a discounted rate on most workshops? By purchasing a Workshop Discount Pass or an Annual Studio Membership you will receive a discounted rate on workshops, in addition to other great benefits. This is an excellent option if you foresee yourself attending multiple workshops over the course of the year.
Buy Workshop Discount Pass
Buy Annual Studio Membership