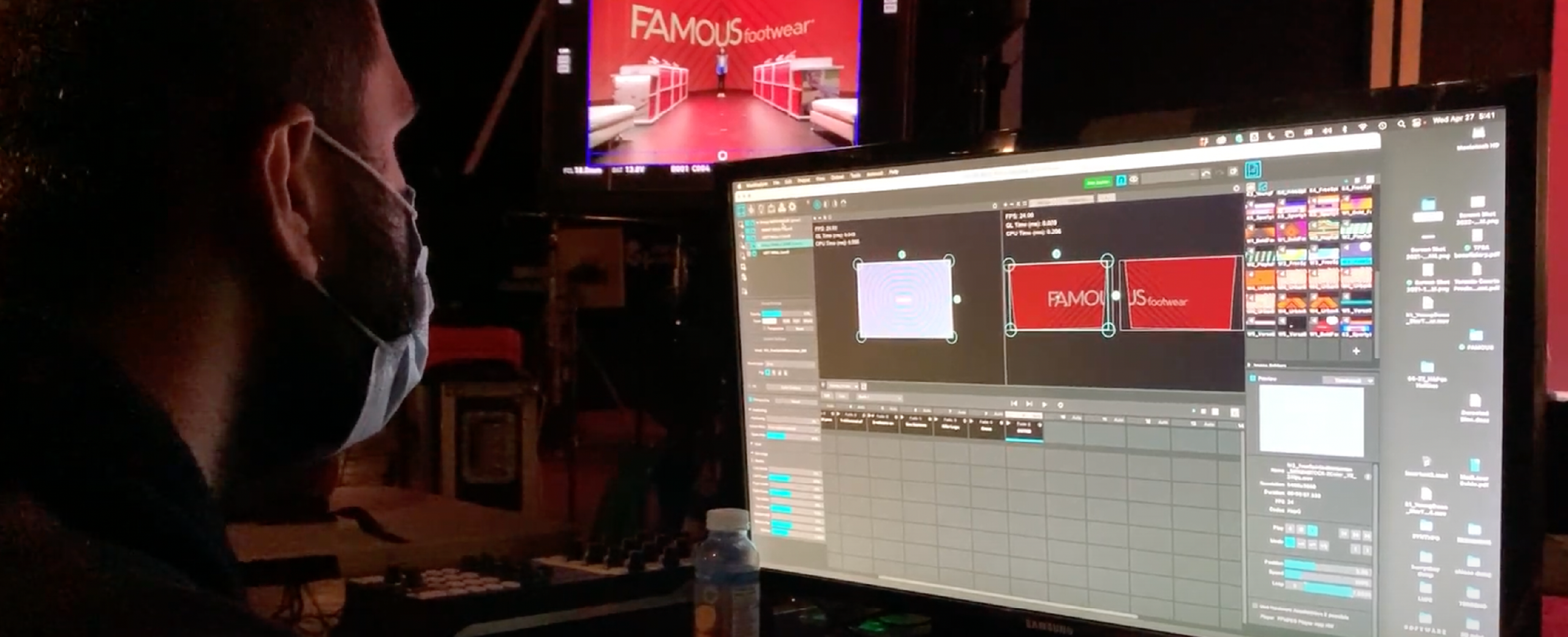 Projecting the Future: Projection Mapping with MadMapper
In-person at InterAccess - Register Here!
Projection mapping transcends the confines of standard screens, morphing ordinary visuals into extraordinary displays that dazzle and delight. It's not just about projecting light; it's about sculpting it to your environment and content.
Picture this: a mannequin with a face alive through projected visuals or a simple parking lot turned into a dynamic pop-up concert venue, rivaling the visuals of grand stadiums. Such is the magic of projection mapping!
In this immersive weekend workshop, not only will you take an introductory dive into the artistry behind this medium, but you'll also acquire tangible technical skills. By the end, you'll be proficient in the basics of software utilization, calibration techniques, and content creation—equipping you to kickstart your own projection mapping projects.
This workshop is a synergistic collaboration between InterAccess, Derooted Immersive and GarageCube. Pioneers in the field, Derooted brings over 15 years of esteemed expertise, with projects for giants like the AGO, BMW, and Disney; GarageCube shines as a beacon of tech innovation, developing cutting-edge software for Projection/Lighting/Laser setups, live video synthesis, and intricate mapping.
Embrace this unique opportunity to explore, learn, and get inspired!
About the Facilitator
El Ekeko (Simón Rojas Gajardo – b. Santiago, Chile) is a multi-disciplinary artist & creative technologist with a background in music, theatre, and graphic arts. His body of work is predominantly based on immersive and interactive multi-media installations which create illusion and augmentations to a viewers reality. Using light, sound, and an endless sandbox of technologies he explores the function and limitations of sensory inputs, both in humans and machines to transform and manipulate the human experience through vignettes of phenomenology.
He is the Co-Founder and Creative Director of Derooted Immersive, a creative technologies studio based in Toronto, Canada since 2008. Simón continues to perform and exhibit as part of various festivals, collaborations, and groups showings between Canada, Chile, and Spain.
Workshop Prerequisites
A Laptop with Windows or MacOS (newer preferred) and HDMI output
Interested participants without access to this equipment may email education@interaccess.org to inquire about renting equipment provided by InterAccess. Access to equipment is provided on a first-come-first-serve basis and is not guaranteed.
Please make sure to prepare and test out this setup well before the workshop. If you run into any issues with installing or using this software, contact education@interaccess.org for troubleshooting advice.
Questions? If you have any questions about the workshop or special requirements, please contact us at education@interaccess.org.
Cancellation and Rescheduling Policy: We are unable to accommodate attendee cancellations or refunds less than 1 week prior to a workshop or event. InterAccess reserves the right to cancel or reschedule this workshop if necessary.
Cover image courtesy of Simon Rojas and Derooted Immersive
A special thank you to the team behind GarageCube/MadMapper/Modul8 for sponsoring this workshop.

Receive a discount on workshops!
Did you know you can receive a discounted rate on most workshops? By purchasing a Workshop Discount Pass or an Annual Studio Membership you will receive a discounted rate on workshops, in addition to other great benefits. This is an excellent option if you foresee yourself attending multiple workshops over the course of the year.
Buy Workshop Discount Pass
Buy Annual Studio Membership