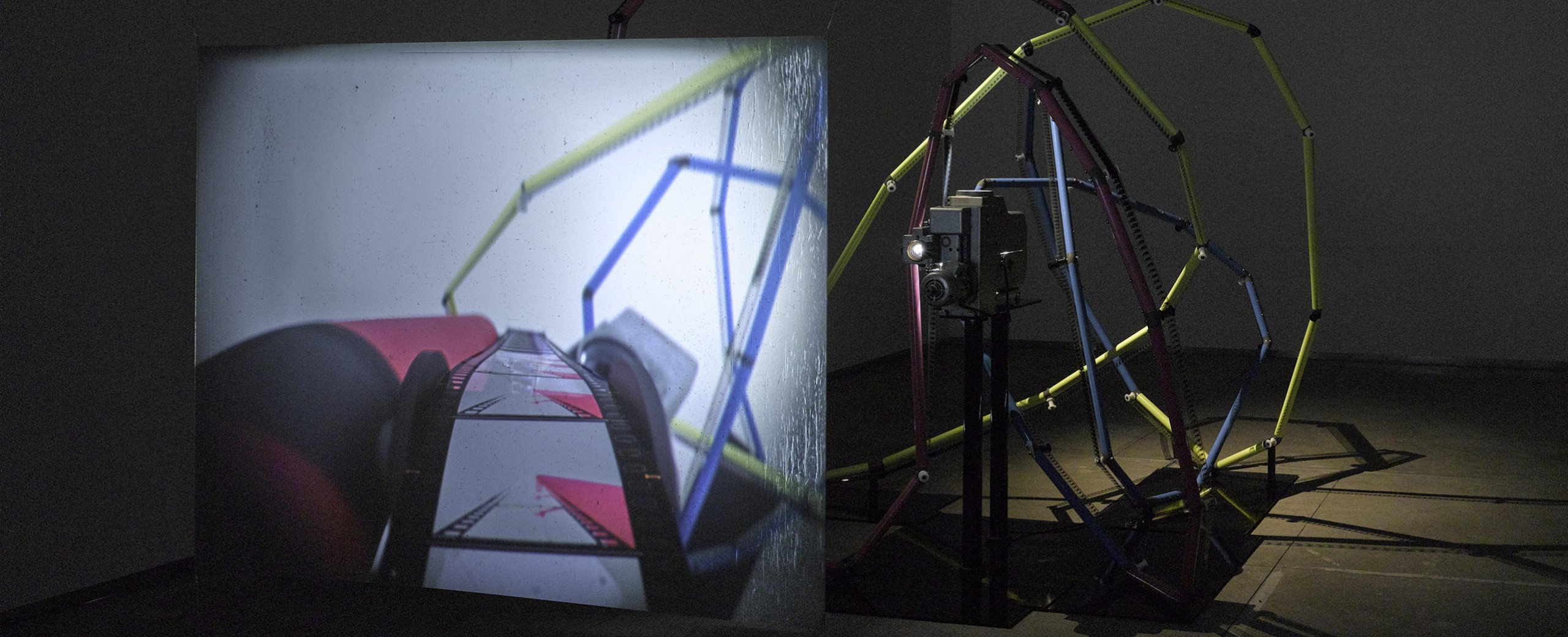 Young & Giroux - Artist Talk with MESH Consultants and Reza Negarestani
InterAccess welcomes artists Daniel Young & Christian Giroux to discuss their ambitious new project Film Path / Camera Path with under-titles, which will be presented at InterAccess from March 6 - May 4, 2019. The artists will be joined by representatives of MESH Consultants Inc. and acclaimed philosopher and writer Reza Negarestani.
Film Path / Camera Path with under-titles was produced with the support of the Canada Council for the Arts' Media Initiatives Grant, and will tour to the Art Gallery of Greater Victoria from June through September 2019. Read more about the exhibition here.

Thursday, March 21st
7pm-8:30pm
FREE
ABOUT THE PRESENTERS

Daniel Young & Christian Giroux have been making art together since 2002. Their work takes the form of exhibitions, sculpture, cinema installations, publications and public artworks. Young & Giroux's practice originated in dialog between architecture and sculpture and has evolved through an engagement with research topics such as the modernity of the mid-century, new building construction, Canada's infrastructural system, and curtain wall architecture. Recently they completed the public artwork Three Points Where Two Lines Meet for the City of Toronto, and the artist book Berlin 2013/1983 from Arch+ that was short-listed for the Best German Architecture publication.
Young & Giroux have had solo exhibitions at 8-11, Toronto; The Deutsches Architektur Zentrum, Berlin; TIFF Bell Light Box, Toronto; The Rooms, St. John's; Carleton University Art Gallery; Oakville Galleries; Musée d'art Contemporain de Montréal; the Southern Alberta Art Gallery, Lethbridge; Mercer Union, Toronto; and Prefix ICA, Toronto. They were awarded the Sobey Art Award in 2011. Daniel Young divides his time between Toronto and Berlin, Christian Giroux teaches at the School of Fine Art and Music at the University of Guelph, Ontario.
Daniel Hambleton is the Director of MESH Consultants Inc., a Toronto-based consulting firm that solves critical geometry problems in industry. He has worked extensively across a variety of markets, such as: Architecture, Product Design, Energy, Software Development, and Engineering. Although his research is focused Computational Geometry and Simulation, he also has experience with interdisciplinary projects and unique collaborations.
Reza Negarestani is a philosopher. He has contributed extensively to journals and anthologies and lectured at numerous international universities and institutes. His current philosophical project is focused on rationalist universalism beginning with the evolution of the modern system of knowledge and advancing toward contemporary philosophies of rationalism, their procedures, as well as their demands for special forms of human conduct. He published Cyclonopedia: Complicity with Anonymous Materials in 2008, has been a regular collaborator to the journal Collapse, and collaborated with Florian Hecker on an artwork, Chimerization, presented at dOCUMENTA (13).