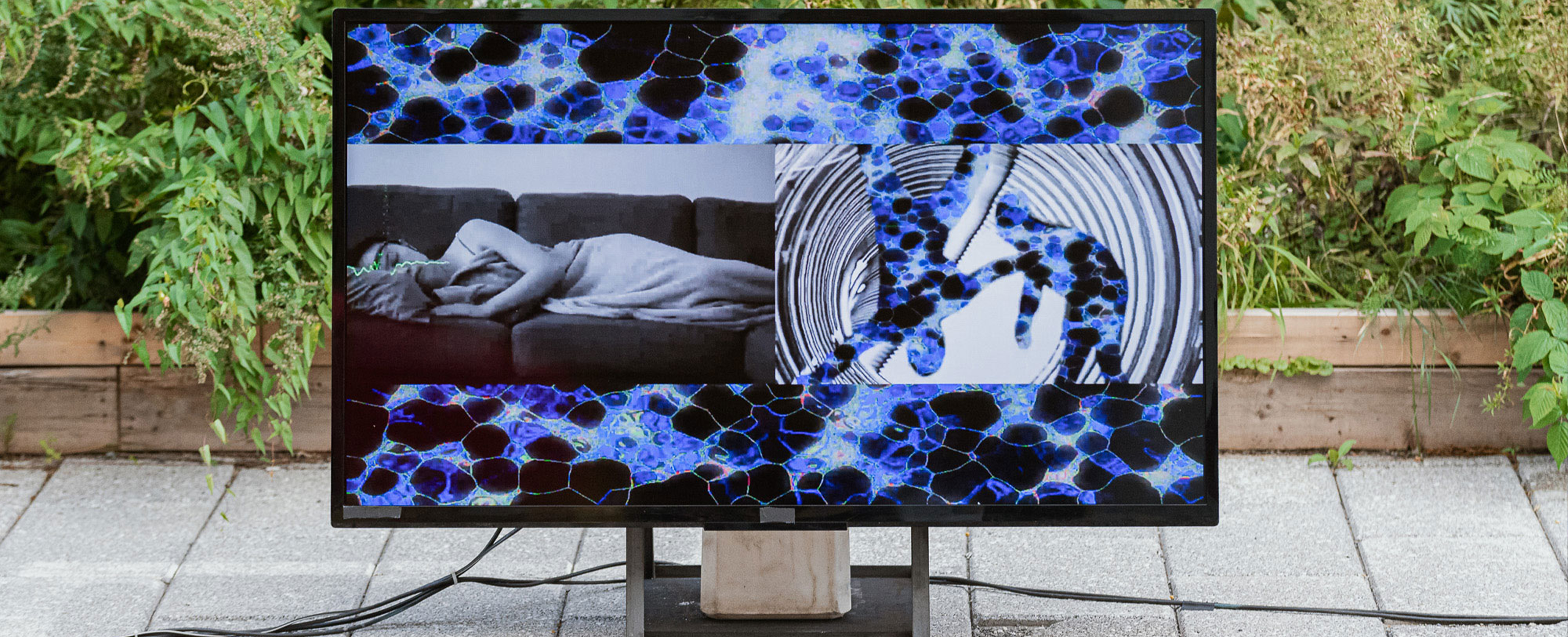 Discussion Panel - Machine Bodies (Is Cyborg Good or Evil?)
Tuesday, July 19 | 7-8:30pm (EST)
Online via Zoom - Register Here!
Learn more about Vector Festival's flagship exhibition, Machine Bodies (Is Cyborg Good or Evil?), in this in-depth discussion with artists Aljumaine Gayle, Madeleine Lychek, and Xuan Ye. This discussion will be moderated by Megan MacLaurin.
ASL Interpretation will be provided at the panel discussion.
ABOUT THE ARTISTS
Madeleine Lychek is a video and performance artist and curator critically interested in work centred on the sex, technology, queer futurities, and cyberculture. Her work uses social media and performance art to engage with conversations surrounding power and play, exploring how a body and its consumption can be used as a radical act of self-discovery. She holds an Honours BA in Studio Art with Distinction, from the School of Fine Art and Music at the University of Guelph (2019) and currently works at Ed Video Media Arts Centre as the Education Coordinator.
Xuan Ye 叶轩 makes publications, installations and performances through a myriad of technologies, often involving improvisation and computation. Their work makes noises in the sensorium, coupling it with more-than-human networks such as the Internet, machine intelligence, electronic circuits and living matters to experiment with meaning-becoming and world-building. Their work has been featured, exhibited and performed internationally, including at the Museum of Canadian Contemporary Art, Venice Architecture Biennale, the Art Gallery of Ontario, Inside-out Art Museum, the Goethe-Institut (Beijing & Montreal), ArtAsiaPacific, KUNSTFORUM (GE), among others. Their live performances and music releases have received critical accolades from Bandcamp, Musicworks and Exclaim!.
Aljumaine is a queer design technologist and creative manager based in Toronto. They are passionate about using design to bridge the gap between visual design, user experience design, and engineering. Their art practice is rooted in afrofuturism in order to subvert systems. They are an independent researcher with the Technoscience Research Unit at the University of Toronto.
ABOUT THE MODERATOR
Megan MacLaurin is a curator and arts facilitator born and based in Toronto/Tkaronto, Canada. She holds an M.A. in Art History & Curatorial Practices from York University and a B.A. in Art History and Arts Administration from the University of Ottawa. Her research and curatorial practice explore the intersections between natural and technological ecologies in a changing climate. Megan is currently the Programming Coordinator at the new media artist-run centre InterAccess and Co-Director of Bunker 2, a curatorial collective organizing itinerant programs that explore issues of economy, mobility, and industry.
Image Courtesy of Xuan Ye.