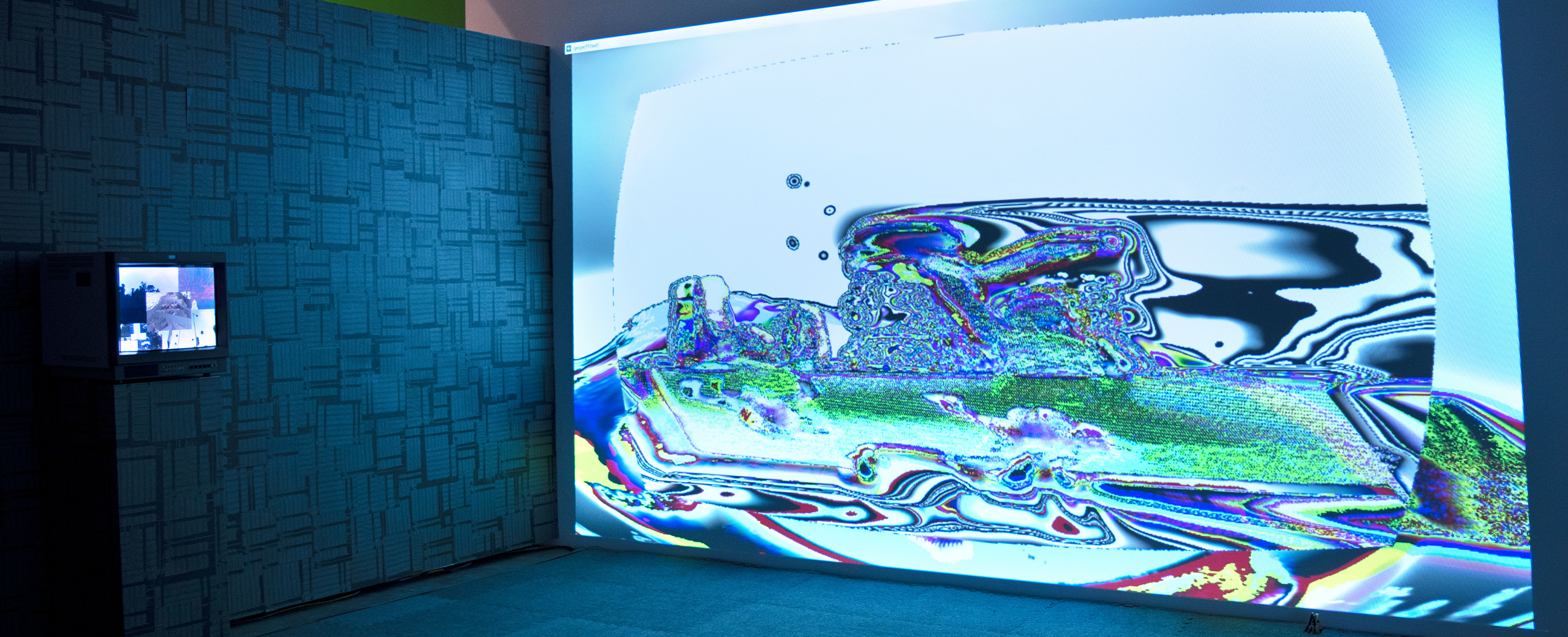 Machine Bodies (Is Cyborg Good or Evil?)
Works by Xuan Ye, Madeleine Lychek, and L.A. Birdwatchers
The Vector Festival 2022 flagship exhibition, Machine Bodies (Is Cyborg Good or Evil?), focuses on the relationship between body and machine – its tensions, (in)compatibilities, liminal spaces, and byproducts. The works in this exhibition utilize this uneasy interaction between body and machine to draw attention to the body's labor within capitalism, as well as racial bias in surveillance and censorship. The works take form as a motion-sensored sound installation, an animated visualization of biodata, and experiments in AI image-making. Expanding on Vector Festival's 2022 theme – glitch – the artists treat abstraction and a/synchronization as tools to question our digital safety and autonomy.
This exhibition is curated by Karina Iskandarsjah.
Read the exhibition essay here.

RELATED EVENTS
Festival Launch Party & Opening Reception
Thursday, July 14 | 7-9pm
Machine Bodies – Discussion Panel
Tuesday, July 19 | 7-8:30pm
Online via Zoom
FREE (registration required)
ABOUT THE ARTISTS
Xuan Ye 叶轩 makes publications, installations and performances through a myriad of technologies, often involving improvisation and computation. Their work makes noises in the sensorium, coupling it with more-than-human networks such as the Internet, machine intelligence, electronic circuits and living matters to experiment with meaning-becoming and world-building. Their work has been featured, exhibited and performed internationally, including at the Museum of Canadian Contemporary Art, Venice Architecture Biennale, the Art Gallery of Ontario, Inside-out Art Museum, the Goethe-Institut (Beijing & Montreal), ArtAsiaPacific, KUNSTFORUM (GE), among others. Their live performances and music releases have received critical accolades from Bandcamp, Musicworks and Exclaim!.
Madeleine Lychek is a video and performance artist and curator critically interested in work centred on the sex, technology, queer futurities, and cyberculture. Her work uses social media and performance art to engage with conversations surrounding power and play, exploring how a body and its consumption can be used as a radical act of self-discovery. She holds an Honours BA in Studio Art with Distinction, from the School of Fine Art and Music at the University of Guelph (2019) and currently works at Ed Video Media Arts Centre as the Education Coordinator.
Aljumaine is a queer design technologist and creative manager based in Toronto. They are passionate about using design to bridge the gap between visual design, user experience design, and engineering. Their art practice is rooted in afrofuturism in order to subvert systems. They are an independent researcher with the Technoscience Research Unit at the University of Toronto.
Ladan Mohamed Siad is a Toronto and New York-based interdisciplinary Filmmaker and designer, who explores the relationships between design, technology, and the universality of the black diasporic experience. Their work has been shown at the New Museum (New York), Inside Out Film Festival (Toronto), and Goethe Institute (Berlin). Siad works to tell narratives about the world that is possible when radical visionary change flourishes. Siad is a self-taught and community-supported creative, quilting together global black genres into a visual and audio tapestry of home everywhere. Ladan is a Black Muslim Queer Trans filmmaker whose family came to North America as refugees fleeing a civil war in Somalia.
Nicholas Shapiro is an Assistant Professor in the UCLA Institute for Society and Genetics. He is a multidisciplinary environmental researcher that studies, and designs interventions into, issues of chemical contamination and climate change. He has worked tracking the quasi-legal resale of 120,000+ chemically contaminated housing units after Hurricane Katrina, developing air monitoring systems with communities impacted by unconventional natural gas extraction, and testing fossil fuel-free means of long-distance air travel. In 2019 he founded Carceral Ecologies, a lab where he works with ~20 students and staff, to attempt to assess if environmental injustices are inextricable from mass incarceration.
Kite aka Suzanne Kite is an Oglala Lakota performance artist, visual artist, and composer raised in Southern California, with an MFA from Bard College's Milton Avery Graduate School, and is a PhD candidate at Concordia University, Research Assistant for the Initiative for Indigenous Futures, and a 2019 Trudeau Scholar. Her research is concerned with contemporary Lakota ontologies through research-creation, computational media, and performance practice. Recently, Kite has been developing a body interface for movement performances, carbon fiber sculptures, immersive video & sound installations. Currently, she is a 2019 Pierre Elliott Trudeau Foundation Scholar, and a 2020 Tulsa Artist Fellow.
ABOUT THE CURATOR
Karina Iskandarsjah (b. Jakarta, Indonesia) is a Toronto-based curator interested in cultural hybridity, technology, ecologies, and the deconstruction of power structures. Karina holds an MFA in Criticism and Curatorial Practice from OCAD University. She is part of the collective Crocus and Glory Hole Gallery for 2SLGBTQ+ artists.