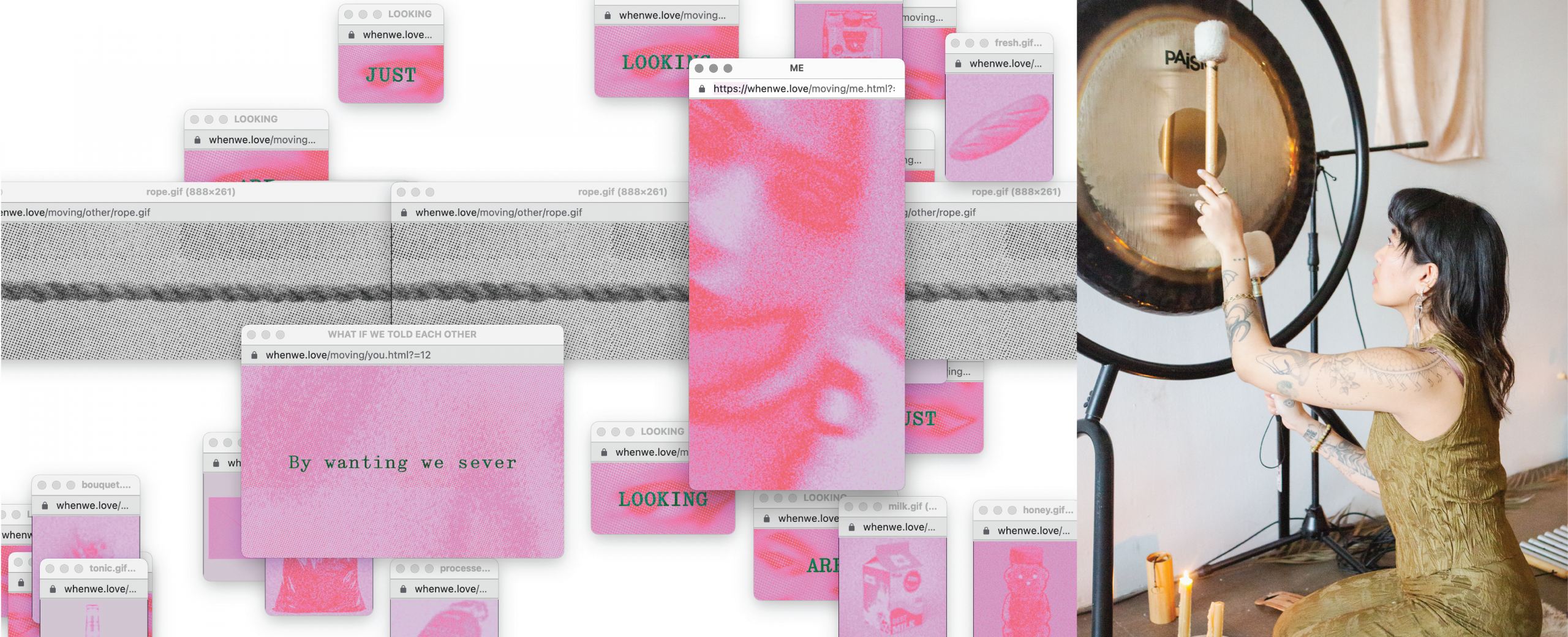 Sound Bath Meditation on Love
Join multimedia artist Renelyn Quinicot in a sonic exploration of self and the people we love through an offering centred around the heart space. By reflecting on our quest for love in the digital age and connecting to our past, present, and future selves, the workshop will focus on our needs and reawake our senses through mindful breathwork, movement exercise, sound bath meditation, and open discussions.
Participants are encouraged to bring blankets, cushions, or yoga mats and dress in comfortable clothing.
This workshop is presented as part of the 22nd IA Current Exhibition, "All watched over by machines of loving grace" curated by Gladys Lou, on view from November 8 – December 9, 2023.
Friday, November 24, 2023
6 – 8PM EST
In-person at InterAccess (950 Dupont St., Toronto ON M6H 1Z2)
FREE (Registration required here)
This workshop has limited participant capacity. If you have registered and are no longer able to attend, please email art@interaccess.org to open your spot for someone else.
ABOUT THE FACILITATOR
Renelyn Quinicot (she/her) is a queer filipina artist and movement & meditation teacher born and based out of Tkaronto. Her offerings include Kundalini Yoga, Pilates, Aerobic Exercise, Yoga Nidrā, Sound Meditation and more. She is passionate about curating spaces for connection and storytelling, where art, music and wellness can intersect. In all her work, she explores the body as a keeper of story and lineage, PLAY as a radical act of resistance, and is most of all, passionate about sharing supportive breathing tools to remind us of our own body as a wise resource of care.
ACCESSIBILITY
The session will take place in InterAccess's gallery, which has a concrete floor. Participants will be encouraged to recline or lie down during the session. Some rugs and mats will be available, and participants are encouraged to bring their own blankets, cushions, or yoga mats and dress in comfortable clothing to sit more comfortably during the session. Benches with cushions and chairs will also be available.
We regret that at this time InterAccess does not have barrier-free access; we are currently working to improve the accessibility of all facilities. There are five steps up to our main entrance, with automatic doors. Once inside all facilities are on the same level, and there is an accessible single-user washroom inside the unit.
Feel free to reach out to art@interaccess.org with any questions or requests for this event.
Image (left) courtesy of Chia Amisola, (right) courtesy of Renelyn Quinicot.