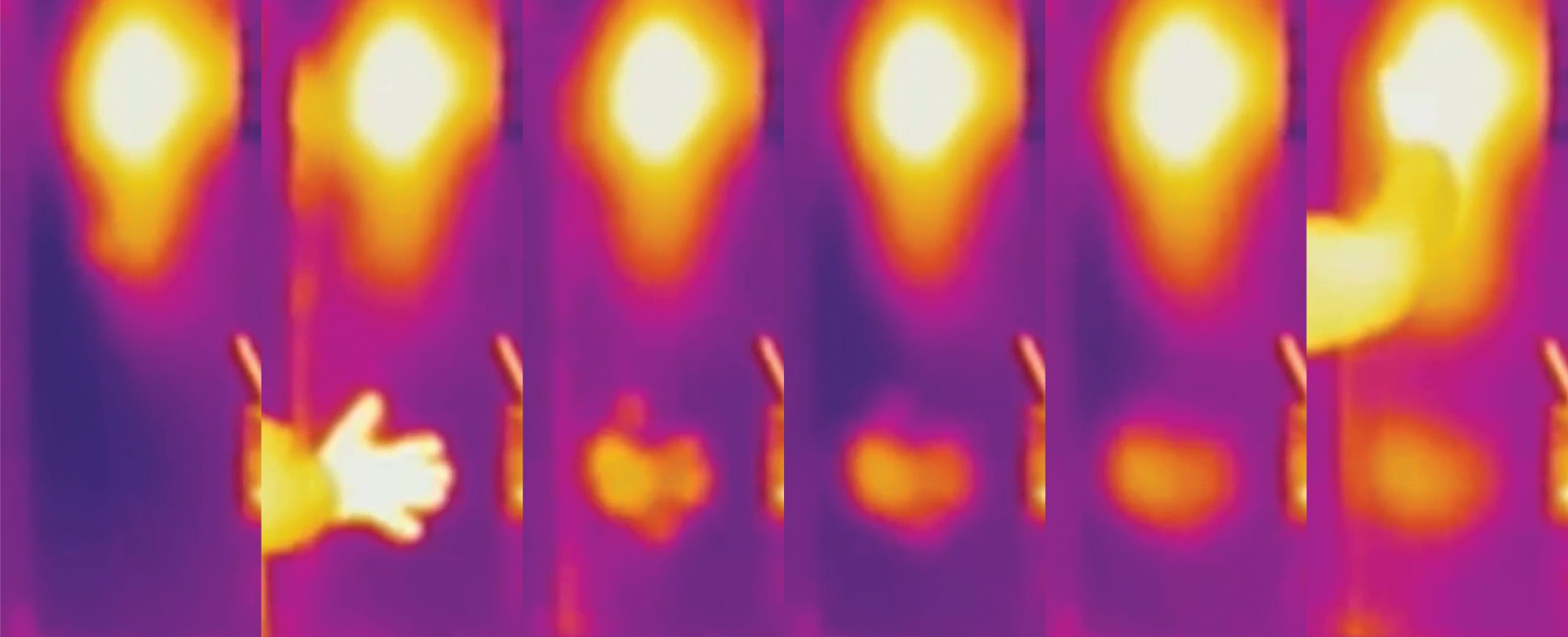 All watched over by machines of loving grace
InterAccess is pleased to present the 22nd Annual IA Current Exhibition, All watched over by machines of loving grace.
Curated by Gladys Lou, this group exhibition explores how human-computer interaction has transformed the meaning of love and romance in the digital age. It considers ways that technology facilitates the process of searching for love and liberates non-heteronormative identities by enabling representation of self beyond the binaries. The exhibition asks the audience what makes love real: the lover, the loved one, or the medium by which love is conveyed?
Working across magnetic art, kinetic sculpture, web art, interactive sensors, and thermal installation, artists Chia Amisola, Yoshe Li, Callum Schuster, Zuyva Sevilla, and Derek Toomes consider the evolving shapes and forms that intimate relationships can take in the virtual sphere. The selected works investigate attraction and repulsion, communication codes, arguments and conflicts, warmth and presence, and intimacy across distance through online platforms. Together, Lou and featured artists redefine what it means to love and be loved in the contemporary age and explore new modes of bonding that transcend the boundaries of the physical and virtual worlds.
The exhibition title is inspired by Richard Brautigan's 1967 poem of the same name that describes a utopian future where humans and machines live in harmony.
Read the essay by the curator here.
Opening Reception
Wednesday, November 8, 2023
InterAccess, 7 – 9pm
FREE (no registration required)
Love Letter Writing & Exchange
InterAccess, Ongoing
FREE (no registration required)
ABOUT THE CURATOR
Gladys Lou is a Hong Kong-Canadian artist and curator with an HBA in Art & Art History and Psychology from the University of Toronto and Sheridan College. Her practice utilizes experimental media and new technologies, including video, sound, and new media, to challenge the boundaries of sensory perception. Her work explores shifting perceptions of light, colour, and memory, visualizing emotions and the unconscious.
Lou's art has been exhibited at InterAccess, Workman Arts, Art Museum at the University of Toronto, Blackwood Gallery, Art Gallery of Mississauga, and the Museum of Contemporary Art of Alicante. Her critical writing has been featured in Pleasure Dome's eBook and Hamilton Artist Inc.'s digital publication. She was awarded a Fulbright scholarship with a placement at the University of Washington, where she studied Digital Art and Experimental Media. Gladys was selected as a participant of the Power Plant's RBC Emerging Artist Network in 2022–2023 and has interned at the National Gallery of Art in Washington D.C. with the Time-Based Media working group. She was awarded the 27th Annual Mississauga Arts Awards in the Multimedia Arts (Emerging) category, and first prize at Video Fever 2023 by Trinity Square Video, Vtape, and Images Festival.
ABOUT THE ARTISTS
Chia Amisola
Chia Amisola is an internet / ambient artist. Their (web)site-specific art explores web worldmaking to construct spaces, systems, and tools imagining a world where creation is synonymous with liberation. They are a Filipino tech worker, the Founder of Developh, a community of practice towards critical technology based in Manila, Philippines since 2016, and are the Steward & Archivist of the Philippine Internet Archive. Their work uses strategies of defaults, compression, and infrastructure-building to explore the politics of ambiences & visibilities and poetic reclamations of technology in its love, labor, and liberty.
Yoshe Li is an emerging Canadian Chinese multi-media artist with a distinctive background in architecture and cinema studies. She is currently pursuing an MFA in Design & Technology at Parsons School of Design and has gained recognition as a rising music act in the vibrant artistic landscape of New York City. Her work delves into the rich and diverse artistic expressions of human emotions. In addition to her original designs and musical releases, Yoshe Li is an award-winning songwriter and lyricist, acknowledged as a prominent music influencer on social networks.
Callum Schuster's work offers an ongoing investigation into our perception of the world around us. Schuster foregrounds the relationship between imaginary, 2D and 3D spaces as a way of exploring the psychology of space and its effect on our wellbeing. Rather than creating a visual escape for the viewer, the aim is to engender self-reflexive environments or experiences. A blending of alchemy and meditation become a focus in a pursuit of praxis, an application of a theory to a practice. Schuster graduated from OCADU's Drawing and Painting program in 201. His work has been exhibited in a number of solo and group exhibitions. He is one of the 15 founding members of the plumb, an artist run space in Toronto.
Zuyva Sevilla is a semi-sentient collection of atoms feebly trying to understand everything around them. As a new-media sculpture artist, his work aims to compose, collect and culminate in an interpretation for the inherent chaos of the universe, inspired by everything from the proto-scientific to the metaphysical, and mainly dealing with the transfer of energy as it constantly happens around us. Sevilla was named one of Southwest Contemporary's 2023 12 New Mexico Artists to Know Now, as well as one of the 2023 SURFACE Emerging Artists by the Harwood Art Center in Albuquerque, NM.
Derek Toomes utilizes technology as a medium in order to accentuate the digital realm as an amplified dimension of shared human experience. His work deals in the currencies of imagery, video, data, and quanta, grafting these experiences within sculptural forms, often kinetic or environmental in nature. This work ponders the scale of human and geological time, the persistence of memory, and the ever-expanding digital velocity which reconditions our understanding of the intimate and of the communal. Derek has had numerous national and museum exhibitions, including most recently at: Everson Museum of Art, CAM Raleigh; LUMP Raleigh; The Greensboro Project Space, Ackland Museum of Art Chapel Hill, and the North Carolina Museum of Art.
ABOUT IA CURRENT
The InterAccess Current (IA Current) program supports the professional development of emerging curators and artists interested in new media and electronic practices. Each year, InterAccess selects an emerging curator, who works closely with InterAccess staff to conceptualize and execute an exhibition of works by emerging artists. "Current" refers to the now, of course, but it is also an energetic charge that causes light, heat, and all manner of electronic life; an apt metaphor for emergent creative practices within the ever-expanding field of new media.
Image courtesy of Zuyva Sevilla