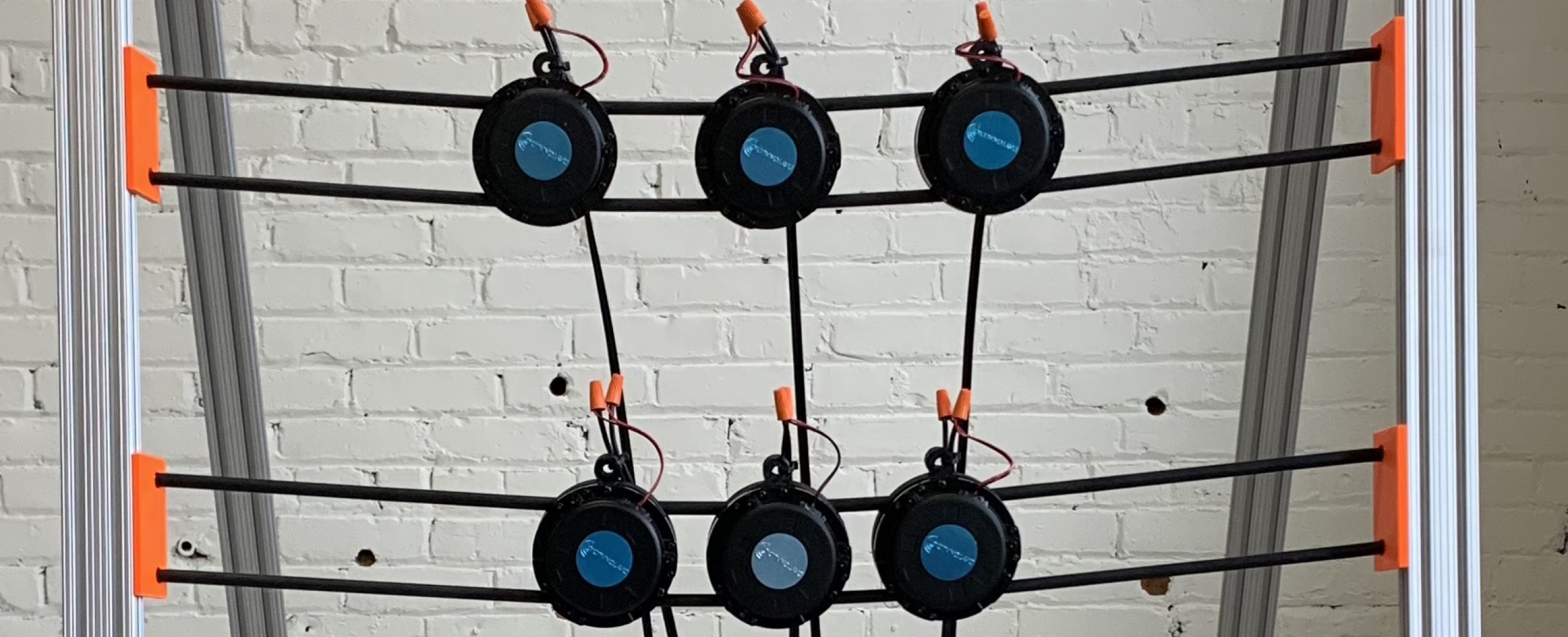 Haptic Voices brings VibraFusionLab's haptic technology to an interactive hybrid-online venue. "Haptic", or the science and technology of transmitting and understanding information through the sense of touch, is expanded into large scale through a ten channel vibrotactile wall, installed inaugurally at InterAccess, with installations to follow at Centre[3] for Artistic and Social Innovation and Tangled Art + Disability. Visitors to the project are invited to stand against the wall to experience vibrations that are controlled by online participants. Online participants will chant, hum, and vocalize into the microphones on their computers as the sound is played through the vibrotactile transducers in the walls in real time. Online participants are able to control the position and location of the vibrations, manipulating through intensity, frequency components of the voice, or through the interface controlled by the participants' mouse.
Vocal sounds are archived to be played at times when no online participants are available in addition to two commissioned sound compositions, specifically designed for the vibrotactile experience as both vibration and sound, by Toronto composer John Gzowski and Deaf Irish composer Ailís Ní Ríain. The online platform facilitating participant interaction was created by Hamilton-based web designer Simon Lebrunr.
By using vibration as the final output, Haptic Voices is equally accessible to Deaf and hard of hearing communities to experience the wall. With a camera in the gallery facing the haptic wall, online participants are able to view how they are interacting with participants in the gallery. VibraFusionLab has not previously engaged with an online audience, marking this major installation as the first of its kind, transporting global 'voices' into an immersive tactile body experience.
About VibraFusionLab
VibraFusionLab is a media arts centre based in Hamilton, Ontario that provides opportunities for the creation and presentation of multi-sensory artistic practice, partnering with other arts and technology-related organizations . As an interactive creative media studio, VibraFusionLab promotes and encourages the creation of new accessible art forms, including the vibrotactile, and focuses on inclusive technologies that have the potential to expand art-making practices and create more inclusive experiences for the D/deaf, blind, disabled, and hearing communities.
David Bobier is a hard of hearing and disabled media artist whose creative practice is exploring multi-modal means of art making. His other focus is in developing accessible vibrotactile technology as an artistic and experiential medium that led to the establishment in 2014 of VibraFusionLab, a multi-sensory creative research centre now situated in Hamilton that has an international reputation as a leader in accessibility for the Deaf and Disability Arts movement.
His exhibition career includes 19 solo and over 30 group exhibitions in Canada and internationally as well as two public art commissions.
As an artist and through VibraFusionLab, Bobier has received funding from Canada Council for the Arts, Ontario Arts Council, SSHRC Canada, Ontario Centres of Excellence, Grand National Centres of Excellence, Farnham Maltings (UK), High Commission of Canada in the UK, Province of Quebec and British Council Canada.
Bobier served in advisory roles in developing Deaf and Disability Arts Equity programs for both Canada Council for the Arts and the Ontario Arts Council, was an invited participant in the Canada Council for the Arts – The Arts in a Digital World Summit and a presenter at the Global Disability Summit in London (UK).
Jim Ruxton has been working as an artist and engineer in installation, performance, theatre, dance, and film and has collaborated with many other artists throughout his career. His company, Cinematronics, has helped numerous artists realize their technically ambitious projects and provided special effects for numerous films, TV series, commercials, and science museums.
Jim uses electronics in multiple creative ways, whether it be in creating interactive systems, developing evocative lighting installations or robotic systems. He is the recipient of two Dora Mavor Moore Awards, was awarded a Chalmers Fellowship, a Hamilton Arts Award and has been the recipient of numerous arts grants. Jim is also a founder and former Director of Programs for Subtle Technologies, a 20-year-old organization that creates links between artists and scientists with events throughout the year and during its annual festival in Toronto.
He is a member of the Hamilton based VibraFusionLab. Jim is passionate about bringing people together from different disciplines to facilitate work that extends beyond traditional genres.
About the Composers
John Gzowski is a composer, sound designer, musician, and instrument maker. He has worked on over 300 theatre, dance, and film productions for which he has done composition, sound design, live foley, live music, and acted as musical director. He has played banjo for opera in Banff, studied Carnatic classical music in India, and played oud and guitar in jazz and folk festivals across Canada and Europe.
His theatre work has won him six Dora Awards, from 18 nominations for companies like Stratford, Shaw Festival, Luminato, National Arts Centre, Mirvish Productions, Manitoba Theatre Centre, The Arts Club, Canadian Stage, Soulpepper, Dancemakers, Red Sky, Tarragon Theatre, Factory Theatre and Young People's Theatre. 
John has played on numerous CDs including recent releases with Patricia O'Callghan, Tasa, and Autorickshaw, as well receiving a Juno nomination with Maza Meze. John ran Canada's first microtonal group touring Canada playing the works of Harry Partch; he has composed and performed with several new music groups; and he has worked as co-artistic director of the Music Gallery.
Ailís Ní Ríain is an Irish composer & writer based in rural Lancashire. Her work has been performed across Europe, Israel, Brazil, USA, and Japan, and broadcast on BBC and RTÉ. Her artistic interests are diverse as she has worked broadly in the areas of concert music, installation, music-theatre. She has collaborated with writers, dancers, visual artists, filmmakers, and theatre artists. In 2016 she was awarded the Paul Hamlyn Award for Composers.
Ailís has hearing impairments and has made work referencing deafness, disability, and mental health since 2006 through working with DadaFest, Unlimited, Arts & Disability Ireland, Shape Arts, Drake Music and Outside In.
She has been awarded international fellowships, associate artist positions, and residences in the USA including Yaddo, the Atlantic Center for the Arts, The Ragdale Foundation, ArtOMI, Centre Culturel Irlandais in Paris, and the Bogliasco Foundation in Italy.
RELATED EVENTS
Opening Reception
Wednesday, May 17th 7 - 9PM | InterAccess, 950 Dupont St, Toronto
FREE (No registration required)
ASL interpretation provided