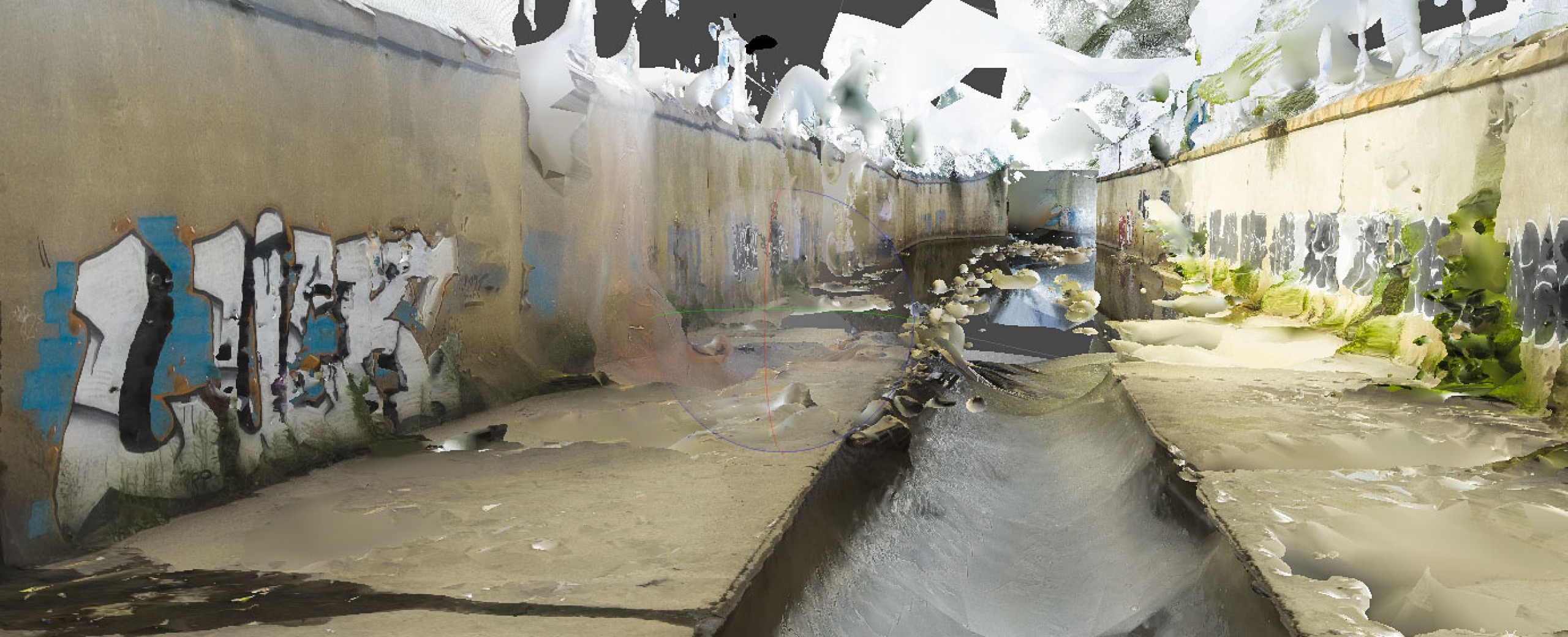 Library Research Collective: Wayfinding and Fieldtrips
Risa Horowitz, Dave Kemp, Alex Kurina, and Pierre Tremblay
InterAccess is proud to partner with University of Regina's Humanities Research Institute to feature a collection of immersive video works by the Library Research Collective, composed of artists Risa Horowitz, Dave Kemp, Alex Kurina, and Pierre Tremblay.
The Library Research Collective began with a visit to the Immersive Klimt installation at the old Toronto Star building. We discussed the aesthetic, affective, consumerist, and technological strengths and weaknesses of what producers aimed to present as a blockbuster experience. We recognized the technical skills of the animators and coders who adapted Gustav Klimt's works for a re-imagination of his paintings. We questioned the social and creative ethics of disassembling and re-visioning the works of a long dead artist, documentation of whose works have entered the public domain. We mulled on questions of entertainment for a general public who might never enter a gallery or museum, but who might be wowed by the lights and sounds of such an immersive installation. And we wondered what we might be able to accomplish if only we had the kind of access to the fifty-two (52) $8000 high-lumen projectors and software that did the masters of digital art for Immersive Klimt, with their massive corporate sponsorship and revenues from $30/person tickets.

This was the impetus for our monthly meetings and collaborations leading to our Wayfinding and Fieldtrips screening at IA 360°.

- Library Research Collective, 2023
ABOUT THE WORKS:
Canoeing the Black Creek (excerpt), Dave Kemp
This past summer, as an absurd gesture, myself and two of my colleagues from the Library Research Collective (Risa Horowitz, and Alex Kurina) canoed the Black Creek. Starting from a location near Jane Street and the 401, where the concrete embankments begin, we traversed this very urban waterway until the point where it merges with the Humber River (near Dundas and Royal York). Black Creek, like many other "lost" waterways in the GTA, has been drastically altered by humans: transformed from a natural watershed to a utilitarian and polluted concrete runoff basin.
For the duration of our 8-hour journey by canoe, I captured interval images of this Brutalist landscape that were later assembled into an intentionally rough and distorted 3D model through photogrammetry software. This produced a surreal, an unsettling digital model of this very unusual and historically complicated creek. For the exhibition at Interaccess, a short segment of this journey/3D model has been animated and modified to fit the four-walls of the immersive gallery space in order to produce an uncanny and engulfing experience.
Canoeing the Black Creek takes-on an experimental approach through playing with the inherent aesthetic nuances of photogrammetric processes which are generally considered flaws and to be poor-quality results: holes, distortions, and an overall "goopy-ness" of the imagery/models.
Urban Paddle (v1), Risa Horowitz
In June 2022, we paddled a 10km section of Black Creek through the Humber River. Over eight hours, we made our way through the concrete channel and its multiple breaks in to the less obviously engineered river, variously portaging across low water beyond the Creek's connection with the Humber until just before its drop at Old Dundas Street. Urban Paddle (v1) explores the liminal space of the waterway within the city, and between methods of wayfinding, within the immersive environment of I I/A 360°.
Jane Black Creek Loop, Alex Kurina
Finding their way down Black Creek along Jane St. members of the Library Research Collective discovered a fascinating interplay between the built environment and natural world. By observing and collecting data in the field, they document various elements making up this unique environment.
Summer Follies, Pierre Tremblay
Canoeing, swimming, walking, seeing.
The Library Research Collective had a retreat, late August of last year. Variations on a quiet lake in the Kawarthas—summer activities, walking, swimming, canoeing, sensing space, breathing.
#Leisure #playing. Time to renew our energy. Seeing and not seeing.
ABOUT THE ARTISTS:
Risa Horowitz is Associate Professor in the Department of Visual Arts, Faculty of Media, Art, and Performance at the University of Regina. Blurring boundaries between expert-amateur, hobby-work, and leisure-productivity, much of her work involves collecting and durational practices that pay attention to time and its representation. Horowitz has exhibited widely in Canada and abroad, with works held in public and private collections. She is currently a Research Fellow with the University of Regina Humanities Research Institute. Her works for I/A 360° are part of her development of materials for her UofR Humanities Research Fellowship project, Urban Erratics, Piles of Things, and Other Landscape Observations.
Dave Kemp is a visual artist whose practice looks at the intersections and interactions between art, science and technology: particularly at how these fields shape our perception and understanding of the world. His artworks have been exhibited widely at venues such as at the McIntosh Gallery, The Agnes Etherington Art Centre, The Art Gallery of Mississauga, The Ontario Science Centre, and TIFF Bell Lightbox. His works are also included in the permanent collections of the Agnes Etherington Art Centre, The Glenhyrst Gallery, and the Canada Council Art Bank.
Dave obtained his PhD in Art and Visual Culture from the University of Western Ontario and is a graduate from the Master of Visual Studies program at the University of Toronto where he also completed the Collaborative Program in Knowledge Media Design. Prior to this, he earned an Image Arts (photography) BFA from Ryerson University and his BScE in Mechanical Engineering at Queen's University. He currently works as an Associate Professor in the School of Image Arts at Toronto Metropolitan University (formerly Ryerson University).
Alex Kurina is an award-winning designer and media artist from Toronto, Canada. He holds a BFA from Ryerson University's New Media program where he currently teaches. He has worked for a number of international commercial clients in various creative capacities and has work exhibited at the Montreal Museum of Fine Art, InterAccess (Toronto), The Guggenheim (New York) and Eyebeam (New York).
Interdisciplinary artist Pierre Tremblay came to the School of Image Arts at Toronto Metropolitan University as an Associate Professor after twelve years in Paris where his work can be found in the collections of the Musée Carnavalet, Bibliothèque nationale, Musée Rodin and the Louise Bourgeois Archives, The Easton Foundation, New York, USA. His artistic practice, combining new technologies and video, questions the world in flux, how we see and perceive. Exhibitions of recent note include Meta Incognita at The Photographers' Gallery – The Wall, London, England, Dans la nuit des images, at the Grand Palais, Paris along with numerous festival screenings internationally. In his role at TMU, Tremblay has facilitated conferences and edited books that have brought scholars and artists from Ontario, Quebec and France together for cross-cultural exchange on a variety of new media topics.
RELATED EVENTS
Library Research Collective Artist Roundtable: Immersivity through the Environment, presented with the University of Regina HRI
May 5th, 5:30 - 7PM | Hybrid at InterAccess and Online
Please reach out to the Programming Manager (art@interaccess.org) with any questions about this program.
Image courtesy of Dave Kemp