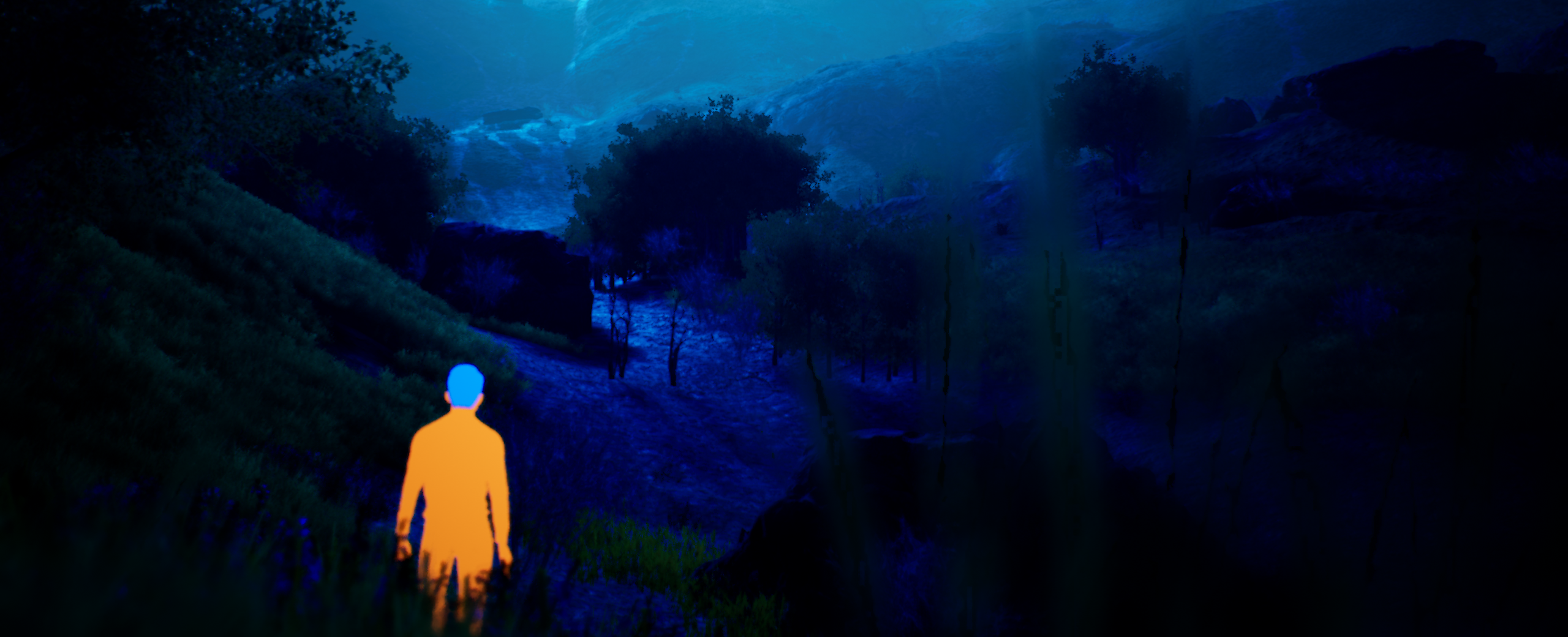 Dec 8, 2021 - Feb 5, 2022
Sculpted in Our Image, Forged in Our Minds
InterAccess is pleased to present the 20th Annual InterAccess Current Exhibition, Sculpted in Our Image, Forged in Our Minds, curated by Tristan Sauer.

Inspired by the myth of the golem and the robot, both reflections of humanity's dreams and simulations, the exhibition will explore what we can learn about our world and relationships to others from simulated realities. Eroding the dichotomy of the physical and the virtual, this exhibition explores the dreams and simulations of the computer age, and how they attempt to imagine new methods of digital co-existence, with the aim of envisioning more equitable, diverse, and safe futures online.

Through virtual environments, digital beings, and generative simulations artists Sarah Boo, Mads Brimble, Benjamin Chang, Cezar Mocan, and Andy Wallace explore the parallels between our dreams and simulations, and the wider implications between our physical and digital worlds.

EXHIBITION URL
EXHIBITION DATES

December 8, 2021 — February 5, 2022

EVENTS

Performances — Arcadia Inc. Live
Wednesday, December 8, 2021 | 7PM (EST)
Thursday, December 23, 2021 | 7PM (EST)
Wednesday, January 5, 2022 | 7PM (EST)
Thursday, January 20, 2022 | 7PM (EST)
Online via Twitch
FREE (no registration required)

Curator Talk — Sculpted in Our Image, Forged in Our Minds
Wednesday, January 19, 2022 | 7—8 PM (EST)
Online via Zoom
FREE (register here)

Screening + Discussion — Primordial Dismemberment, Sadovnik (2021)
Thursday, January 27, 2022 | 7—8:30 PM (EST)
Online via YouTube
FREE (no registration required)

ABOUT THE ARTISTS

SARAH BOO is an artist based in Tkaronto/Toronto. She is currently in the Digital Futures undergraduate program at OCAD University. Recently, she has been seeking ways to deeply engage the body in digital art making and prioritize ongoing dialogue with virtual materials over planned process. For the upcoming year, she will be reflecting on digital sustainability and the future of platforms as part of Virtual Grounds with Trinity Square Video and Digital Justice Lab.

MADS BRIMBLE is a practicing new media artist and designer located in Toronto, Canada. Using genetic algorithms to create a kind of 'unnatural' selection, her work challenges t he heteronormative ideas that surround life and being, giving way to a magical alterity. She uses these digital outputs as blueprints for her laser cut acrylic sculptures, embodying fully formed entities with a tangible past and evolving future.

BENJAMIN CHANG is a 3D artist and architectural designer working with digital media, spatial perception, geometry, and ritual practices as storytelling devices that question our innate ontological dilemmas. Deeply invested in the social and philosophical vision of Cosmopolitanism, his practice aims to dissolve the culturally imposed boundaries embedded in the superstructure of materialism. Perplexed by the representations of reality, he is on a journey to catalog the matrix. Chang holds a Master of Architecture from the University of Toronto and a Bachelor of Design from OCAD University.

CEZAR MOCAN (b. 1993) is a Romanian artist and computer programmer based in Brooklyn. His work has been shown in exhibitions in New York and Berlin, including Anywhere but Here at The Canvas Bowery (2021) and SPRING/BREAK (2021). His recently completed thesis project, Arcadia Inc. was recognized as a winner of the Lumen Prize in Art and Technology. In conjunction with his artistic practice, he teaches and often designs or develops software for other artists. He holds a B.S. in Computer Science (2016) from Yale University and an M.P.S. in Interactive Telecommunications (2021) from New York University, where he is currently a research resident.
ANDY WALLACE is an independent game designer and creative coder who lives in NYC. He is also a founding member of the non-profit Death By Audio Arcade collective. His work exists on the screen and off, as he likes his digital projects to venture out into the physical world in the form of arcade machines and other magical objects. His work has been shown throughout the US and abroad.


ABOUT THE CURATOR

TRISTAN SAUER is a new media artist and curator critically interested in work focused on technology and capitalism. His work explores the intersections between our digital and physical worlds, and how technology affects the various facets of human existence. Often expressed through his own identity as an Afro-Canadian, Sauer explores these topics through both an Afro-futuristic and Afro-Pessimistic lens, as well as opening up room for other marginalized voices to do the same. He graduated from the New Media program at X University, has displayed at the Plumb in Toronto, and curates as part of Long Winter.


ABOUT IA CURRENT

The InterAccess Current (IA Current) program supports the professional development of emerging curators and artists interested in new media and electronic practices. Each year, InterAccess selects an emerging curator, who works closely with InterAccess staff to conceptualize and execute an exhibition of works by emerging artists. "Current" refers to the now, of course, but it is also an energetic charge that causes light, heat and all manner of electronic life; an apt metaphor for emergent creative practices within the ever-expanding field of new media.