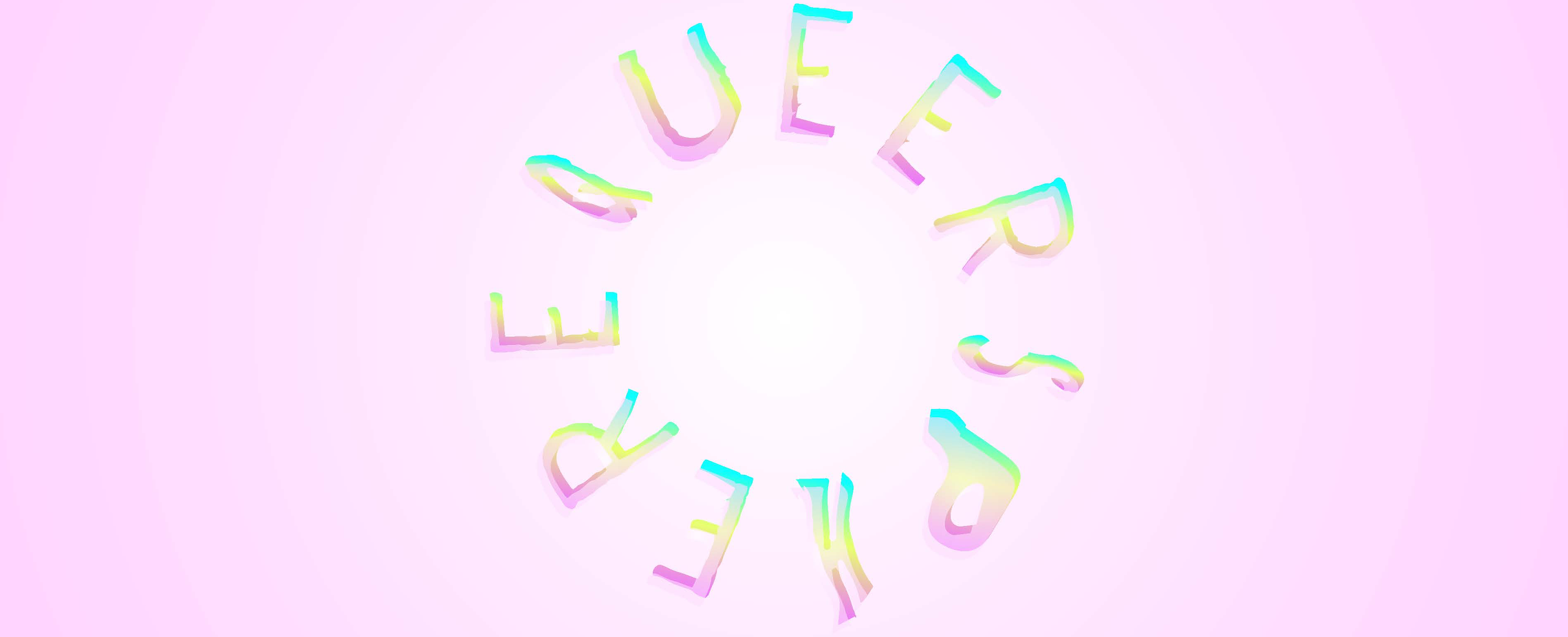 Curated by Sean Sandusky and Dana Snow
InterAccess is pleased to present the 19th Annual InterAccess Current Exhibition, QUEERSPHERE, curated by Sean Sandusky and Dana Snow.
QUEERSPHERE makes space for Queer and Trans dreamographies in a time of accelerated closures and isolation. Modelling itself after the social media platforms of the early 2000s, this virtual group exhibition envisions an "if only" site where 2SLGBTQIA+ imaginations, social groups, and world-building are allowed to flourish outside of the pressures of corporatization and flat representation.
Artists Marissa Sean Cruz, Whess Harman, Keiko Hart, Max Lander, and Lucas LaRochelle craft queer becoming through land, narrative, history, sociality, and eroticism to tease out a site that fosters and nourishes Queer and Trans togetherness.

CURATORIAL STATEMENT
We want a platform where we can talk without being run through a database for monetization. We want a platform where 2SLGBTQIA+ creators exist beyond being radicalized and tokenized. We want a platform to discover ourselves through discovering others. We want a platform where we can fall in love. We want to take a load off each other's shoulders, to plug in and exist, unburdened. We realize this is a first step in a long journey and we welcome you to experience it with us.
– Dana Snow and Sean Sandusky

Read Dana Snow and Sean Sandusky's essay about this exhibition here.

RELATED EVENTS

keikobot – a performance by Keiko Hart
Wednesday, February 24 | 7–9PM
Online via Discord
FREE

Curator Tour & Discussion
Friday, March 19 | 7–8PM
Online via Zoom
FREE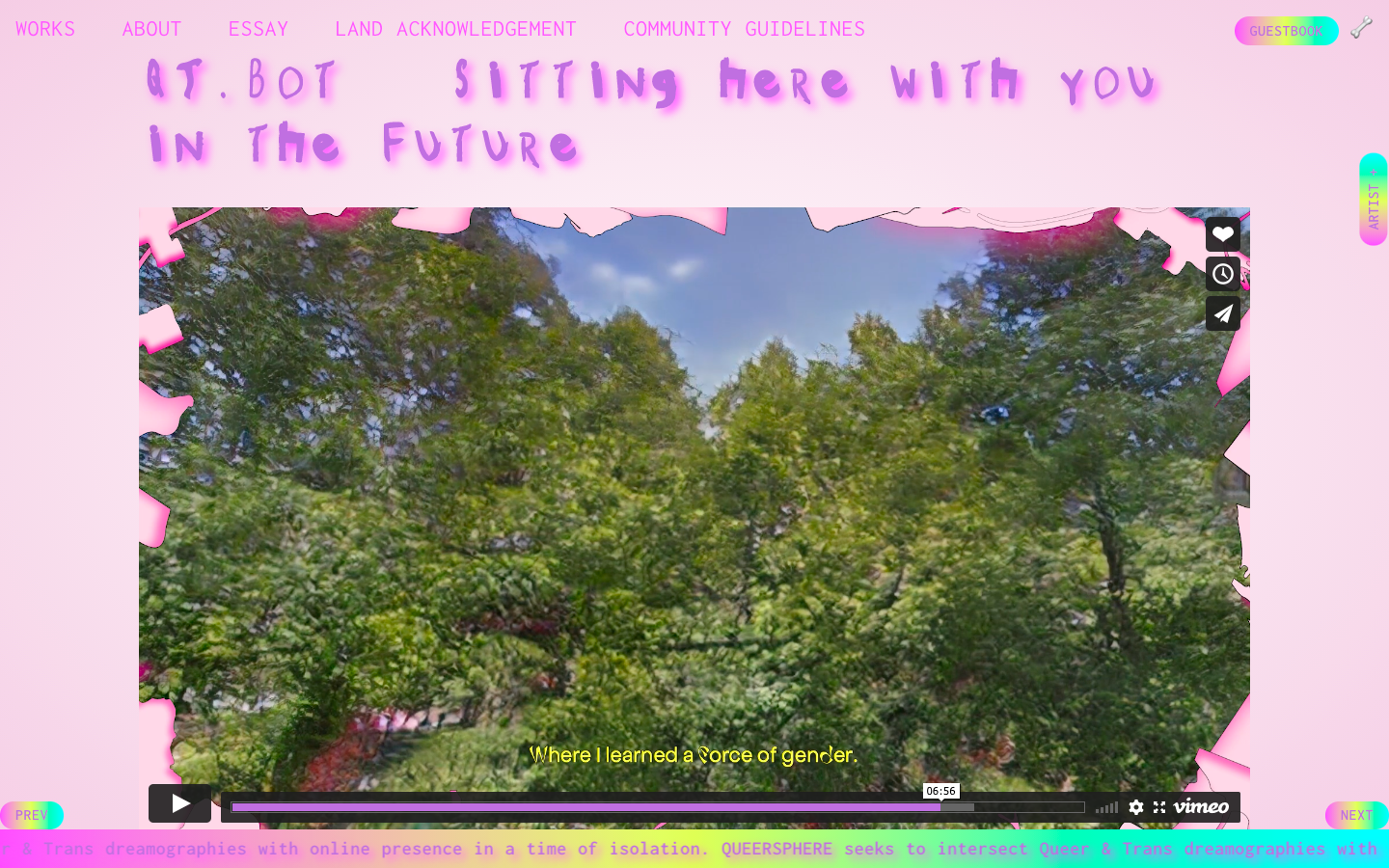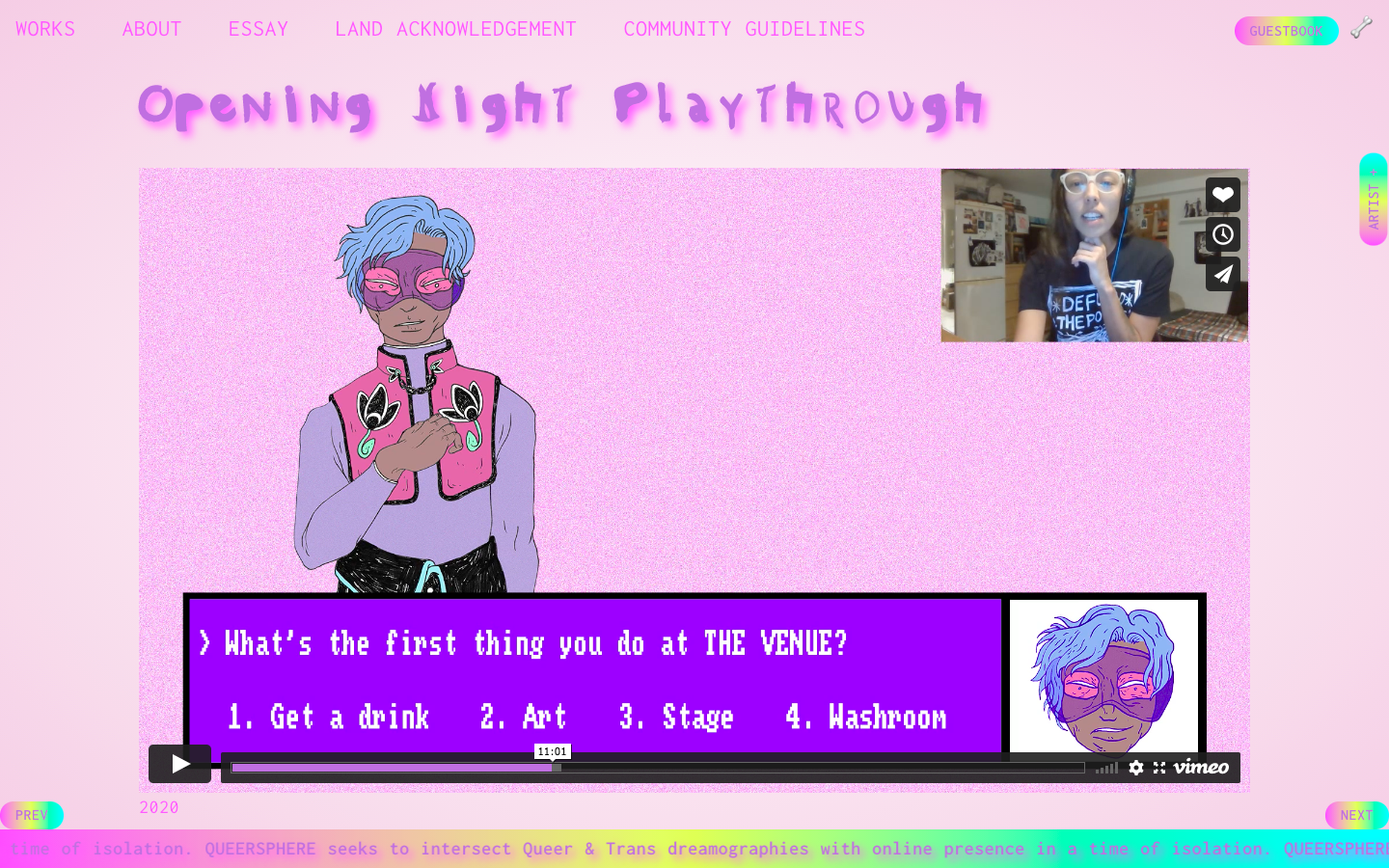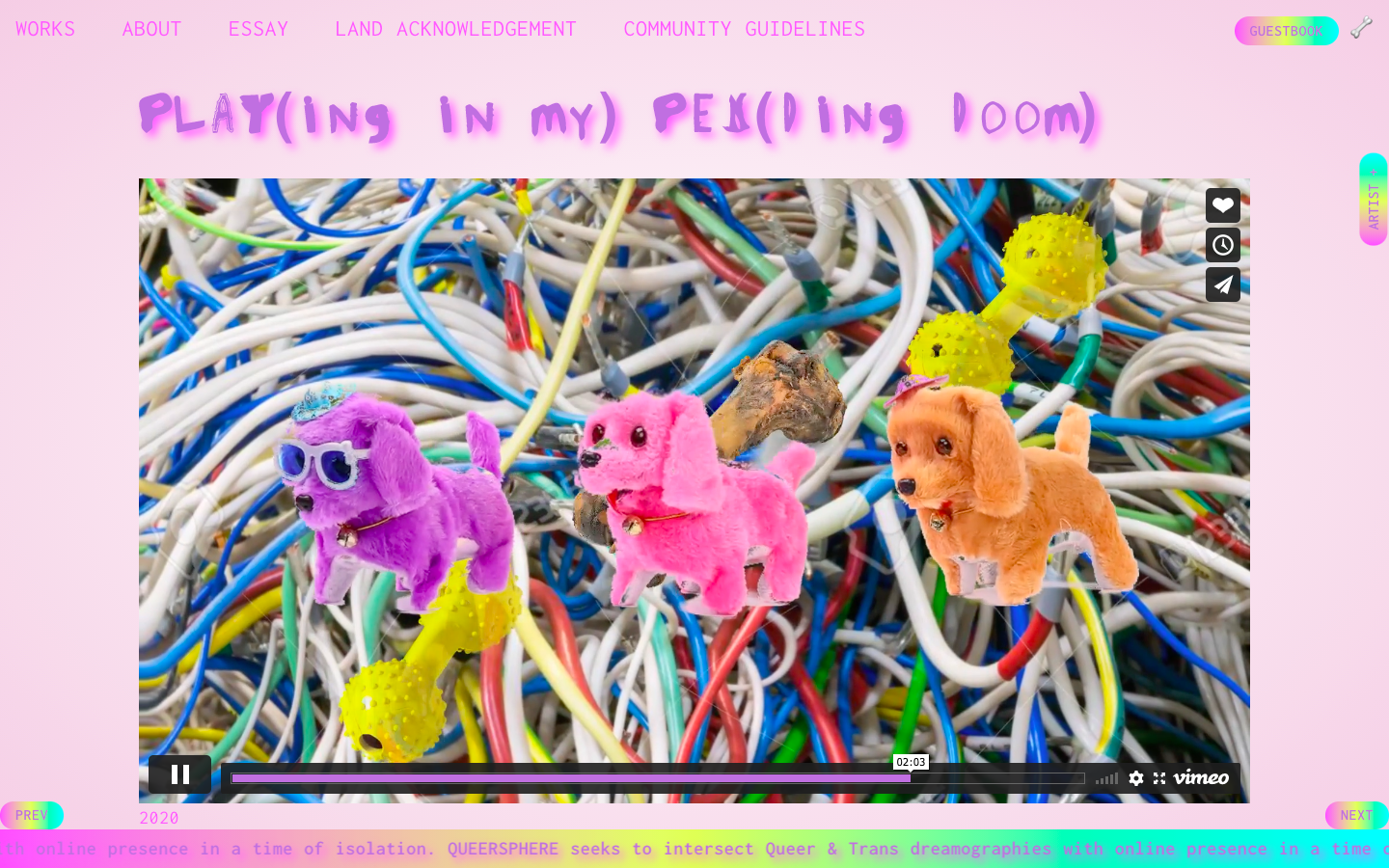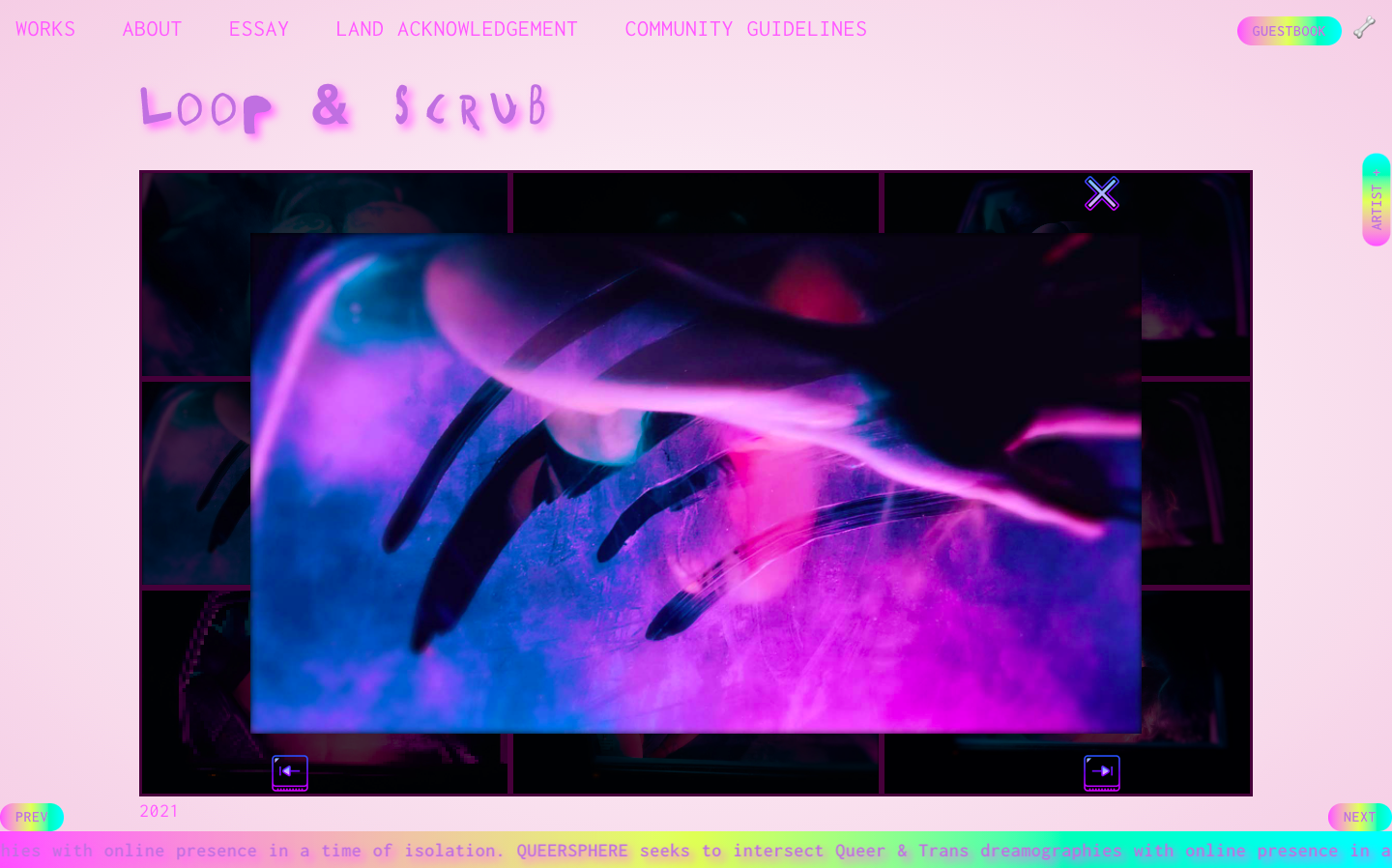 ABOUT THE ARTISTS
Marissa Sean Cruz is an artist based in Kjipuktuk (Halifax) with a focus in video and digital arts. As a biracial Filipinx, Cruz's work negotiates a layered socioracial identity in sculptural confrontations, conceptual systems and prop-comedy performances. Bringing together a collective of entities through evocative costuming, Cruz brings to actualization an animatronic pink puppy, a latex-laden alien and a pizza obsessed e-girl to compose an alternate landscape to the apocalyptic happenings RN.
Whess Harman is Carrier Wit'at, and currently lives and works on the territories of the Musqueam, Squamish and Tsleil-Waututh as an artist as well as a Project Curator for grunt gallery. Their multidisciplinary practice includes beading, illustration, text, and poetry. As a mixed-race, trans/non-binary artist they work to find their way through anxiety and queer melancholy with humour and a carefully mediated cynicism that the galleries go hog wild for.

keiko practices pronunciations of self through digitally mediated performances to accentuate in-between spaces that defy definition. They do not fit into specificities; they aspire to live ambiguously. Their performance work has most recently been exhibited at Ministry of Casual Living (Victoria), Vector Festival (Toronto), Chelsea College of Arts (UK), Robert Kananaj Gallery (Toronto), Bunker 2 (Toronto), and Trinity Square Video (Toronto).

Max Lander is a photographer, feminist pornographer, gamemaker and interactive media artist. He has been winning awards and exhibiting internationally since 2007, has a published book of photography and in May of 2019, completed his Master of Design in the Digital Futures program at OCAD University where he explored VR, identity, and kink. Passionate about empowering other queer + trans creators, he now teaches VR, game design and volumetric video. He has also been identified by strangers as the guy that talked about eating blood on that podcast.

Lucas LaRochelle is a designer and researcher whose work is concerned with queer and trans digital cultures, community-based archiving, and co-creative media. They are the founder of Queering The Map, a community generated counter-mapping project that digitally archives queer experience in relation to physical space. They have lectured, facilitated, and exhibited nationally and internationally, and have held residencies at Studio XX, Social Service Club, MUTEK AI Art Lab and The Fine Arts Reading Room. In 2019, they were the inaugural Curatorial Fellow at The Curatorial and Public Scholarship Lab. Their project Queering The Map was awarded an Honorary Mention for the 2018 Prix Ars Electronica, nominated for the Lumen Prize for Digital Art and the Kantar Information is Beautiful Awards, and is included in the Library of Congress LGBTQ+ Studies Web Archive.
ABOUT THE CURATORS
Dana Snow is a freelance curator, writer and critic based in Tkaronto, Canada. Her practice centres around frameworks of radical intimacies; approaching contemporary art through anti-oppressive, queer, phenomenological and feminist lenses. Focusing on healing through affect, Dana believes in the power of seeing our stories reflected in art. Her curatorial work has been shown at Xpace Cultural Centre, OCAD University in conjunction with UNIFOR Chair for Social Justice, DesignTO, Critical Distance Centre for Curators, and Scotiabank CONTACT Photography Festival.

Sean Sandusky is an artist, curator, and writer from Honolulu, Hawai'i who is now based in Tkaronto, Canada. Being of mixed South Asian and European descent and living in several places, Sean's work relates to a certain disassociation of constant shifting political, cultural, and environmental climates. Current curatorial interests of Sean's include creating space for LGBTQIA2S+ artists to be able to exhibit their work in a fair and ethical manner, especially highlighting the BIPOC members of said community.
ABOUT IA CURRENT

The InterAccess Current (IA Current) program supports the professional development of emerging curators and artists interested in new media and electronic practices. Each year, InterAccess selects an emerging curator, who works closely with InterAccess staff to conceptualize and execute an exhibition of works by emerging artists. "Current" refers to the now, of course, but it is also an energetic charge that causes light, heat and all manner of electronic life; an apt metaphor for emergent creative practices within the ever-expanding field of new media.
Image: Design by Mouth of Tiger.
Font: "Act Up Protest" by GenderFail. Since 2018, GenderFail has been making fonts based on protest signs from queer and trans protests since the Stonewall Riots in 1969. Each open source font is available at genderfailpress.com by donation.