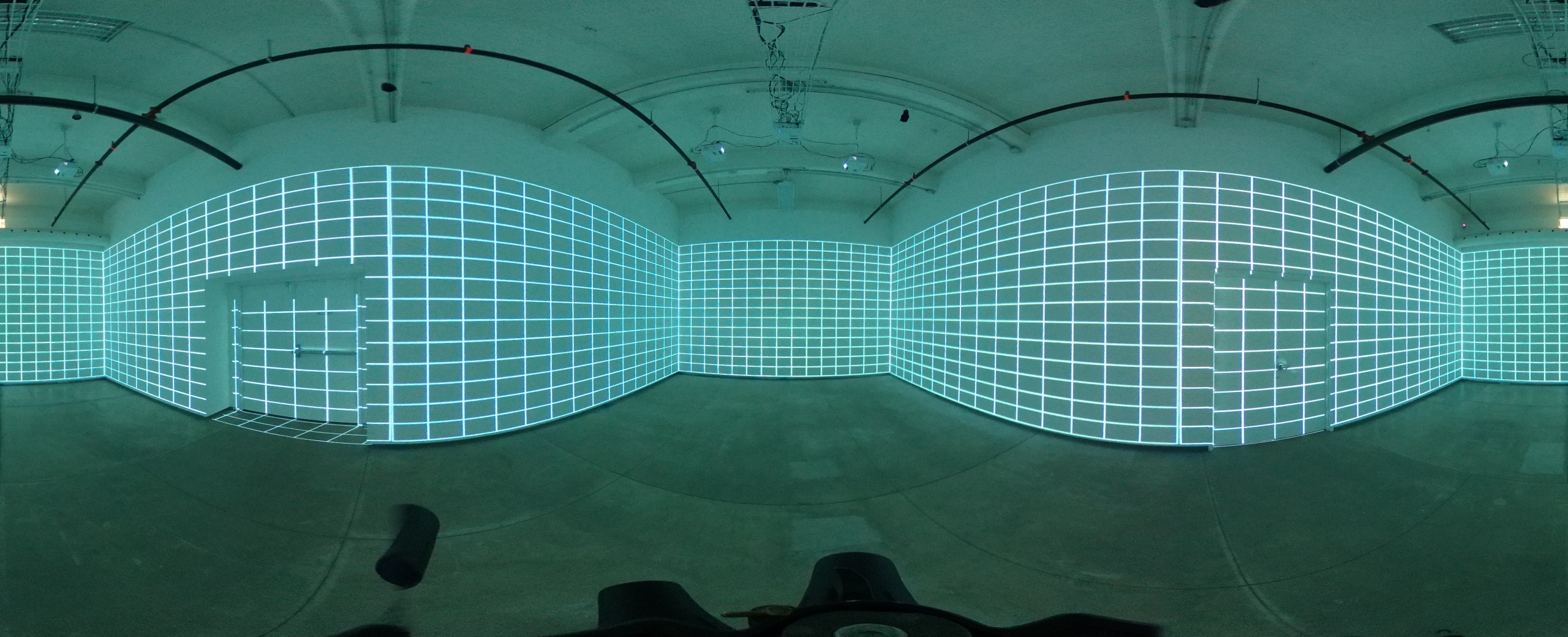 Deadline: March 6th, 2023 at 11:59PM EST
After five years in the making, InterAccess is proud to launch Toronto's only artist accessible immersive 360° projection environment – I/A 360°. In celebration we are seeking artistic work for the inaugural immersive 360° projection exhibition.
The I/A 360° transforms InterAccess's gallery space and encourages artists to leverage sensory intensity for critical thinking. Although immersive environments have grown in cultural importance, they are generally out of reach to the artistic community. InterAccess, unlike large media corporations, supports experimentation and innovation by making new technology available to artists, collectives, and students. We look forward to continuing our support and creating a new community of like-minded artists interested in this new technology. The I/A 360° will support our local and broader community with access, support, and education.
InterAccess is seeking artists interested in contributing to an experimental group exhibition in Spring 2023, that will showcase work from our community and beyond. Artists can be local to Toronto, or Canada, or international.
The I/A 360° exhibition will run from April 5th and May 6th, 2023, with an opening reception on April 5th, 2023.
Submissions can be moving or still, native 2D imagery, 3D works exported to a 2D format, with or without sound. For this first exhibition, we will support pre-rendered imagery (still or video). Future exhibitions will explore 360° real-time computation, sensor inputs, tele-presence, and interactive visuals. While submissions are expected to be conceptually and aesthetically considered, we encourage the submissions of specifically formatted for 360° environments and works not yet developed for immersive spaces. InterAccess recognizes that existing artworks could benefit from access to new technology, and we encourage artists to consider reformatting existing work for 360° presentation.
Selected artists will be invited to use the I/A 360° system in the week preceding the exhibition to preview their work and make appropriate adjustments. The curators will preview the work of selected out-of-town artists, and if necessary, return notes or recommendations. Artists will be responsible for making adjustments to their artwork prior to resubmitting for final approval.
InterAccess recognizes that new forms of art need time and access to new technologies for exploration and experimentation. We are committed to providing future 360° artists with the access they need to develop new immersive artworks. More information is coming soon at interaccess.org/workshops.
Maximum of 5 images and/or 1 video (5 min max)
Specifically developed for 360° environments or re-formatted from original format
Still or video, with or without sound
CV or resume (optional)
Artist statement or bio
Additional support materials (optional)
SUBMISSION PROCESS
Submissions can be sent to art@interaccess.org with subject line: I/A 360° SUBMISSION | <ARTIST NAME>
Single PDF (images linked or embedded)
Zipped folder (maximum 20MB) attached to email or through file hosting service (GoogleDrive, Dropbox, etc)
We ask that artists ensure their files are properly formatted, with working links and file share permissions for downloads. We may not reach out for corrections if submissions are technically inaccessible.
Final artworks will be required to meet the following technical specifications:
Resolution of 7680px x 742px - approximately 10:1 proportion (length x width)
Seamless wraparound image alignment
Accordance with the in-depth specifications sent and outlined upon acceptance, with technician support if required
Works upon submission are not required to be formatted as outlined above. Accepted works will be given adequate time to be reformatted to the required technical specifications.
Floor plans for InterAccess's gallery space are shared upon request. The Gallery is approximately 20' x 40' (6m x 12m) with an approximate ceiling height of 12'.
Please contact InterAccess's Programming Manager with any questions regarding the submissions process.
To increase community access to the new technology, InterAccess will open the projection system for on-site beta testing from March 27 - 31st, 2023. Interested artists are invited to email the Programming Manager, (art@interaccess.org) to book a time during the beta testing week with the following information:
Artist or collective name
Brief overview of 360° projection experience
Desired use of 360° system during testing appointment
Access to beta testing does not guarantee acceptance to the curated exhibition. No submission of in-progress or completed work is required beforehand to access beta testing.