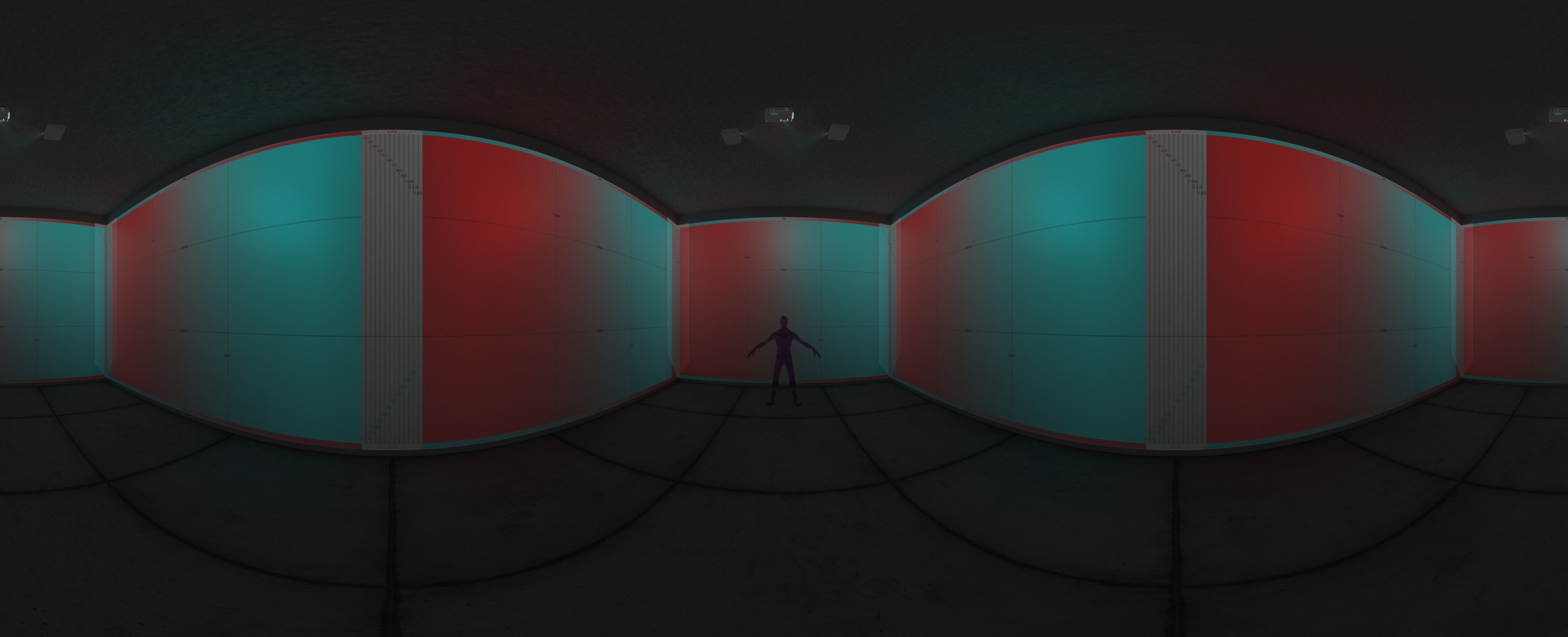 IA 360°: Full Launch Programming
After five years in the making, InterAccess is proud to launch Toronto's only artist accessible immersive 360° projection environment – IA 360°. The IA 360° transforms InterAccess's gallery space, encouraging artists to leverage sensory intensity for critical thinking. In celebration, InterAccess has programmed events running from March to May 2023 to provide a broad selection of entry points for artists, from exhibition and performance opportunities to critical artist panels and roundtables.
IA 360° Community Beta Testing
March 27th – 31st, by appointment | InterAccess Gallery
To increase community access to the new technology, InterAccess has opened IA 360 for on-site beta testing, giving artists within the community access to the gallery, projection system, and technician support.
CURRENTLY AT CAPACITY
IA 360° Showcase Exhibition
April 1st – May 4th, opening reception April 1st 5 – 7PM | InterAccess Gallery
The inaugural exhibition of InterAcccess's IA 360°, platforming a variety of artists exploring the full capabilities of the system. Works included in showcase are visceral, visually forward, and platform pictorial space as an experience, specifically curated for InterAccess's gallery.
Ctrl+Shift: Immersive Worlds beyond Projection
April 20th, 6:30 – 8PM | Hybrid at InterAccess and Online
A panel centered on immersive environments beyond the realm of projection, moderator Kasra Goodarznezhad, along with artists Karl Skene, Simon Rojas, Partner and Creative Director of Derooted Immersive, and Anna Wiesen, Partner and Creative Director of Somewherelse, will explore questions about accessibility to technology, the delicate balance of commercial interests and artistic integrity, and the entirety of immersion.
This event is presented as part of Ctrl+Shift, a strategy session series that invites influential artists, technologists, scholars, and community leaders to propose solutions to challenges that affect the creative community.
ASL interpretation available.
OPEN HDMI: Plug + Play x ponyHAUS
April 29th, 7 – 10PM | InterAccess Gallery
After hours, InterAccess and ponyHAUS invite visual artists interested in live performance and audio-reactive visuals to plug into the immersive projection system in an open deck style. The show is open to audiences looking to enjoy the sights and sounds. Artists of all skill levels are welcome.
Co-presented with ponyHAUS, Toronto's DIY hybrid A/V showcase, and featuring a DJ set of eclectic selections by co-host Bodywaltz.
More details regarding sign-up and technical specifications TBA.
Library Research Collective: Wayfinding and Fieldtrips, presented with University of Regina HRI
May 5th – 6th, 11AM – 6PM | InterAccess Gallery
Closing InterAccess's IA 360° launch programming, a collection of immersive video works by the Library Research Collective, composed of artists Risa Horowitz, Dave Kemp, Alex Kurina, and Pierre Tremblay. The LRC explores human relations and interventions with the environment, with specific regard to actions of traversal. The works, created specifically for the IA 360° system, come from data collected during a series of 2022 "field trips", and aim to raise critical conversations around associations of landscape and immersivity as techniques, tropes, mediums or methods.
More details regarding each event, including exhibiting artists, will be posted on the InterAccess website as they become available.
InterAccess will be hosting workshops focused on IA 360 and relevant software, to be announced soon.
Header image courtesy of Terry Anastasiadis.
With any questions regarding programming, please contact:
Evangeline Brooks
Programming Manager
evangeline@interaccess.org
950 Dupont St., Unit 1 Toronto ON M6H 1Z2
interaccess.org | info@interaccess.org
We regret that at this time InterAccess does not have barrier-free access; we are currently working to improve the accessibility of all facilities. There are five steps up to our main entrance, with automatic doors. Once inside all facilities are on the same level, and there is an accessible single-user washroom inside the unit.